Welcome to the final part in our Exhibiting your Art blog series, in which we'll be looking at how to market and promote your exhibition. Whether you are organising an independent show, working with a commercial gallery, or participating in a group exhibition, there are always important things you should do to let the public and your network know about it. This series has also covered 'Getting Started', 'Putting on your own Exhibition', 'Working with Commercial Galleries', and 'Submitting to Group Shows'
Marketing for independent shows
When you're putting on your own show, whether on your own or with a group of peers, you may find that marketing the exhibition can become a job in itself. If you're in a group, a good idea is to split up the tasks and have 1 or 2 people dedicated to marketing, so they can focus their efforts and make efficient use of time. Here are a few things to think about:
Flyers / posters – Keeping it simple is really important when it comes to flyers. It can be really difficult working with a group of diversely creative people, but the design of your flyer can make the difference between coming across professionally. If possible, utilise your creative pool and get a designer on board – this obviously depends on your budget, but can be worth it to give your show a 'brand' and tie everything together. If not, keep to one key image, and stick to a show title, dates, address and website. Further information on the individual artists can then be included on the website, allowing your flyer design to remain clutter-free. Also, try to make your flyer correspond with the theme or style of the exhibition, so people have an idea of what to expect. Here are some shining examples: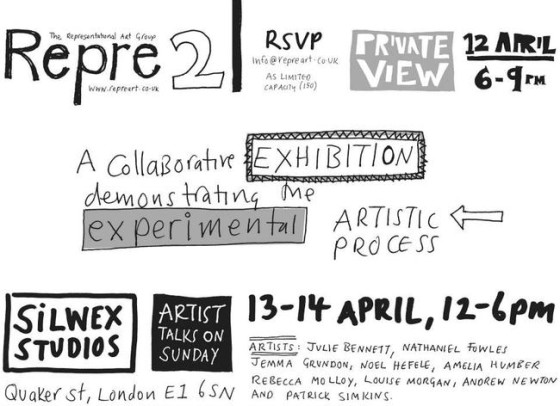 Creative use of text for the exhibition 'Repre 2' means that there is no need for an image, allowing the information to come across clearly without distractions.
This flyer for Sarah Young's exhibition is a great example of communicating the style and theme of the show, with the hand printed text complimenting the central image.
This is a nice example of a classic exhibition poster/flyer, with a clear image and all the information one would need.
Private view invites – If you are holding a private view event, remember to send an invite to important contacts, as well as giving them to friends, family, and people you meet. Although this can be done via email, the act of sending something in the post gives the impression of a more personal and thought-out invitation (again your budget will come into play here). The quality of your invites need to stand out – postcards are a great idea, try Moo.com for high quality. Ask people to RSVP via email, so you know who to expect (of course, there will always be extras on the night!)
Website / blog – This needn't be flashy or over the top, but having a website is really integral in building your online presence and giving your exhibition a professional appearance. Quite often group shows are born out of collectives that may not have an established website set up, as opposed to if you were exhibiting with a commercial gallery. All you really need is a home page with the dates, location, and short summary of the show, and then a page for each artist with their biographies and examples of work. It could also be nice to set up a blog too, in the lead up to your exhibition, as it allows people to understand your ideas and reasons for exhibiting. This could also become a space to upload pictures from the private view event, and continue to be updated even after your exhibition finishes. Don't know where to start? Well luckily with ArtWeb you can create both a website and a blog in no time at all, with well-designed and customisable layouts. Perfect! 'Where is the work', a group exhibition in Sheffield last month, is a great example of how a blog can act as a platform for your exhibition (we also featured this in our '5 ways to improve your blog' post a while back):
Social media presence – we've said it before and we'll say it again, social media is your friend! At the very least, setting up a Facebook page for your group with a separate event can make a world of difference in spreading the word. Remember to 'allow others to invite friends', so your network can share with people they think might be interested. Make sure you regularly update the Facebook page in the lead up to your exhibition. A nice idea could be to feature an artist in the show every couple of days, with a brief bio and link to individual websites and/ or your exhibition website, in order to generate a buzz. Or how about some short video clips showing artists setting up their spaces? Setting up a Twitter account can take a bit of time in order to build up your contacts, but can be an effective way to get in touch with influential people you might not have met before. Take a look at our article on 'Social Media' for more information on getting started with these valuable marketing tools.
Maling lists – Often overlooked, mailing lists can be incredibly effective in sharing your news. If you haven't already got a mailing list set up, start building one today! One important thing to think about when you're creating a mailing list contact list – never randomly add contacts you've never met. It's not that polite, and its likely people will just ignore any emails you send out, no matter how catchy the subject line. If there is someone you really want to add, but haven't had the chance to meet, why not email them a personal message explaining that you'd like to add them to your list if possible. Your exhibition is a great chance to add people to your mailing list, by keeping a sign-up sheet somewhere prominent in the space. Also, always have sign-up option on your website, so people who come across your work can easily keep up to date.
Press release, artist biographies, and works for sale – These are important pieces of information that every exhibition should have. The press release should be a well written and concise explanation of the show, that brings together the group ideas whilst highlighting individual concepts, and should also be sent out with your email invites as an attachment. It should include a list of the exhibiting artists, and an explanation of how and why you came together. It should also include relevant dates, information on artist talks or screenings, one or two images and details of how to find out more (website link, blog etc). The artist biographies should be shortened artist statements, with an image of the artist's work and links to their website. A list of works for sale is also really important, especially if you are choosing to not price artworks on the wall. Make sure it is clear if the work is one-off or part of an edition, how many are in the series, and that the works are correctly numbered.
How to promote your show with a commercial gallery, or an open submission group show
When working with a gallery on a curated show, often the main part of the marketing will be done by the gallery, leaving you to focus on the production and delivery of your work. However, that's not to say you shouldn't try and promote your show! Here are a few small things you can do that may make the difference, and your gallery will also appreciate the extended network:
Share the exhibition with your network. Now is the time to use your mailing list to its full potential – send a couple of emails in the lead up to the show with invitations to the private view. People are much more likely to come to an exhibition where they personally know the artist, or have met them in the past, so make sure they don't miss out on the information.
Make sure you update your website with the exhibition details. That way, any new visitors to your site will be able to instantly find out where they can see your work for real.
Use social media. The gallery may have already set up an event on Facebook, but sometimes it's a nice idea to set your own one up and invite your network. It can feel a lot more friendly that way, and people are likely to appreciate a personal invite.
Get the gallery to give you promotional postcards and flyers, that you can hand out to people you know. This is also a great way to get the word out at other exhibitions and private views, where there might be a relevant and interested audience.
That's it for now! Hopefully these tips will come in use when thinking about marketing your exhibition – and remember to catch up with the rest of the series (click on the 'How To' category). We'll be back soon with some more advice for artists – see you soon!