So, you've been busy creating lots of art… now it's time to show the world!
Welcome to part 2 in our 'Exhibiting your Art' blog series. The series will be covering various aspects of exhibiting, including getting started, working with commercial galleries, submitting to group shows, and marketing.
Putting on your own exhibition, whether physical or online, can be an extremely rewarding process, as you have total control over all aspects of your show. On the downside, you'll have to be extremely organised to make it work, and most of the costs will be down to you. One way to solve this is to work with fellow artists on group shows, which can reduce the impact of these potential problems. We'll be looking at how to find a space, the benefits of collaborating, how to approach curating your own show, getting people through the door, and the pros and cons of holding your own show.
Solo show or group show?
When putting on your own exhibition, something to consider is whether you want to get a group of artists together, or who want to go it alone. There are benefits and downsides to each of these options, and it's important to work out what you really want from the venture first.
Putting on your own solo show will mean a lot more pressure, as you will be doing all of the work yourself. The upside though is that you will have total creative control, and all the decisions will be yours.
You'll need to consider whether you have enough work to put on a solo show. This doesn't just mean sheer volume, but a well curated collection of work that ties together your ideas and processes. It may be extremely useful to source a curator to help you with this – use your networks to find someone who understands your work and will be able to help you bring it altogether.
'Norden Farm Exhibition' by Joan Skelton Smith
Group shows can be a great option if you feel you only have a small selection of work you're ready to exhibit. The other benefit is that you'll be able to manage tasks between a group of people – one person can take control of marketing, another poster design, and so on, meaning there is less stress on any one individual. Of course, creative people working together can often lead to fiery debates around decision-making! But this can be a great part of the process and often makes even more rewarding when the end result is a success. Being part of a group also means your network is much bigger, meaning more people will come to the private view and there will be more exposure to all of your work.
An important  factor to consider is who you exhibit with – don't rush into this. Research artists and contact those whose work can be clearly curatorial linked to your own. As tempting as it is to work with your close group of friends, it may be that their work is completely irrelevant to yours, and you could end up with a disjointed, unclear exhibition. Working with like-minded people on an exhibition may even lead to other things, like starting a permanent collective. We wrote an article last year on the benefits of working with a peer mentoring group, and here is another great article from the Guardian talking about the benefits of starting a collective, and how it can further your creative process.
Organising any exhibition, whether on your own or with a group, is going to to take a lot of hard work and a lot of time, so you need to be sure it's going to benefit your artistic progression and expose your work to the right people.
Costs
Start with a budget plan – this is extremely useful in planning how much you're willing to spend, and gaining a realistic understanding of how and where you can exhibit. Things to consider are:
Space hire
Private view costs (drinks, nibbles etc.)
Advertising
Transporting of artwork – van hire?
Marketing materials (posters, flyers, website etc)
Installation costs
Printing of CVs, press releases, artist statements
Business cards/postcards for visitors to take away
Time factor (time not spent creating new work)
Some of these costs you may be able to get back, for example asking for donations at the bar to offset the drinks costs. Another idea which can work brilliantly is to try and source sponsorship for the evening from a local drinks company. It sounds a bit over the top, but if you can promise a busy and well advertised private view event that's relevant to their brand, it's likely they wouldn't mind donating a few crates for their logo being on the flyers/posters. Try local breweries as a starting point!
How to find a space
Finding a space to exhibit can be a challenging part of the process, but once you start researching, you'll find that there are plenty of galleries and temporary spaces out there looking for art to fill their walls!
It is worth looking in multi-practice venues or centres with available gallery space. For example, performing arts spaces or community centres may have gallery spaces for local residents at reduced rates. Other places to look might be pubs, bars, restaurants, libraries and artist-led spaces… art shows have even been known to be held in people's living rooms, so keep your options open!
'World's smallest gallery' by Tessa Crawford-Docherty
Curating
Curating is an integral aspect of holding your own exhibition, and one which can be daunting to a visual artist with no experience. Its easy to think that as a creative person, curating a space will come easy, but it's important to remember that people specialise in the art of curating for a reason, and it's not something to be left as the last consideration. You should start thinking about your curatorial ideas from the very beginning of your exhibition journey, and you must also ensure that everyone in your group understands what they are working towards. As mentioned above, it may be useful to work with a curator in order to have an outsiders perspective on the work – try contacting people who may be studying curating or museum studies, who may be looking for independent projects of their own.
Hanging and installing the work comes under curating – make sure you have visited the space several times and understand the limitations in terms of hanging. Do they allow holes to be drilled? Do they have a pre-installed hanging system? Do they provide paint/ poly-filler for de-installation?
You'll also need to consider where you'll be advertising pricing of artworks for sale. Some exhibitions will have labels next to each artwork with the cost and number of editions, whereas some will have a list of works sheet available for visitors. Think about the space itself and what would suit your show more.
Providing CVs and artist statements are also really important in ensuring visitors come away with knowledge of the work, and a reminder to keep up to date with any artists they like through websites, blogs, and mailing list details. This opens up opportunities for future sales post-exhibition, and will also build on your existing network. Some artists include business cards or postcards so people can actually take away a small memento of their work – try moo.com if you're thinking about doing this.
Spreading the word
You've worked hard pulling together a great show – now you need people to come! Here are a few tried and tested ways to market your exhibition:
Social media is your friend! Take a look at out tips on using social media in our previous blog post here. Use you blog, Twitter, Facebook, Tumblr – basically anything that will get the word out.
Try and get your event listed on popular art events sites, such as ArtRabbit, Time Out, and of course ArtWeb.com!
If you have a mailing list, send an email out around 2 weeks before the event, then another a couple of days before as a reminder. Our article on marketing also contains advice on building a mailing list.
Flyers and posters are a great tool in advertising the show in local areas – ask local cafes, community centres, artist studio spaces, and anywhere relevant if they would mind you leaving flyers – most places don't mind.
Remember, you can't talk about it enough! These days, with such a wealth of information being taken in everyday, people need reminders…!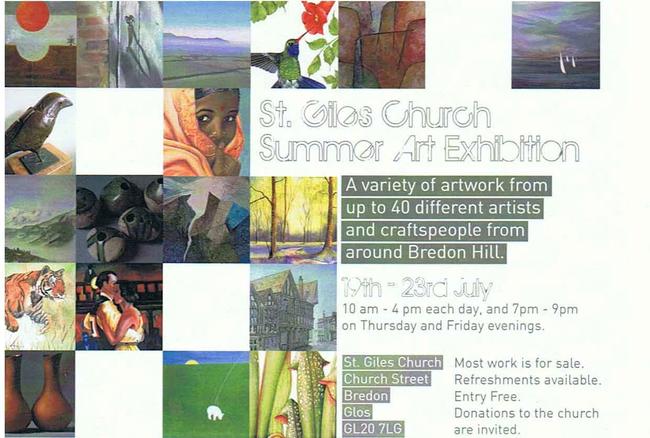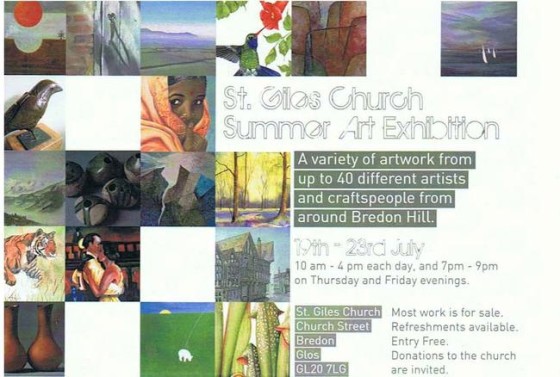 Example of a flyer for St. Giles Church Summer Art Exhibition
Got any tips or experience in holding your own exhibition? Share your advice with us and our readers by commenting!