Visiting an art supply shop can be daunting even for the most seasoned artist. So plan ahead with our A to Z of art materials.
A is for… acrylic
Less than a century old, acrylic paint is a fast favorite among artists. It dries quickly, making it a more portable medium, and allows for easier lines and shapes than traditional oil paint. The colors can be more vibrant as the manufactured pigments are suspended in a clear fluid (that's not actually water).
Among its fans are British artist David Hockney who felt its clear colors and flat lines better represented the environs of California, after having grown up in the wilds of Yorkshire.  
Discover the benefits of acrylic paint.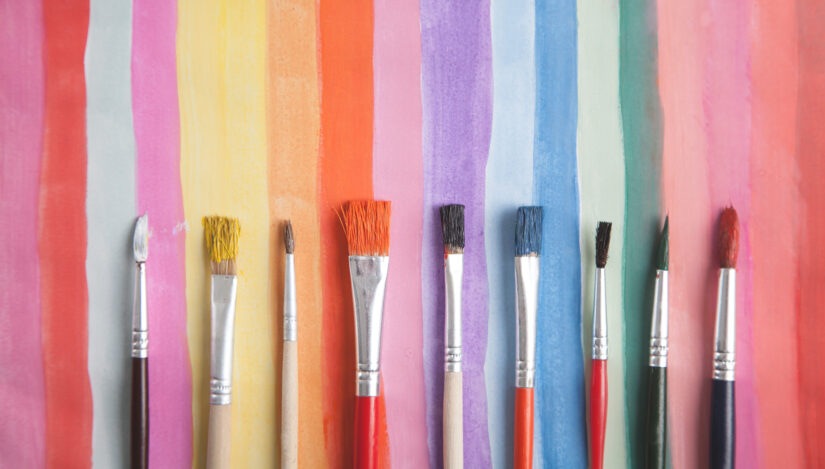 B is for… brushes
Dating back more than 2 million years, the Egyptians and Neolithic-era China have given us some magnificent early examples of fine art created with brushes.
Historically, brushes were made from a variety of animal hair chosen for its texture (from hog bristles and goat to the finer sable). In recent years, vegan-friendly synthetic brushes that replicate the techniques have become available.
Learn more about which paintbrushes you should use.
C is for… canvas
Fabric stretched over wooden frames largely replaced board in the last few centuries. But not all canvas is the same. Canvas is used to describe closely woven materials of relatively coarse fibers including hemp, cotton or linen. The fabric is then sized — the process of painting a glue-like substance once made from rabbit skin — to create a surface that oil paint will stick to.
Dutch master Vermeer was one of the first artists to use canvas, as opposed to the board favored by the Dutch and Flemish masters of the time. Explore the different surfaces for painting.
D is for… drawing boards
These cheap and easy-to-make artist supports are a vital part of an artist's arsenal. No one should ever draw or paint on a flat surface, so a decent-sized drawing board makes it easy to work at an angle. Make your own by having a piece of MDF or plyboard cut to around A1 size (for an easel) or half that size if you are holding or leaning it. Lightly sand the edges or line with tape to prevent any splinters.
Fix paper and canvas sheets to the board using masking or light adhesive tape, which can be pulled off when the work is complete. This will prevent the surface from moving. Alternatives include large artist clips that will hold the work in place without leaving the telltale marks of metal bulldog clips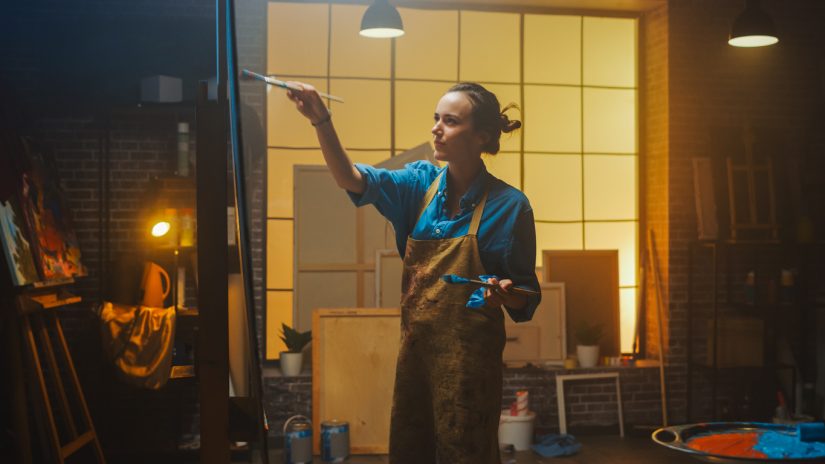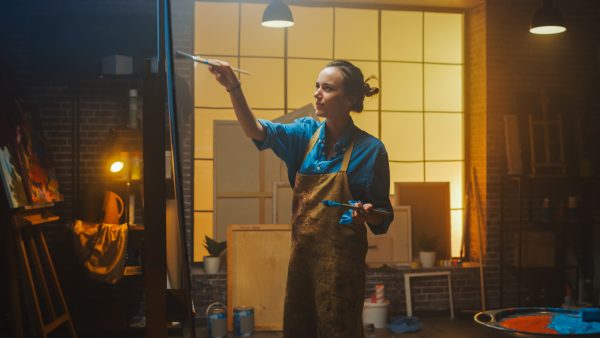 E is for… easels
Your sturdy studio friend. Buy a solid easel, rather than a spindly collapsible one. If you are short on space, go for a tabletop easel that can be folded flat for storage. Buy the best one you can as it will undergo quite a battering.
See more tips for setting up a home studio.
F is for… fruit
As they say at art school: When all else fails, draw an apple. Having fruit and the occasional bottle handy is a must for artists. A simple arrangement should have odd numbers and provide interest on vertical and horizontal lines.
G is for… gouache.
Gouache is a type of watercolor paint mixed with gum arabic to make the color solider. In some ways made redundant by the advent of acrylic paint, the combination captured watercolor's translucency with an opaque color.
H is for… house paint
Household paints are a favorite choice for large abstract artists. The enormous canvases favored by artists like Jackson Pollock would have made using traditional artist paints prohibitively expensive. The unique features of household paint helped develop abstract expressionists. Both oil- and water-based household paints are more fluid and more inclined for dripping, dribbling and flicking. Color palettes are generally more limited, although mixing services can now supply an unlimited array of tones.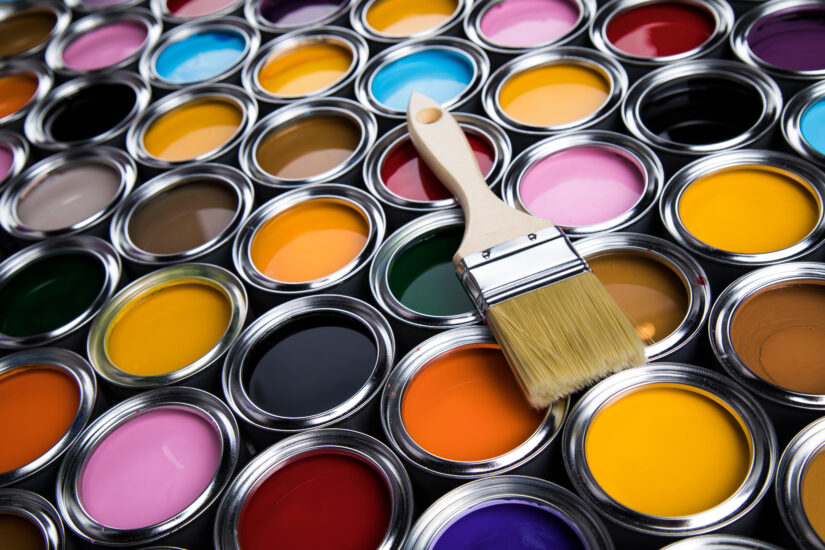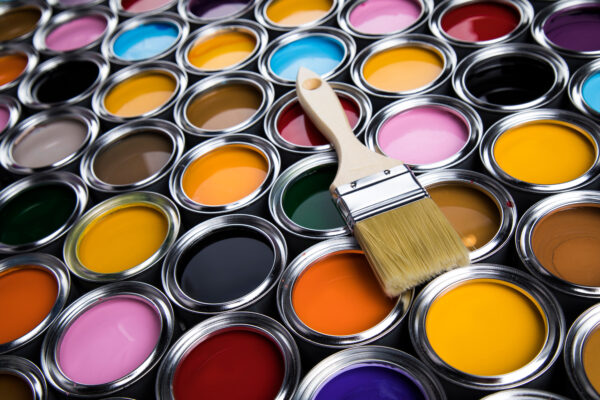 I is for… ink
Ink is a specific medium usually used for printing, but it can be used to supplement watercolors.
J is for… jars
A basic storage item for every artist. You should always store dry brushes upwards to prevent the bristles from bending. Jars of brushes also make great still life.
K is for… knives
Palette and painting knives have been around for centuries. The preserve of the oil painter, knives create thick textures and strong marks. Explore the world of painting knives
L is for… linocut printing
Linocut print revolves around cutting an image into linoleum before rolling ink and pressing it to a surface (usually paper). The technique traverses hobby crafts to fine arts.
M is for… masking tape
This low-tack decorator's tape will stick paper in place on drawing boards and walls and is a useful hanging implement for photographs and studies. Peel carefully to avoid rips and tears.
N is for… newsprint
This exceedingly cheap paper is a newspaper without the news. Buy it in bulk and get drawing. The texture is fine, closer to tracing paper than sketch pads, but it is a great way to develop preliminary ideas with pens, pencils and charcoal.
O is for… oil paint
Oil paint has been used for millennia and remains a favorite medium of professional artists. It is traditionally pigment mixed with oils, such as linseed, to create a thick medium that allows texture and gloss where wanted.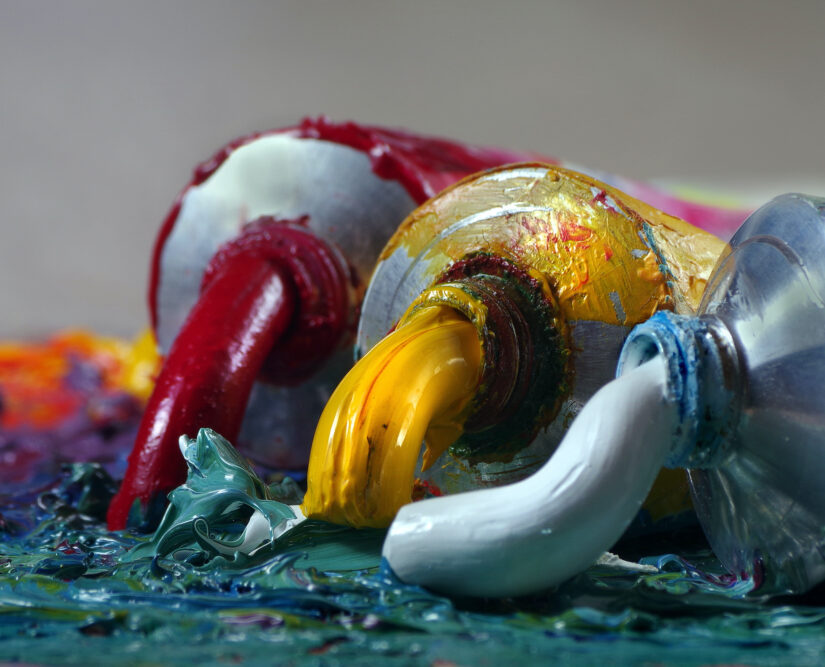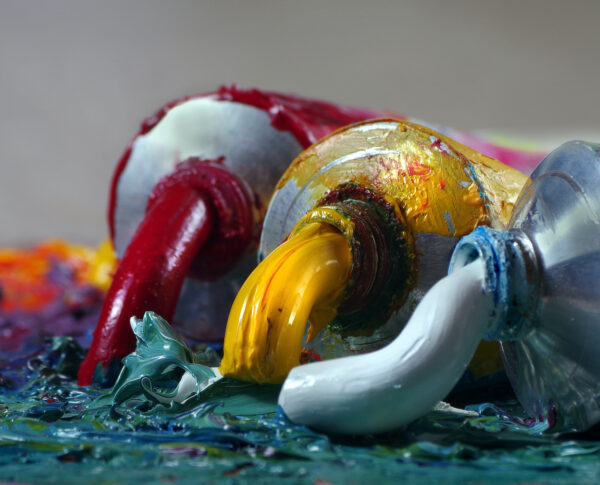 P is for… paper
If C is for canvas, then P has to be for paper. There are hundreds of types of paper painting surfaces, with heavy-grained rough paper the most common. Before being used for painting, the paper needs to be prepared by pre-wetting it and allowing it to dry to prevent rippling when paint is applied.
Explore how to paint on paper.
Q is for… quill pens
Yes, really. Artists do still use quill pens. Nothing writes quite like them, especially if you are a practitioner of calligraphy. And they are great for signing paintings. Lends a sense of occasion!
R is for… rollers
Printing rollers are used to press ink onto a surface for lino prints and screen printing. The printing process uses a single color at a time, creating individual layers, something which artist Andy Warhol took to new levels with his vibrant offset prints. Find out more about printmaking.
S is for… soft pastels
These chalky soft-colored blocks are a joy to use, draw, smudge and then draw again. A technicolor version of charcoal, they work best on darker papers.
T is for… tempera
Medieval and Renaissance painters favored egg tempera on board because of the glowing quality. Learn how artists use egg tempera.
U is for… underpainting
Also known as grounds, underpainting means preparing the painting surface. All part of the artist's job.
V is for… viewfinders
Viewfinders is a square or rectangle cut out of a card or piece of paper. It's used, particularly by landscape artists, to help choose which view to capture. You can make your own using a card mount from a photograph frame.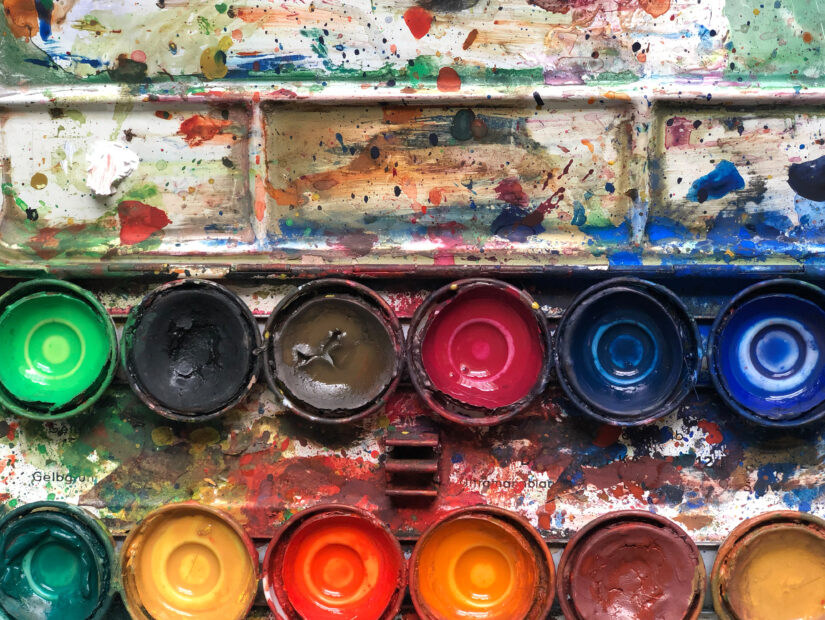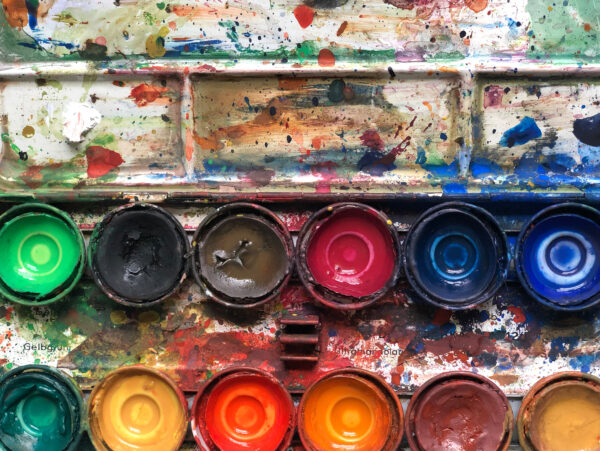 W… is for watercolors
Watercolors were a favorite medium for great artists like J. M. W. Turner. Watercolors are created by adding water to pigments that are usually pressed into solid "cakes" and can be diluted. Although discounted for many years as a fine art medium, watercolors predominate landscapes, botanical drawings and ivory used for miniature portraits that became popular among the gentry in the 17th century.
Explore how professional artists use watercolors.
X is for… X-Acto knife
The X-Acto knife is a specialist knife that sits somewhere between a craft knife and a scalpel developed as a precision cutting tool.
Y is for… yellow light
Natural light is the preferred choice for most artists, but artificial lights have their place. Creating a strong single light can create dramatic still life and figurative paintings. You can choose an ordinary lightbulb that emits a yellow light, or choose a daylight bulb (sometimes called a blue bulb) that mimics daylight by emitting a purer white.
Z is for… zinc white
We complete our list with this basic grounding. Artists use white to lighten darker colors and only occasionally use it on its own. Zinc white — created from zinc oxide — also performs another major function: creating a ground to make a canvas or board ready for painting. Explore the history of white paint.