As artists, it's easy to get carried away and buy hundreds— even thousands—of dollars' worth of art supplies. And the reality is you probably won't even use half of it. The good news is that the equipment you need to set up your studio can be inexpensive if you stick to the essentials.
To help you on your way to becoming a professional painter, here is Artweb's top ten supplies you will definitely need (in no particular order) and a few cheats to keep the cost down.
Knives
You will need a selection of painting knives (sometimes called palette knives) as well as a sharp utility knife or craft knife/scalpel. These will be helpful in scratching off paint and cutting into paint tubes.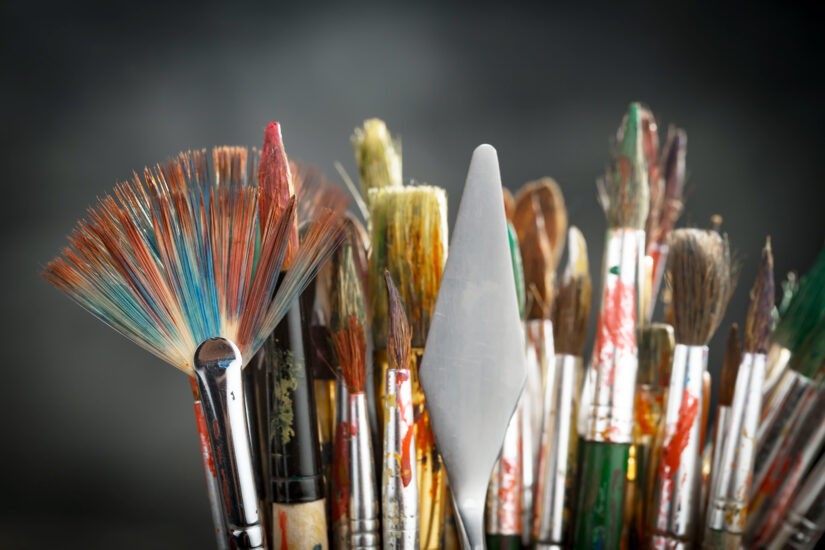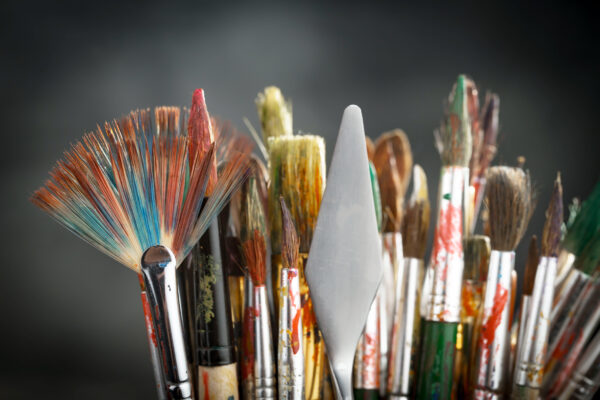 Cheap paintbrushes
Alongside some decent paintbrushes to suit your medium and style of painting, you need to arm yourself with a collection of cheap brushes of various sizes that can be used for washes, mixing paints and general use. We suggest a cheap 10 pack of student paint brushes in mixed sizes, as well as a couple of larger decorator brushes.
Learn more about the different artist brush types.
Easel
This is your big outlay of cost and the answer is to get the best one you can afford. If space is tight go with a solid tabletop easel rather than a spindly collapsible floor one. These tend to collapse or tip over at the wrong moment. Without an easel you will be painting flat on a table and that is going to impact the quality of your work.
Read more about choosing the right easel.
Basic paint colors
There are literally hundreds of different hues and shades you can buy, but you need only the basics to begin with as these can be mixed to create an endless array of different shades which is part of the fun of painting. As you develop your style, you will have a better idea of what colors you want, rather than buying a random collection that you then think you should use up. It's a good idea to buy different brands of paints as there will be minor differences in the thickness and the tone. You will find yourself favoring one particular make.
Basic oil paint colors
Titanium white – Get a big tube—it will get used up quickly.
Black – You only need a small tube as a little goes a long way. Think tip of your brush small.
Cadmium Yellow – Yellow can be quite translucent to use alone, so stay away from lighter hues like lemon. Cadmium is easy to mix with a little blue to create green.
Cadmium Red – This is a great horror-film red that can be darkened or lightened.
Blue – Choose a generic blue like Phthalo or Prussian Blue. The more vibrant aquamarine can be a bit basic for developing different hues.
Phthalo Green – You can create green from yellow and blue, but having a green ready means you can mix in yellows and blues to create different tones.
If you are hungry to learn more about color, explore the world of Pantone, the world-famous digital color mixers and their (expensive) color books.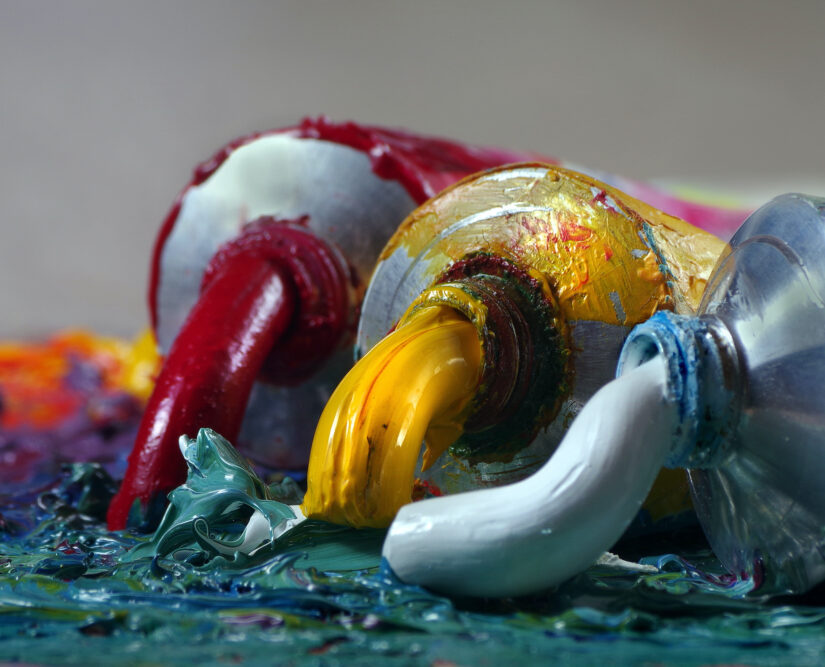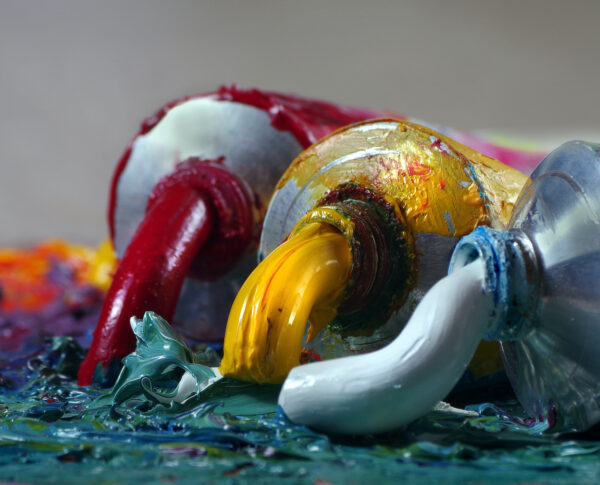 Acrylic paints
Even if you are working with oils, you will want to get a pack of basic acrylic paint to water down for washes and grounds to prepare your canvas (few of us like painting on a brilliant white canvas which has a habit of shining through paint).
Drying rack, space or system
Whether you work small or large, in acrylic or oil, you are going to need somewhere you can store work to dry. Traditionally drying racks are created with wooden slats to lean stretchered paintings into. But if you are working on a smaller scale on board, you can use something like a magazine rack (or even a toast rack!) For paper or canvas sheets, you will need to store work flat. Look for tabletop shelving units designed for spices or for those promoted as space saving in kitchen cupboards.
Learn how to make your own drying rack.
Pencils and charcoals
Even if you don't draw, pencils are a must in your art supplies. You will probably want to develop a composition before you paint, either on the final canvas or on sketch pads. Get the full range of hard and soft pencils and throw in some charcoal sticks. These will help you develop compositions before breaking the paint out.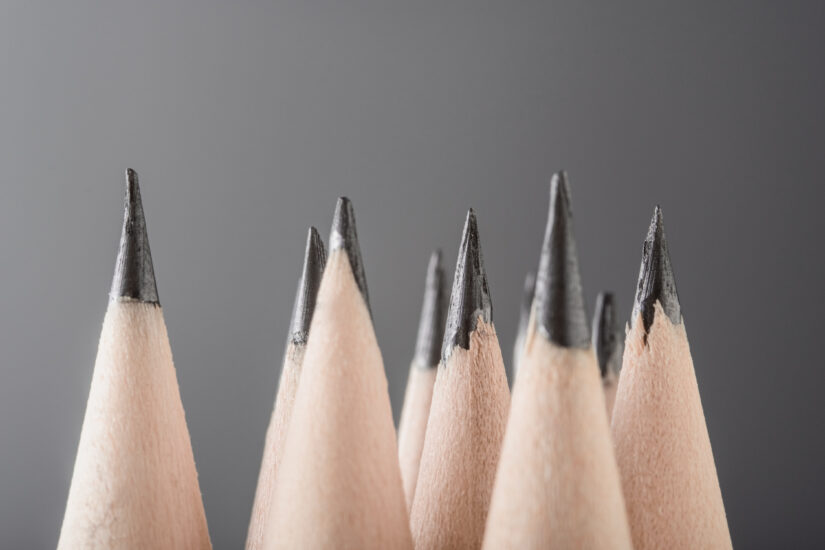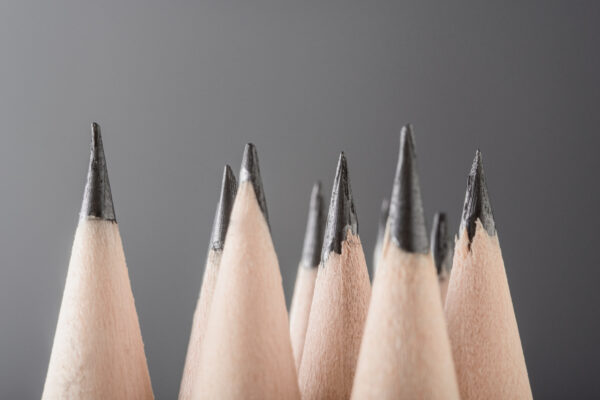 Cardboard boxes
You don't need a palette unless you want the look. So save your boxes (corrugated brown cardboard is best) and cut them into small squares that can be used as palettes. These are great for pop-up studios as you can throw the cardboard away once you have finished.
Painting paper, sketch pads and loose canvas sheets
Before you begin to work, you will probably want to trial techniques or composition. Buying large stretchered canvasses is expensive, so have paper and loose canvas sheets that you can use without worrying about the cost.
Explore more options in our Best Surfaces for Oil Paintings article.
A basic tool kit
A small kit of pliers, screwdrivers and a hammer are vital for an art studio. Even if you are not making your own frames, the tools come in handy when adding fixings to artwork (as well as building drying racks and tightening up your easel). Your kit should include a measuring tape, masking tape and a selection of nails and screws.
Inspired? Learn more about setting up your home studio.