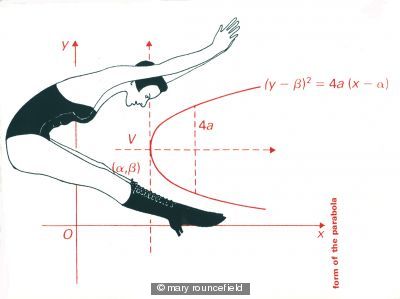 Please give us a few words of introduction about yourself
I am an artist/printmaker based in Bristol working in a variety of media. I am a member of Spike Print Studios an artists' cooperative.
When did you decide to pursue art as a career?
I decided a few years ago. I had been working for quite a while teaching maths, and going along to 'life classes' and painting in my spare time. I realised that while I enjoyed maths and liked working with young people, I was only using half my brain and half my abilities and that I should have a go at using the 'other half'! Perhaps its something to do with being born under the sign of Gemini!
What training did you have?
I did a part-time Foundation course at Bristol School of Art at Queen's Road. That was absolutely fantastic and it opened up my experience to a broader range of media. That course gave me the confidence to carry of an take a degree course at the University of the West of England . (I got a 2 (i) )
What has been the high point of your career so far?
While I was a student, I has a piece of work selected for the exhibition for the 'long list' for the Jerwood Drawing Prize.
General Questions
What's your favourite quote?
'You only live once' (sorry its a bit 'old-hat' but its been my driving forc for the last few years!)
Who is your favourite artist?
I have a few including M.C.Escher, Andy Warhol , Francis Bacon and Tracy Emin
What are you aiming for?
I would like to be known for my work which I see as a commentary on the discipline of mathematics. While some artists reproduce mathematical patterns and call it art, I am interested in expressing my ideas and feelings about maths.
How will you get there?
I keep sending my work in to Open Exhibitions and hoping it gets selected (which it sometimes does) . I try to apply for opportunities to get my work more exposure. I am now a selected artist working with Arts and Business Southwest and I am a member of the Observer/Courvoisier Future 500.
Is anything holding you back?
I don't know!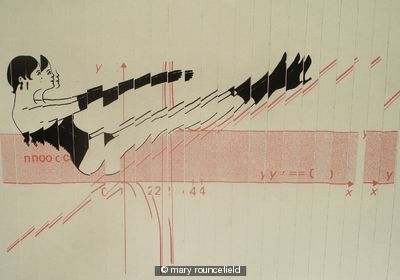 You and art
What feelings or reactions do you hope to arouse in people who view your work? Are you ever surprised by reactions that you get?
People either love my work or hate it. I use the imagery of a corset as a metaphor for the intellectual discipline of mathematics. some people see my work as being anti feminist and sexist whereas in fact its quite the opposite!
My work combines mathematical and geometric symbolism with what might be seen as a kind of burlesque feminine iconography-a pairing which is quite unusual.
The series of prints: 'Mathematical Curves' generally combine a female figure with a mathematical curve.I am trying to show that while Mathematical language can be used to describe elegance and beauty,but that there is also an absolute requirement for adherence to a strict set of conventions and logic. In many of my prints the female figure is constrained by the physical form of the curve. The restraint imposed by the corset symbolises the constraint imposed by the discipline of mathematics on the way the mathematician must think. – Sorry if that sounds a bit philosophical!
From start to finish, how long does it take for you to create your work?
I'm not sure. I'm very cerebral in that I think about images and plan them in my head rather than on paper. ideas can be floating around for ages.
What music do you like to listen to when you work?
I don't really listen to music.When I'm working I have too much thinking to do.
What are you working on next? Any future plans or projects in the pipeline that we should look out for?
I've got lots to do with plenty of ideas based on mathematical curves, symmetry and patterns.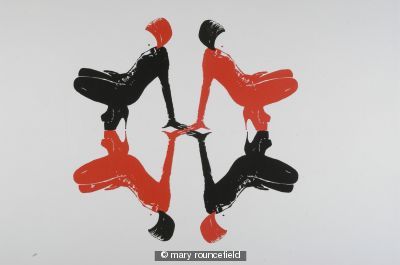 Being inspired by art
Who (living or dead) inspires you? and why?
M.C.Escher. he was a brilliant printmaker with some very clever ideas.
What feelings, subjects or concepts inspire you as an artist?
I am inspired by mathematics and the beauty and elegance of many mathematical forms. However mathematics is a strict discipline and I find this juxtaposition very interesting.
What is your favourite work that you've produced so far and why?
'Parabola'. It's so simple and elegant and expresses what I want to say very succinctly.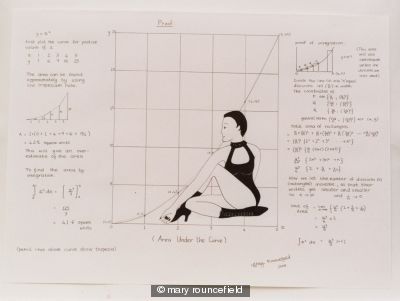 Thank You Mary!
You can see more of Mary's work at www.maryrouncefield.co.uk, plus she has some exhibitions this spring, see here for more info.