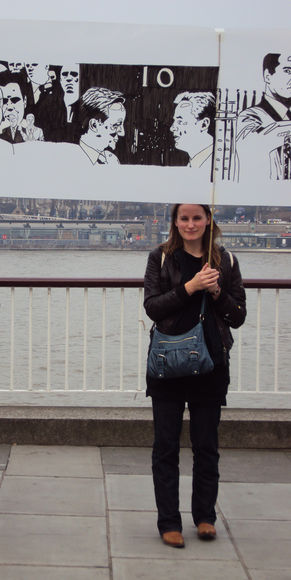 Being an artist
Please give us a few words of introduction about yourself
Hi. I am an artist and part time Art teacher, originally from the Midlands, but have lived in Brighton since 2000. My art practice has changed over the years; some work is more commercial than others. My most recent work is called 'Transparency' and is not necessarily saleable!
How and when did you start out as an artist?
If 'artist' is defined as selling and exhibiting work then I would say 1998. However, I have had gaps in my art career where I did not create work, and I still feel as if I am starting out in some ways.
My work has evolved through different stages, from landscape paintings to portraiture, to more conceptual work about politics. Strangely, when asked (from the age of about 4) what I would like to do as a career, I have always said, "Artist".
What training have you had?
A BA in Art and Design from Bradford College of Art and an MA in Fine Art (Drawing) from Wimbledon College of Art.
What has been your best creative achievement so far?
The MA in Fine Art. It was a slog, but fun at the same time, and I was pleased with the final work in the end of year show.
General Questions
What's your favourite quote?
'Vision without Action is only a dream
Action without Vision; a means of passing time
But Vision and Action can change the world'
Nelson Mandela
Who is your favourite artist?
There are too many favourites; Grayson Perry, Tracey Emin, Jeremy Deller, Richard Billingham, Michael Landy, etc.
What are you aiming for?
To be able to exhibit my 'commercial' work more widely and to find a contemporary gallery to represent my practice. To show the more 'conceptual' work with artists in collaborative, 'socially engaged' art projects.
How will you get there?
By continuing to work and make contacts.
Is anything holding you back?
I believe our actions determine our own destiny and I have no regrets. The only thing that can hold me back at times is my own mind. I can sometimes over-think the practice when it is better to just be more experimental and let it evolve.
Also, procrastination and creative block can sometimes take hold, but the remedy is usually to be experimental, work through it, or visit galleries/festivals for inspiration.

You and art
What sort of reactions do you get to your work? are you ever surprised?
It is great to hear people's reactions to my work. Different people can see completely different things in one piece of work. It is interesting how people's subjective experiences influence the reading of art. The May Open house festival in Brighton and Hove has been a great opportunity to meet people over the years.
From start to finish, how long does it take for you to create your work?
It depends on the piece of work; some take months, and some take a day!
What music do you like to listen to when you work?
I listen to lots of different music when I work, depending on my mood. Radiohead to Madonna and Kylie! I share a studio with two other artists, so it's good to listen to their music collections too.
What is next in the pipeline for you? Any new directions or shows coming up?
I am very pleased to have been contacted recently about having 'Transparency' as part of an artist event in Yorkshire about the government spending review.
I have also just found out that my profile on RISE ART will be shortlisted by their online board of curators for the Select Artist feature.
I am also working on a new, more commercial, series of drawings based upon a recent, exciting trip to New York.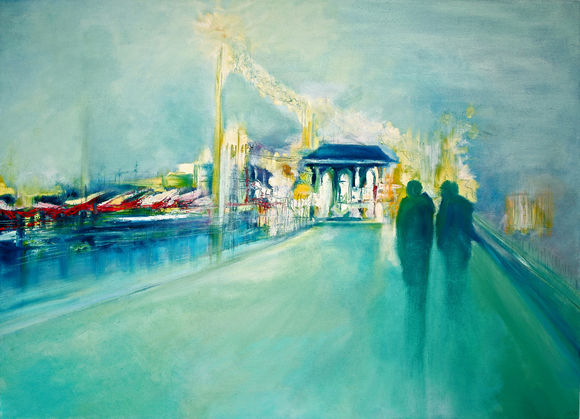 Being inspired by art
Who (living or dead) inspires you? and why?
Nelson Mandela. He is inspirational because he shows no bitterness towards his oppressors and has inspired so many.
The Dalai Lama and Chögyam Trungpa for the same reasons, and for inspiring people on the Buddhist path and beyond.
Tracey Emin for being true to herself and being one of the most successful contemporary artists and a role model for women.
What feelings, subjects or concepts inspire you as an artist?
Documentary, the everyday, portraiture, animation, landscape, people watching, politics, love, beauty.
What is your favourite work that you've produced so far and why?
The piece in my MA show, 'Transparency'. It is a 12 metre long artwork on tracing paper about the current political agenda of rolling back the state. It is a protest piece made as a site specific work for the show space, which was very large! I recently converted it into a banner and 7 people helped me to carry it through the streets of London on the recent TUC March which was about seeking an alternative to the government's spending cuts to public services. It was great to show the work in a public space outside of the confines of gallery walls in an environment that furthered the cause it was made about. It provoked some great reactions such as surprised people asking questions. One policeman burst out laughing when he saw it, but then tried to compose himself as he was on duty.
an artist's advice
Have you got any advice for those starting out as an artist?
Believe in yourself. Keep working. Have discipline with your practice. Study. Network. Hold regular group critiques with your artist friends, and failing that, set up your own artist group. Have fun. (I have to take my own advice at times!)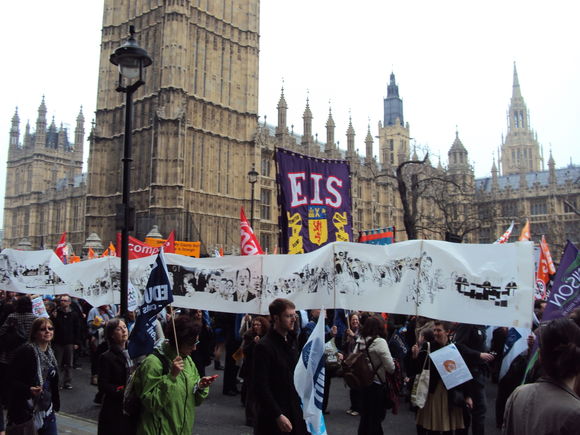 Thanks Jackie!
Jackie's latest news and works can be seen at www.jackieraybone-artist.com