In this edition of The Artists Newsletter we'll start the first in a series looking at how artists can make the most of 'social media'. Today we look at how artists can use twitter.com to raise their profile and connect with interesting people on this fast growing new web service.
If you don't have time to read all of this, make sure you at least Register with twitter and follow The Artists Web!
If you have any suggestions, feel free to leave a comment
What is twitter
twitter.com is a "micro blogging" service, it allows people to make ultra short posts (no more than about 20 words) called tweets. The allows you to quickly and succinctly tell the world what you are doing, thinking, liking, disliking, reading, watching, eating or just broadcast any message you like at any time.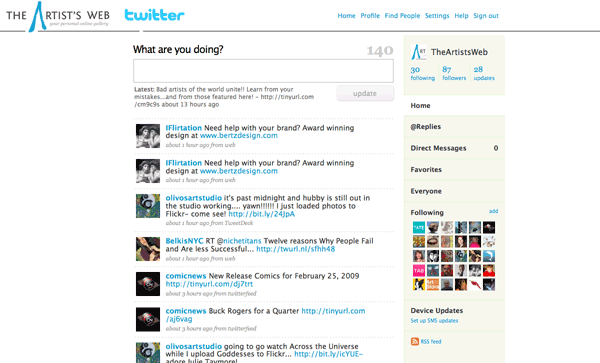 When you register you get your own twitter profile page where people can see what you've 'tweeted'. twitter users can choose to 'follow' other twitter users in which case they automatically receive that users 'tweets'.
If you use facebook, or myspace you could think of twitter as the 'status updates' or 'mood' part and nothing (much) else. And yet another way of thinking of twitter is a cross between instant messaging and a blog.
youtube video
So what can artists do with twitter?
As an artist probably the most useful aspect of twitter is the ability to raise your profile and ultimately being able send people to your website/blog/online gallery and tell them about you. It's a bit like having a mailing list/ fan club – and you can instantly send out a message to all on the list, just finished a new painting and uploaded it to your website? tweet a link to it; got an exhibition coming up? tweet a link to the gallery/post time and date; appearing in a magazine/blog/tv? tweet about it.
But it gives you much more than that! here's a few examples
You can network and meet like minded people
Ask for feedback on your work
Ask for advice
Invite people to events/private views
Follow people/organisations on twitter who's opinion you respect/ find useful (e.g. The Artists Web Tate Gallery)
Make special offers or contests "retweet my me and get 20% off my prints"
Twitter is great for live reporting, post about what's happening at events/openings/shows whilst you're there
And check this article on mashable.com with some more tips.
9 Steps For Artists To Get The Most Out Of Twitter
1. Register with twitter and create a full profile

People will read your bio when searching people on twitter, make sure you use this opportunity!

2. Optionally, find a service you like for posting your 'tweets'

You can update via sms, iphone, facebook, widget etc. see: http://twitter.com/downloads – whatever suits your lifestyle.

3. Find people to connect with

You can quickly find like minded, interesting and influential people on twitter, use http://search.twitter.com

4. Use your profile background to show your work

Although most of the background image is obscured by the tweets, if you create a background image with a narrow image left aligned it shoul!
d be visible in the left margin. Use a twitter background creator like artweet.com. Some example uses of the background image: Tokyo art beat, Jay Goldman and Natasha Wescoat

5. Be Interesting!

If you follow any popular users on twitter you'll note that many of them are respected in their industry and tend to be giving away great advice rather than Britney Spears-esquse drivel, 'I had a nice massage/hair do/organic hare and mushroom profiteroles today'

6. Engage with other users

Reply to other users, ask questions to your followers, retweet

7. Publicise your twitter profile

Just as you would publicise your own website, publicise your twitter profile. Invite your friends, put a link (or use a twitter badge/widget) on your website/blog/SNS profiles/email signature, mention twitte!
r when you meet people in the flesh at events etc, tell the wo!
rld you
are on twitter.

8. Keep in sync with your profiles on other social networks

If you are already on some other social networks, (facebook, misplace, bebo etc.) make sure you have the same avatar so people stumbling across you will instantly recognise you if they know your online identity already. You might also like to keep your tweets the same as your mood/status updates. There are tools out there to make this happen automatically for you e.g. facebook app, myspace app and ping.fm

9 For More Great Tips Follow Us!