For many artists, using social media to advertise their artwork is already a significant part of their routine. But starting up artist social media accounts can be confusing and daunting, especially when working with more than a dozen social media channels. Below we explore social media tips for artists wanting to increase traffic to their site and build their brand.
If you are anything like me, posting on social media is a perennial task on the must-do list that gets moved down to the bottom daily. Running social media channels can feel like a full-time job (in fact, it is—social media managers have qualifications and command high salaries). So an artist working alone needs to make clever decisions and create a social media plan that is consistent and doable.
Does an artist need social media?
Before you think that social media is not for you, consider that there are 4.62 billion social media users worldwide. This figure is equal to 58.4% of the world's total population. That's a lot of potential customers. As online sales continue to increase, the need to make yourself as visible as possible has become more and more important. Increasingly, galleries and other potential venues will look at your social media profile to get an idea of you and your practice.
Step 1: Choose the right channel for you
The first decision is to choose the right channels for you. There are a great number of platforms, but many are niche and designed for a specific purpose, such as LinkedIn for connecting businesses. Although this can be an excellent platform for showing art (after all, those corporations must have something to put on those office walls), it may not be the best channel for building your brand overall. Similarly, Pinterest has plenty of arts and crafts channels, but it's more about sharing ideas.
There are many other smaller channels out there, but in the beginning, it's best to stick to the ones with the widest—and most relevant—reach. That likely means the most popular platforms, such as Instagram, Facebook, Twitter and YouTube. But you'll have to do some research to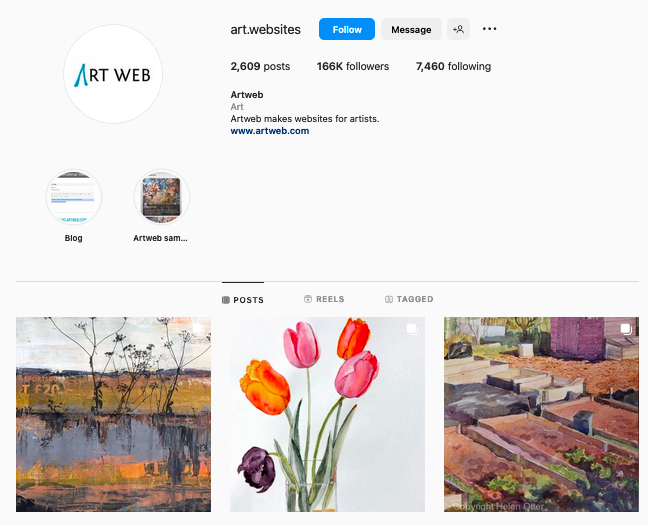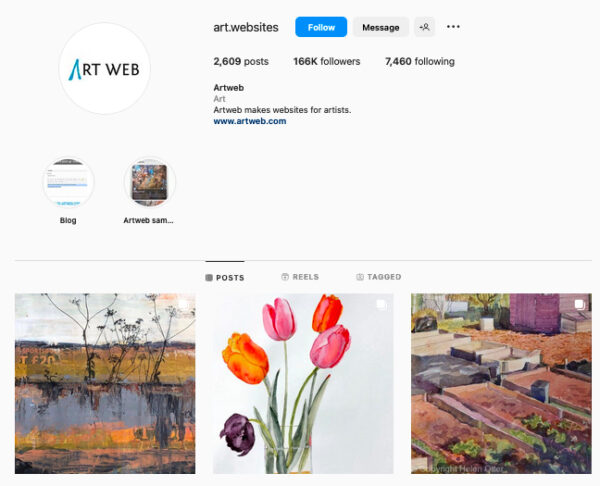 Do your research to figure out your target audience
There is plenty of information out there about social media users. The first thing you need to do is understand who your customer is and where to find them—which may be a trial-and-error process in the beginning. Once you start posting content, you can look at statistics showing how many likes you get or how many people are clicking links, as well as information on their interests.
Essentially this means knowing who uses social media platforms and how likely those users are to buy or be interested in your work. It's a blunt tool, but if you are a landscape painter and TikTok is full of teens, it is probably not a vast art-buying market for you. But if you are a graffiti artist, it might be. Similarly, Pinterest is a primarily visual channel that can help build your profile, particularly if you have craft/homewares to sell and are an accomplished blogger who can share tips and advice.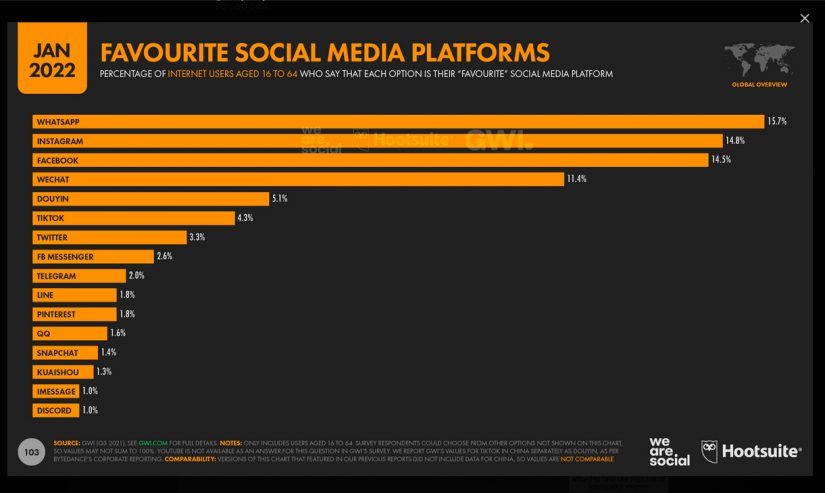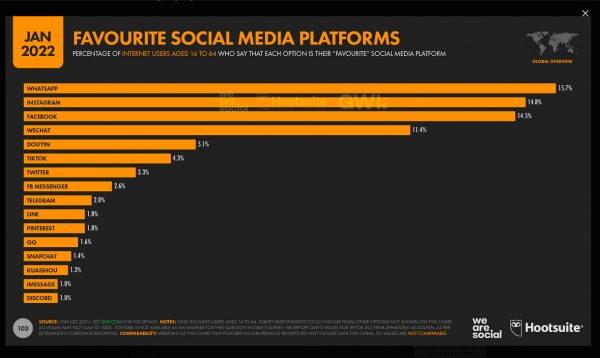 What is your skill level in using social media
Consider your skill level. You are probably already a member of a social media channel or two. Stick with familiar ones to make it easier—that way you will be more likely to keep up your efforts.
Are you a beginner?
To learn about social media, you really need to join the community. Facebook is a good one to start with if you aren't very tech savvy, as it is easy to use (and has many users). You can also set up a personal account and add a business page separately so you can keep your professional self separate from your friends and family self. Once you've set up your user name (try and use your own), if that's not available add "artist" or "studio" to the front or back of your user name.
Get the basics covered
Most artists social media accounts will mean a minimum of Facebook, Twitter and Instagram. While there are many more to look at, here are the general rules for creating a great artist social media account on these channels. Once you are comfortable in these settings, you can quickly transfer the rules to other channels.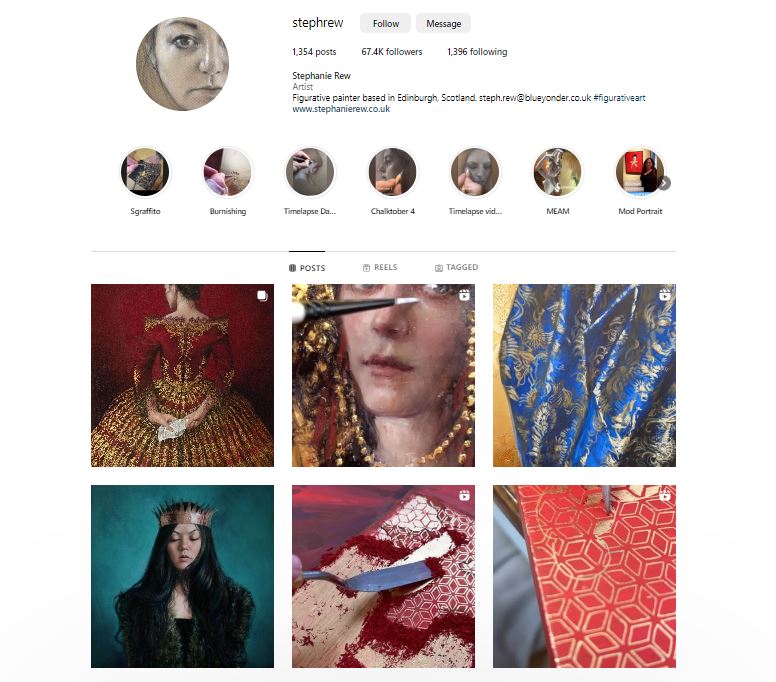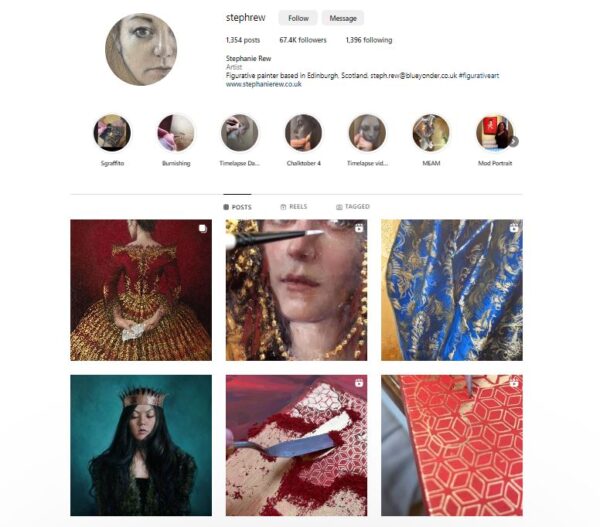 Research, research, research
To find the right audience, you will need to do some research. The easiest way is to start searching for people, companies and groups that might be worth linking up with. Following an artist, gallery or artist group will often give you access to their followers and on and on.
Most people will follow back someone who follows them. If you give someone a mention, they might re-post it. If you promote a business (eg: a pic of your latest work and "I got my latest paints from @paintbrushes"), you are even more likely to get that business to mention you ("Loving the work of @artist who uses @paintbrushes"). It sounds like a lot of work, but you'd be amazed how far you can get in a few hours a week, especially if you constantly review your successes and tweak your approach.
What's trending?
Posting onto social media is more successful if you can check what is hot and join the conversation. Use Google Trends to find out what people are looking at or searching for. For social media it comes down to hashtags and mentions. Specialist paid-for sites like Ahrefs will even give you a rating on the keywords you put into your blogs.
When you are searching on social media, add a hashtag at the start of the search words and it will tell you what is trending so you can join the conversation. See who is posting on that topic and you will find more people or organizations to follow and mention.
For detailed breakdowns of your audience, you can invest in paid advertising. Social media channels will ask you who you want to see your ad by geography, interests, age, gender and career, among other things. But often you can identify some of those things yourself when you search for people to follow or link up with.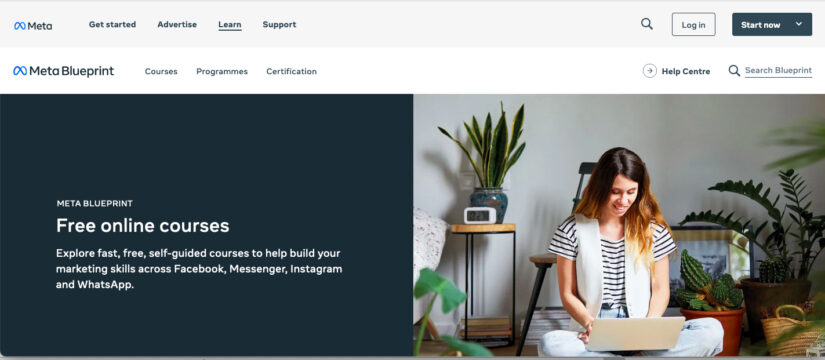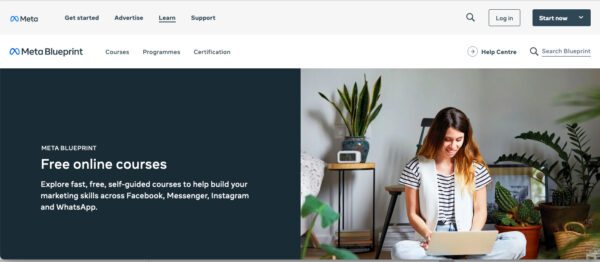 Go to Social Media University
Helping businesses to succeed is the key purpose of social media accounts. When you do well, they do well—so use their free courses to learn more. You might not literally get a BA in Facebook, but when you've done a few free courses on Meta Blueprint you'll feel like you do.
Learn to use the right account
There are many online guides on how artists use the various social media platform, but in two sentences:
How artists use Instagram
Instagram has always been about pictures, and increasingly reels (short video). It's an excellent platform for a visual artist, who will have more images than words. Nothing could be easier than taking a quick snap of your latest work and posting it online. As you get better, you can start to include reels, very short videos. Artists creating work in a 20 or 30 second video have become really popular.
Once you are set up use the Explore tab and it will suggest posts and people based on your areas of interest.
How artists use Twitter
Twitter has developed into a news channel, and its limit on the number of characters you can use makes it ideal for headlines. This is a great choice to make announcements, such as an exhibition or a publication. Twitter is also good for linking to websites. If you are using it for news, hashtags and mentions are really important. And do it more than once.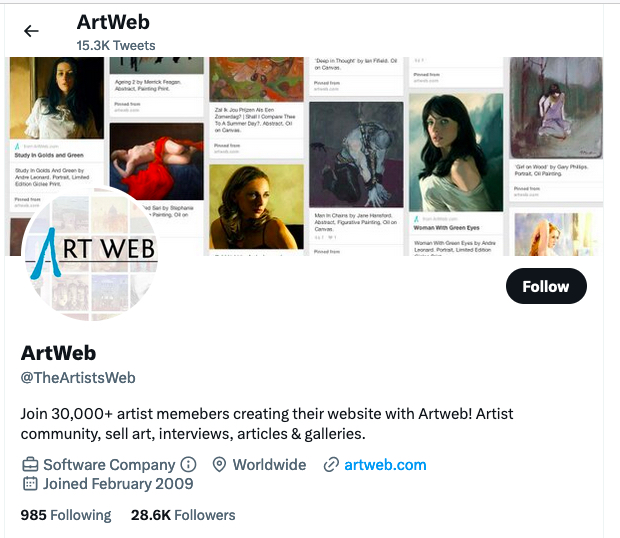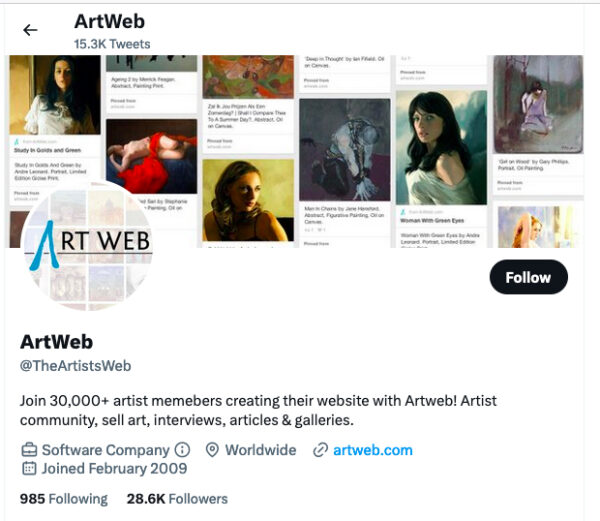 How artists use Facebook
Facebook has more of a community approach. You can join and set up groups and friendships that can reflect your work and style. There are galleries, open events and competitive groups. Get the most out of the channel by joining gallery and collector groups, as well as building a community of artists. There are many private groups that you'll need to apply to join. Some will have rules about self-promotion.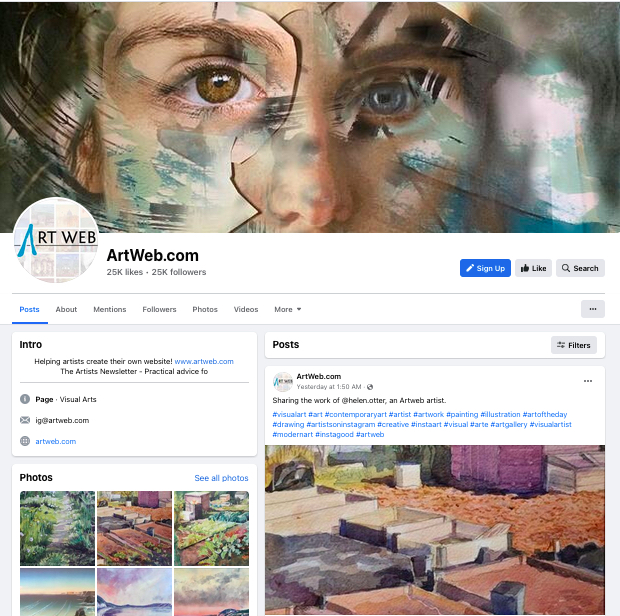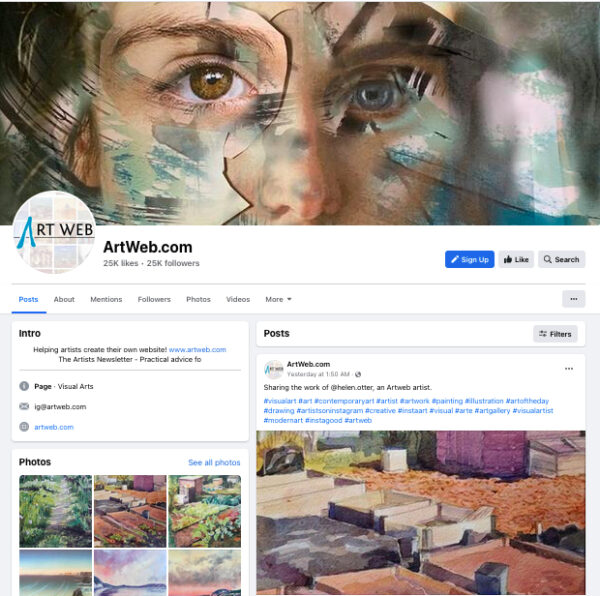 How artists use YouTube
YouTube is the home to all your videos. Uploading to your YouTube account makes it easy to share videos on social media platforms—all you need is to copy and paste a link!
Swap to business accounts or pages
Business accounts are often free on social media, and easy to set up or transfer. It unlocks several options not available on a personal account. Benefits might include analytics (so you know which posts are getting the most attention, when and even why), along with stronger branding options and an advertising account.
Create a strong artist brand on social media
You are a visual artist, so this bit should be relatively easy. There are a few simple rules to follow when it comes to the bare bones of your account. And the good news is you can copy content to make set-up easier.
Make sure your page or account has the same name across all platforms.

Avoid combining your name with numbers. Try to use your name with "artby," "artist," or "visualartist". Ideally, your social media name should match your website address to improve consistency of your brand.

Avoid pictures of your cat or your children. You're running a business, so create a banner using one of your artworks. And it's a good idea to use the same image across all your social media channels, and that includes your website. Most social media channels offer a banner (lead image) and an author image which is an ideal spot for a logo. Read our blog devoted to creating a memorable artist logo.

Banner shapes vary from channel to channel, often requiring images with unusual dimensions. Make sure you crop your image to fit each channel to prevent any weird stretching.

Ensure you have your website featured as prominently as you can. Add your website address into your banner or artist image as a watermark, if you are struggling to do it elsewhere.
TIP: We have a whole series of features on creating your branding that begins with creating your website homepage.
Use your website
Your website and social media channels are your digital personality. Your artist social media channels should be about getting people to visit your website. Make sure they sit together, not only in branding but also in content. Use new sales, commissions, exhibitions, and news on social media to link to your website. Find out more about writing and improving your art blogs.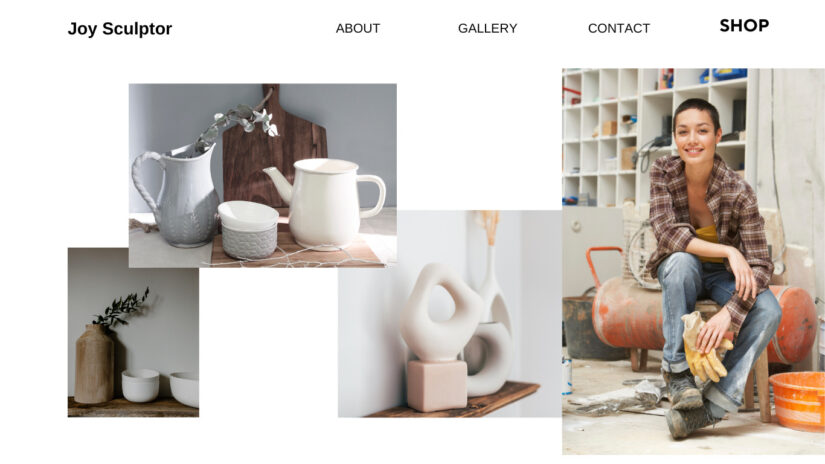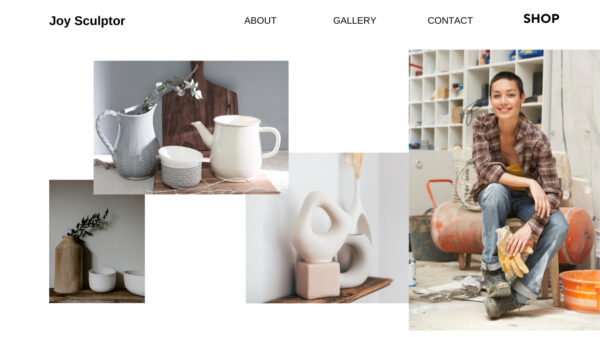 Mentions and hashtags
With so much competition vying for attention on social media, the #hashtags, @mentions/tags help focus on people with a genuine interest in your subject. Get into the habit of @tagging the right people and organizations who will help spread the word.
You should also create a regular round of hashtags related to your work. These might include the mediums or genres you work in #portraits #landscapes, and don't forget to include your name (for example, #carolburnsart) to help build your brand. Social media is not the place to be shy!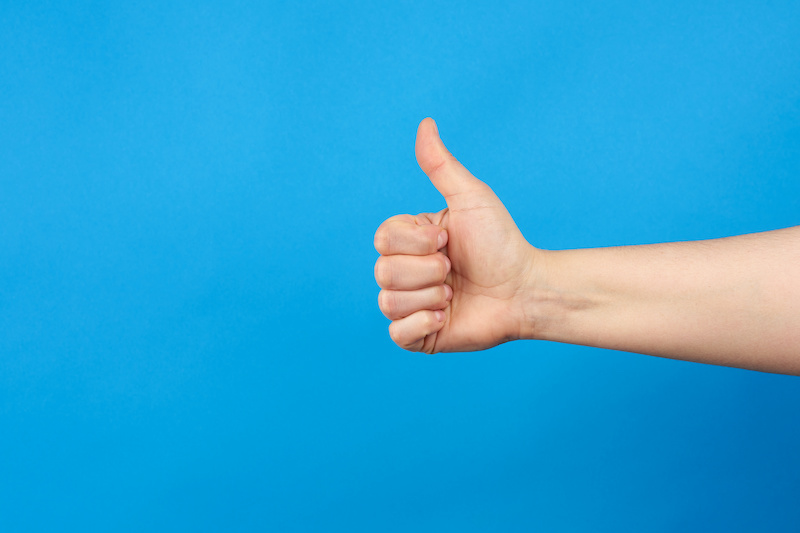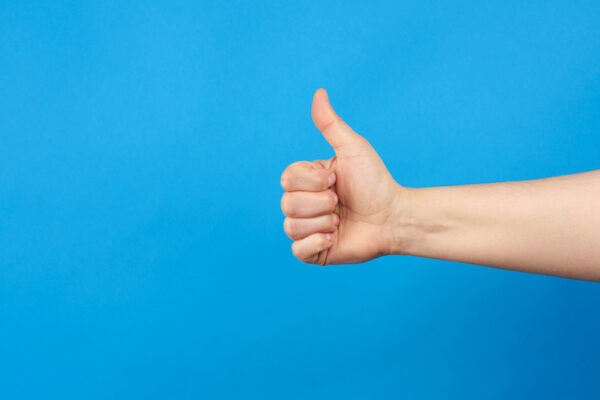 Follows and likes
An obvious one, but how many times have you gone to follow someone only to see they have followers in four figures but follow only a handful of accounts. Link, follow, and like groups, organizations and individuals you share an interest with, as well as those who might help your career (think galleries, competitions, and other artists).
Links, likes, follows and re-publish are designed to help grow your audience and connect to people who can then stay in touch with you.
Once it gets to know you, the social media channel will start suggesting link-ups and people you might want to follow based on who you are already following. But don't assume they are always right. Otherwise you might end up in a circle made up entirely of artists doing exactly the same thing as you!
Pictures
Ensure every post has an image (or more). Your paintings or artworks are the stars, so show them off as much as possible. Every time you have a newly completed work, post it online. You should also show off any commissions or sales. Sharing your successes builds confidence in your brand.
Video
Reels have become increasingly popular on all social media channels. And for some, like YouTube and TikTok, sharing video is its sole purpose. Keep reels short and snappy—about 20 seconds or so. If you have a more extended version, link to your YouTube channel. Not sure what to film? Consider filming yourself creating work and editing it to the best 20 seconds. Have a look at Instagram for some great examples of artwork being created.
Consistency
We haven't really dealt with content much here, but here are a few quick rules on creating good posting habits for artists on social media.
Don't bore your followers. If you really have nothing to post, don't.

Have a consistent approach to your style of posts as it helps build recognition.

Try and stick to a schedule of posts, once a week, once a day. Set a schedule and try to stick to it.

If you have lots of posting ideas, stagger them over a period of time.
Now take it to the next level: try multi-posting software
Sites like Hootsuite or Buffer offer social media and marketing tools that can help spread the word quicker across your channels. Although many charge a fee, most have limited-function free versions and trials to allow you to see if it works. My favorite element of Hootsuite is how it will tell you when to post for best results on its scheduling tool. The fee is only really worthwhile if you are posting to a lot of different channels. So wait until you are ready to expand your social media world before getting a free trail.
This is also the time when you can bring in specialist companies to develop social media marketing campaigns. When looking at who to employ, review their previous campaigns and look for businesses that have experience working with artists or the creative industries.
Go Meta
With your Facebook and Instagram business account you will get access to a Meta business suite to allow you to manage those two accounts. This isn't just a place to buy advertising, there are loads of free tools, including scheduling posts and sending out to multiple platforms.