Are you an emerging artist looking to sell more art by gaining visibility online? Or perhaps you're a full-time professional artist in need of a hassle-free website that gives you a professional online presence. Whatever your situation, a Facebook artist page can be an incredibly powerful tool for promoting your art and reaching new audiences.
In this article, guest blogger Sarah Gonzales will explore how to create a successful Facebook artist page that helps you gain visibility, sell art, and build a thriving online community. We'll cover topics such as how to engage with your followers, promote your artwork effectively, use Facebook advertising, and navigate privacy considerations on the platform.
By the end of this article, you'll have a comprehensive understanding of how to make the most of Facebook as an artist and take your online presence to the next level. So, let's get started.
Is Facebook worth the effort for artists?
Your time is scarce, and every minute you spend on art marketing is time you can't spend doing what you love: creating great art. So it's important to focus on a few high-impact marketing channels that don't require a massive investment of time or money.

A Facebook artist page is not the best marketing channel for every artist, but it's hard to ignore its sheer monster size. Consider the following statistics:
Facebook has 2.93 BILLION monthly active users.
Facebook.com is the third-most visited website in the world.
Users spend an average of 19.7 hours per month on the platform.
So, whatever you think of Facebook as a corporation, it's hard to deny that it has global reach. The question is: with so much noise, how do you get your work seen by the right audience of art buyers?
Using Facebook for Visibility
Creating a Facebook artist page is just the beginning. After all, over 1 billion stories are published daily. A decade ago, artists might have been able to assume an "if you build it they will come" attitude.
But Facebook has moved increasingly towards a "pay to play" model in order to monetize traffic. In practice, that means that advertisers win out over thrifty artists.
On average, organic content you post for free will reach less than 10% of your Facebook followers. That means unless visitors come to your Facebook page, they are unlikely to see your posts in their scrolling feed.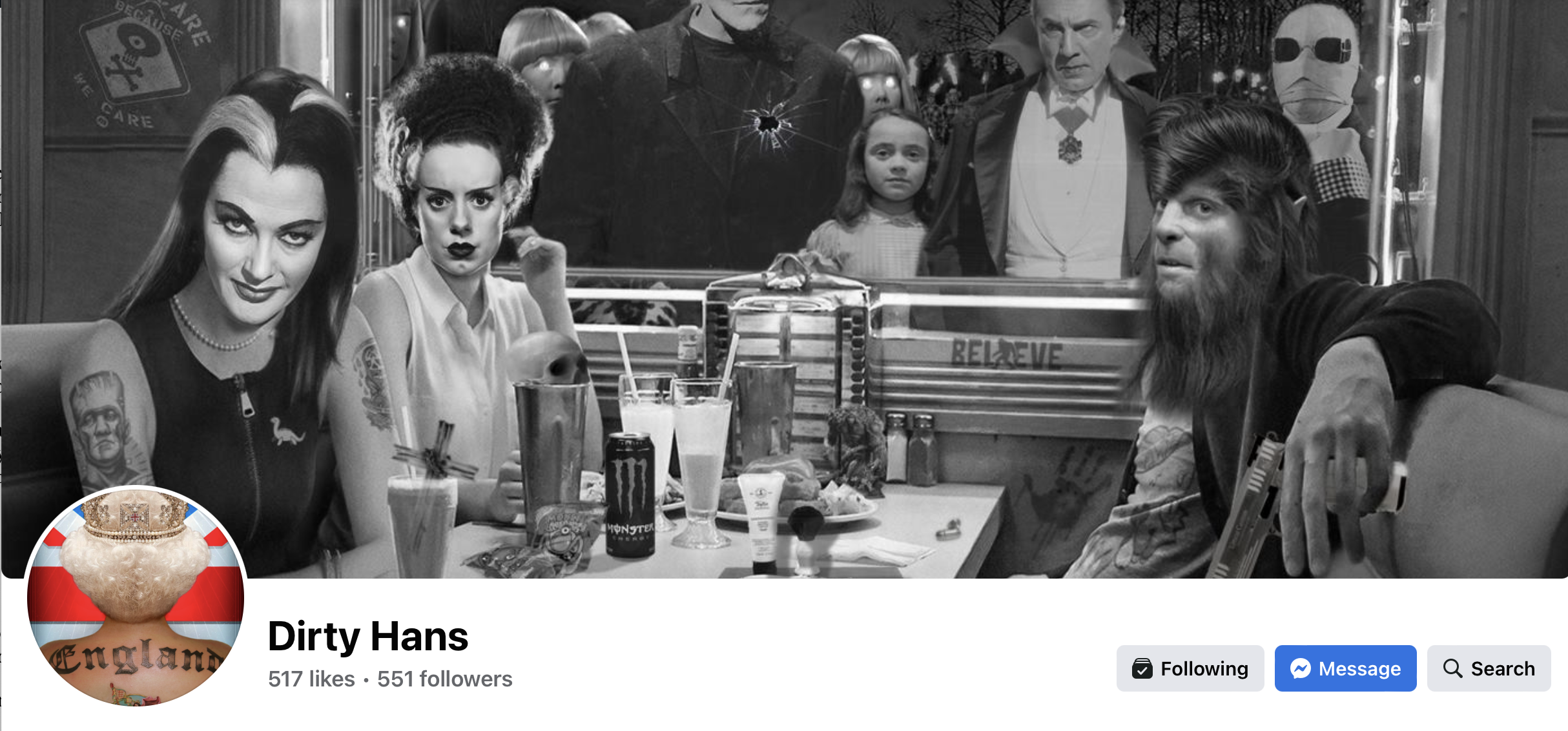 How can artists overcome the Facebook algorithm and get noticed with organic content?
If you're on a budget and not ready to advertise, there is still a role for Facebook in your marketing playbook. But to make the most of this platform, you'll need to create high-quality, eye-catching content, actively promote your page and engage with your followers.
Here are some tips to help you increase visibility for free:
Post Consistently
Posting consistently is key to keeping your followers engaged and growing your audience. While it can be tempting to post only when you have a new piece to sell, this isn't enough to maintain a strong presence on Facebook. Instead, aim to post at least once a week with a mix of content that showcases your work, your process, and your personality.
Fortunately, posting regularly doesn't mean you need to live on your artist Facebook page. Facebook lets you schedule posts in advance, or you can use a third-party social media scheduler — Buffer offers a free option. Automating your posts saves time and setting aside a few hours per month for content creation helps you integrate your posts into a broader marketing strategy and narrative about your art.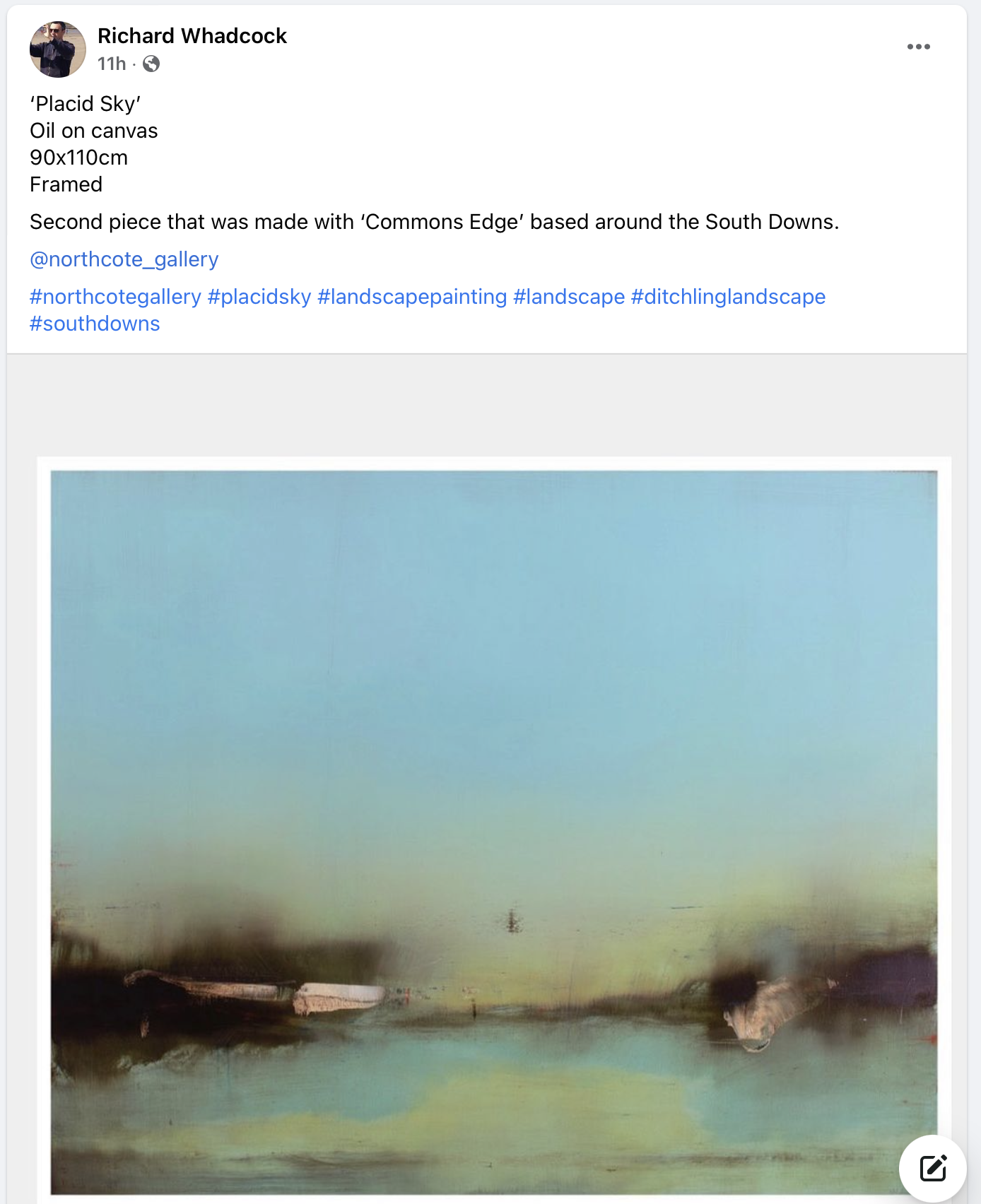 Facebook Posts for Artists
Do you struggle with writer's block, or find the prospect of regular posts daunting? Here are a few ideas for posts that lay well on any artist's Facebook page:
Promote upcoming gallery exhibits
Display new artwork or post a series
Show what your work looks like in an art lover's home
Post a video of you at work
Give a glimpse inside your artist's studio
Showcase your expertise with a blog or an article that quotes you or features your work
Highlight other artists or events of interest to your followers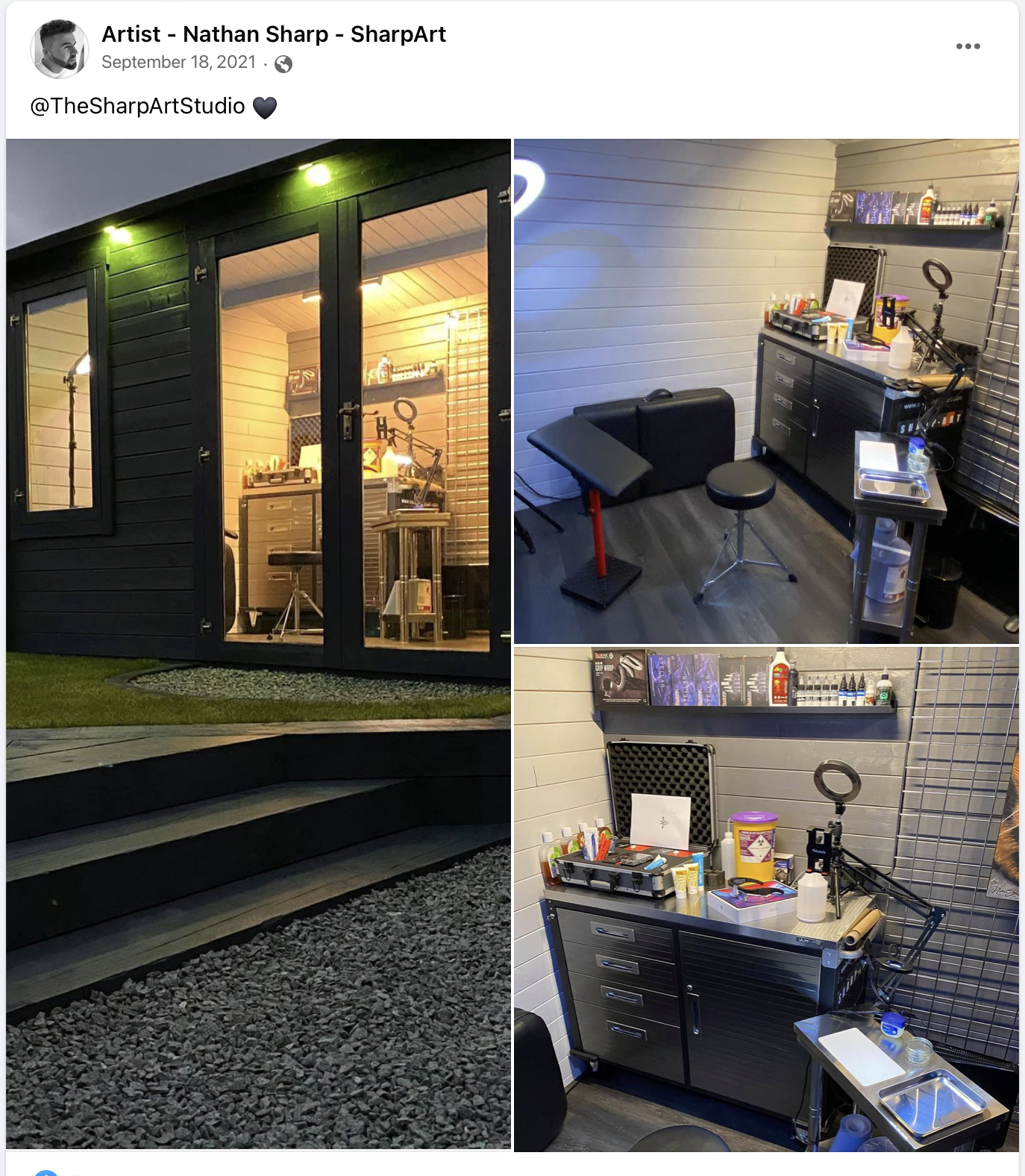 Engage With Your Followers
Engaging with your followers is another important aspect of building visibility among art lovers on Facebook. This means responding to comments and messages, asking for feedback, and participating in art-related conversations. When you show your followers that you value their opinions, they're more likely to share your work and recommend your page to others.
Remember that without ads, your own reach is somewhat limited. But fans who share your work can help a post go viral.
Collaborate with Other Artists and Pages
Collaborating with other artists and pages can be a great way to expand your reach on Facebook. This might involve participating in a group show, featuring another artist on your page, or cross-promoting each other's work.
By working together, you can tap into each other's audiences and build relationships with new followers. Don't succumb to a zero-sum mindset and worry that a fellow artist's success detracts from your own. Be generous in sharing other artist's work and consider it an investment in your network.
Often, the best way to find new art lovers, connect with a gallery or discover a business opportunity is through relationships.
Use Hashtags
Hashtags are a powerful tool for reaching new audiences on Facebook. By including relevant hashtags in your posts, you can make it easier for people to find your work when they're searching for specific topics. However, it's important to use hashtags strategically and not overdo it. Stick to a few relevant hashtags per post, and avoid using the same ones over and over again.
Experiment With Video Content
Video content is becoming increasingly popular on Facebook, and it can be a great way to showcase your art work and engage with your followers. Consider creating short videos that show your artistic process, give a tour of your studio, or highlight your latest pieces.
This type of content can be especially effective in attracting new followers and keeping your existing audience engaged. Don't fuss over low-fidelity video. A quick smartphone video of you at work feels authentic and intimate. Remember the goal is to tell your story and build a connection with followers — something an overproduced video might not accomplish.
Using Facebook To Sell Art
Many artists use Facebook primarily as a marketing tool, hoping to reach art lovers, galleries or potential collaborators. But the long-term approach is not Facebook's only value for artists.
It's also possible to sell art directly through the platform. Here are some Facebook tips to sell your work:
Showcase your artwork on Facebook
When it comes to selling art on Facebook, the most important thing is to showcase your artwork effectively. This means taking high-quality photos of your work and presenting it in a way that's visually appealing.
Consider using a clean, simple background and including multiple angles or close-ups of each piece.
Offer exclusive deals and promotions
One way to incentivize people to buy your art on Facebook is to offer exclusive deals and promotions. This might include a discount for Facebook followers, a limited-time offer on a particular piece, or a free gift with purchase.
By offering something that's not available elsewhere, you can create a sense of urgency and encourage people to make a purchase.
Use Facebook Marketplace to sell art
Facebook Marketplace is a feature that allows users to buy and sell items directly through Facebook. Better known for sales of vintage clothes, well-loved furniture and used cars, it can be a good option for artists who want to sell their work without setting up a separate e-commerce site.
To use Facebook Marketplace, simply list your artwork for sale with a description, price, and photos. In general, it's a better platform for bargain hunters looking for second-hand art or dentist offices parting with office art. But there are some high-end galleries and auction houses that invest in sponsored posts.
Posting is free. You can also set up shipping options and communicate with buyers directly through the platform.
but Facebook takes a commission of 5%. At just a tenth of gallery commissions, it might be worth experimenting with Facebook marketplace — particularly if your artist is unique or targets a very specific audience that is likely to be looking for it.
Promote the online store on your artist website
If you do have an e-commerce site, it's important to promote it on your Facebook page.
Facebook offers a feature called Facebook shop, that creates an online store directly on your artist Facebook page. You can feature product in your posts, and direct visitors to an e-commerce page where they can check out.
Facebook Shops are free to set up, but bear the same 5% fees as Facebook Marketplace.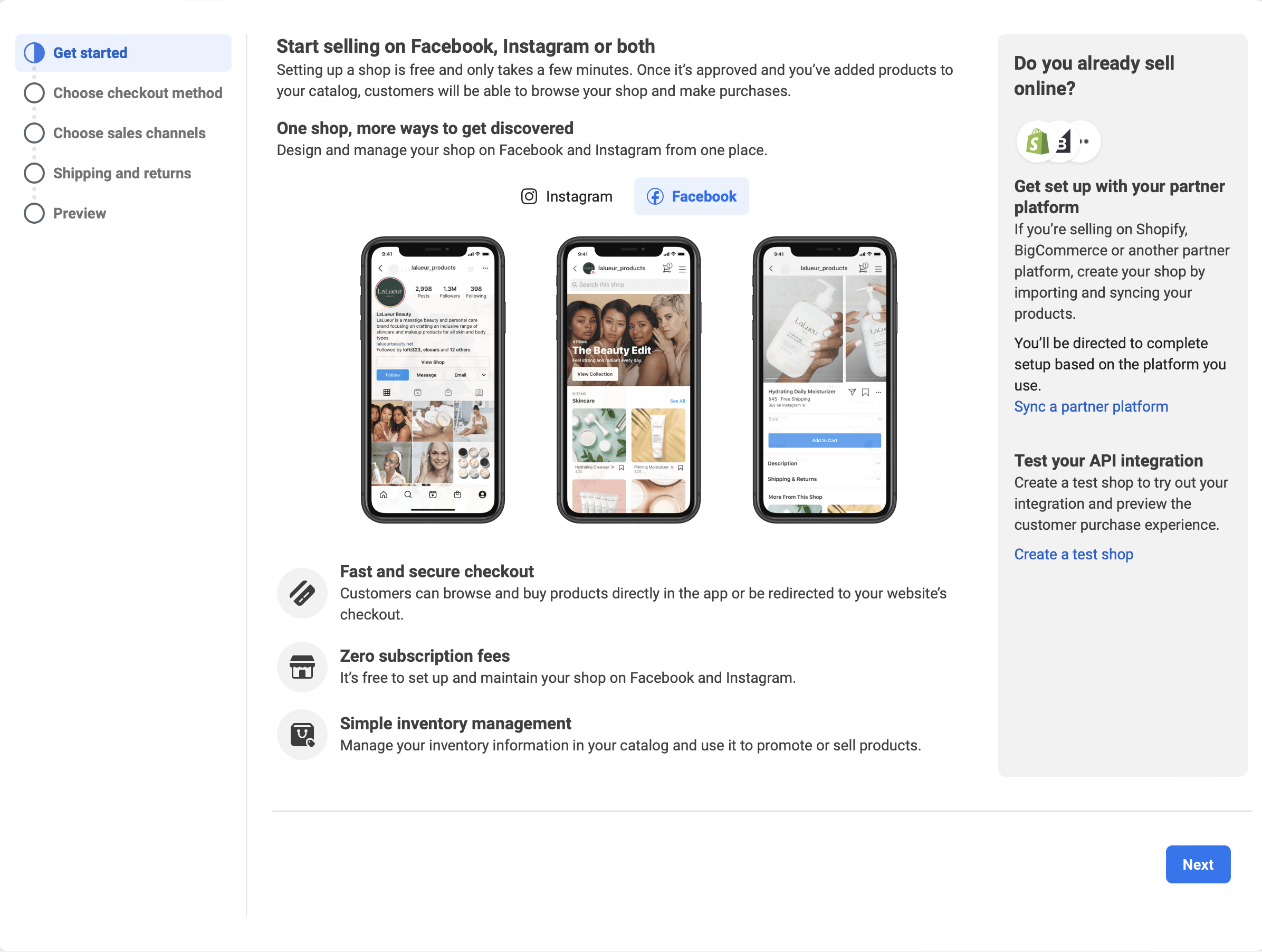 Online art sales hit $40 billion in 2022, so you definitely want to make it easy for people to purchase your art. But you may also consider bypassing Facebook's fee and simply connecting your Facebook page to an online store on your website.
Artweb users can add an online store to their website in minutes. You can accept credit cards and PayPal, take payment in multiple currencies and offer shipping. And unlike with Facebook, Artweb charges zero commission.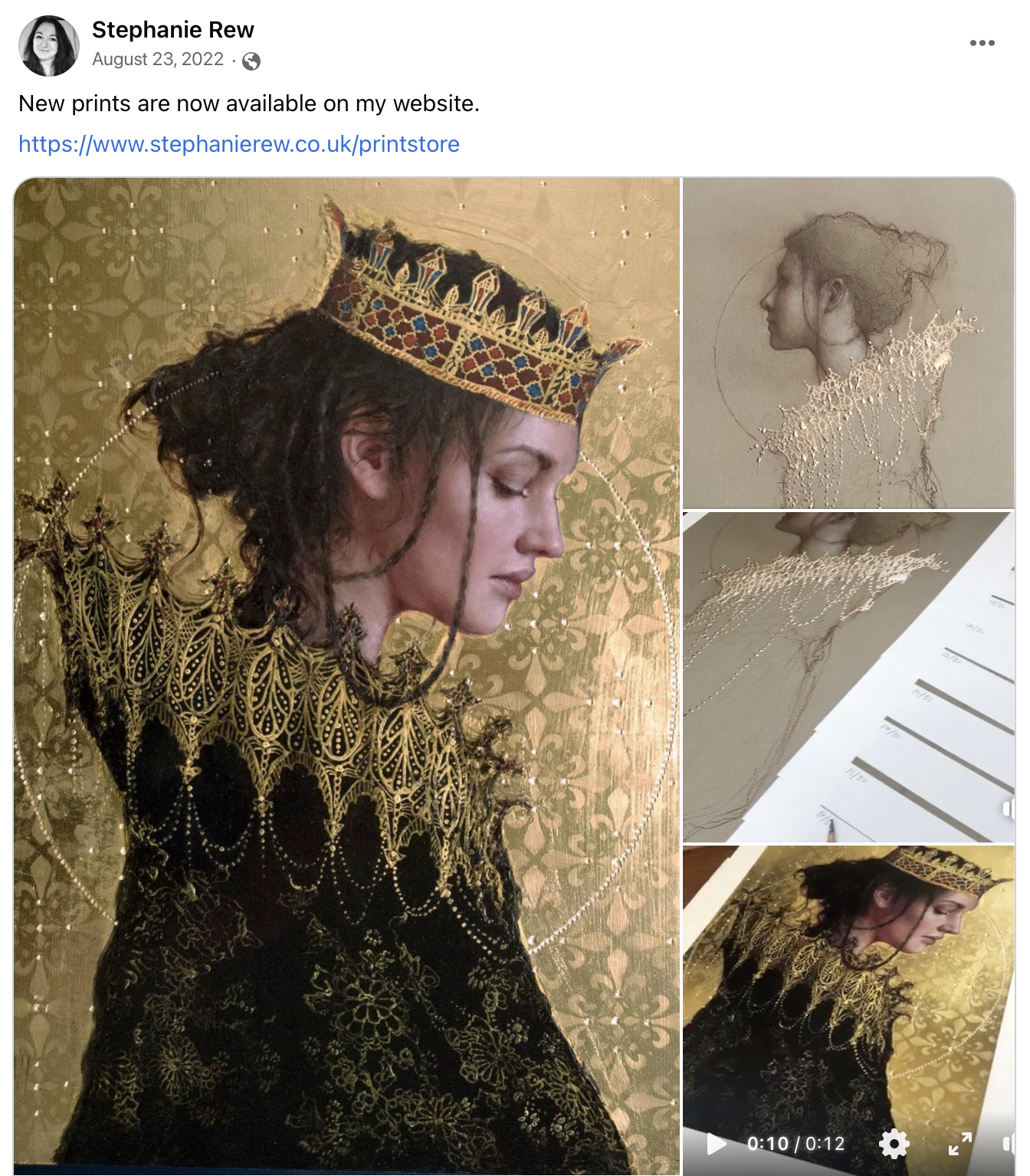 Using Facebook Advertising
With Facebook minimizing the organic reach of your posts, and Instagram overtaking it as the platform of choice for visual artists, you may find Facebook's greatest value rests with its adverting platform.
Facebook advertising can be a powerful way to reach new audiences and promote your art. And, when done effectively, you can acquire new leads for less than a dollar each.
However, it can also be overwhelming if you're not familiar with how it works. Here are some tips to help you get started with Facebook advertising:
Define your target audience
The first step in creating a Facebook ad is to define your target audience. This might include factors like:
age
gender
location
interests
behaviors
By targeting your ads to the right audience, you can increase the chances that people will be interested in your art and more likely to make a purchase.
Set your budget
Facebook advertising allows you to set a daily or lifetime budget for your ads. When setting your budget, it's important to consider how much you're willing to spend to acquire a new customer and what your overall marketing goals are.
Keep in mind that Facebook ads are subject to an auction process, so the cost of your ads can vary depending on factors like audience size and competition. If you are going after a lucrative niche audience, you may find yourself competing with luxury goods brands who drive up your cost-per-click.
On the other hand, great ad copy and an appealing offer boost your click-through-rate, which tells the Facebook algorithm that people like what they see. In return for high-quality ads, Facebook rewards you with a lower cost-per-click. So focus on creating great ads.
Fortunately, Facebook allows you to get started for as little as $1 per day, so it's worth experimenting with several types of ads and a very modest budget.
Choose your Facebook ad format
Facebook offers a range of ad formats, including image ads, video ads, carousel ads, and more. When choosing your ad format, consider what type of content will be most effective in promoting your art and engaging your target audience.
Be leery of "boosted" posts, which promote your organic content to a larger audience. While these are the easiest ads to create, they can quickly eat through your budget with minimal results. You may want to consider them only if you have a blog post you'd like to showcase to a larger audience, or an upcoming exhibit you would like people to attend.
Monitor and adjust your ads
Once your ads are up and running, it's important to monitor their performance and make adjustments as needed. This might include tweaking your targeting, adjusting your budget, or changing the creative elements of your ad.
By continually testing and optimizing your ads, you can maximize their effectiveness and get the most out of your advertising budget. Facebook ads are definitely not a "set and forget" marketing tool.
After the Ad: how artists turn cold leads into sales
Before you start advertising with Facebook, you need to consider what it will take for someone who has never heard of you before will buy your art based. If you sell high-ticket artwork that will take pride of place in a family living room, it's unlikely that someone will make an impulse purchase based on a single ad — even if you use Facebook targeting perfectly to reach your ideal customer.
Instead, you need to think of your ads as a starting point in a longer sales cycle. With a well-targeted ad, you may attract the right customer, who visits your website and falls in love with your art. But are they ready to buy? Or do they need more time to warm to you or budget for a major purchase? They may want to wait for the holidays, measure the wall above their coach or contact you for a commission.
Whatever the reason, you'll find Facebook ads most profitable if you pair them with other marketing tools. For example, once an art lover arrives at your website, make it easy for them to contact you about a commission. Or, if they're not ready for direct contact, offer them a discount or free gift to sign up for your artist newsletter. Then, follow up with a regular email blast that keeps you on their mind.
Exceptionally, you may be able to sidestep the long sales cycle and capture the sale directly from a Facebook ad IF you sell something very specific and relatively low in cost. Induced by a well-targeted Facebook ad, this Simpsons fan once bought a Christmas present directly from a website that turns family portraits into Homer and Marge-style cartoons.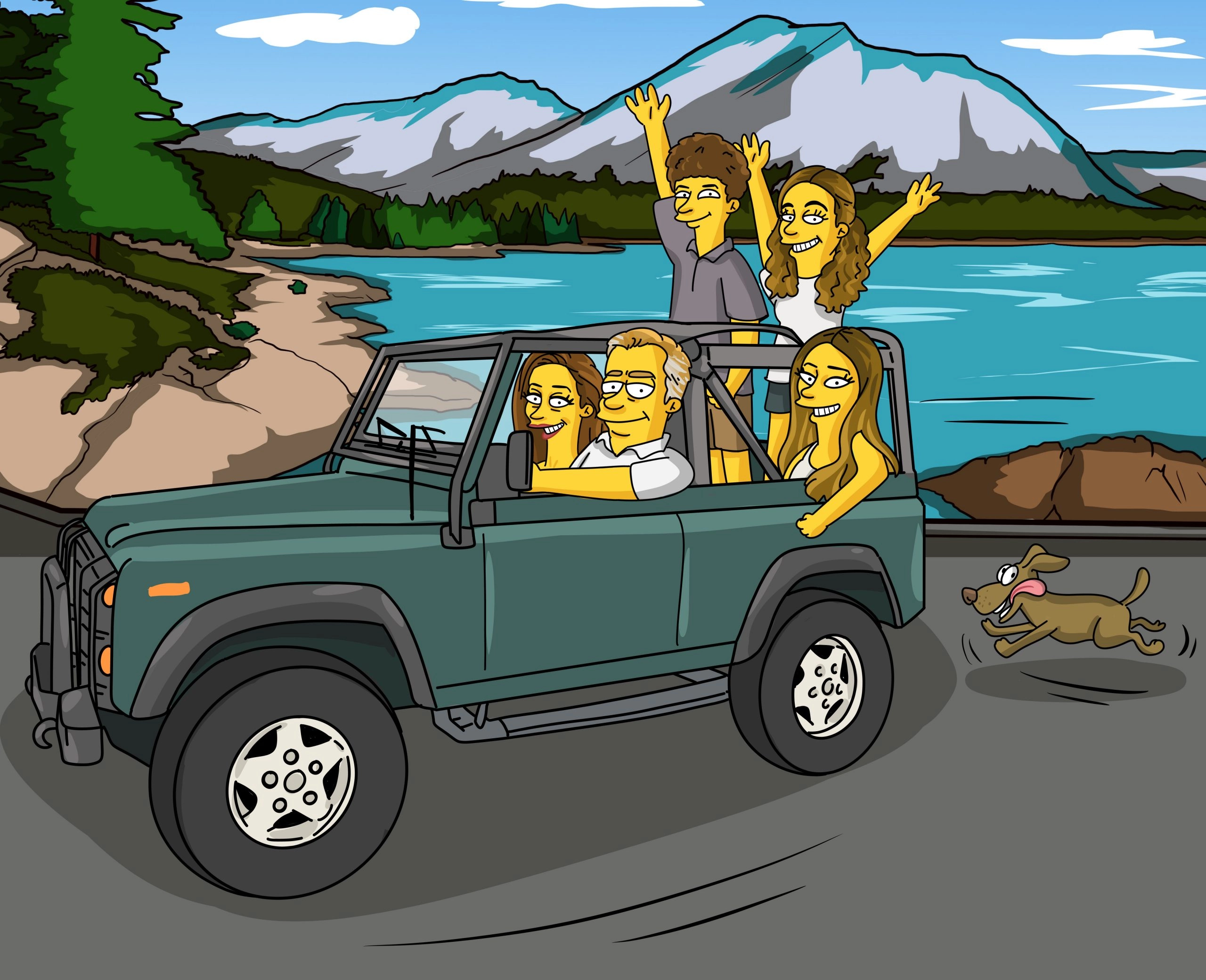 Privacy Considerations on Facebook For Artists
In recent years, privacy concerns have become a major issue on Facebook. This has impacted how artists and other businesses use the platform to reach audiences organically. Here are some things to keep in mind when navigating privacy considerations on Facebook:
Understand Facebook's privacy policies
Facebook's privacy policies can be complex and ever-changing, so it's important to stay up-to-date on the latest developments. This includes understanding how Facebook collects and uses user data, as well as how it protects user privacy.
Be transparent with your followers
Transparency is key when it comes to building trust with your Facebook followers. This means being open about how you use their data and what type of information you collect.
It also means being upfront about any sponsored content or partnerships you may have.
Consider alternative social media platforms
While Facebook can be a powerful tool for reaching new audiences, it's not the only platform out there. Consider using other social media platforms, like Instagram or Twitter, to promote your art and engage with your followers.
By diversifying your online presence, you can reduce your reliance on any one platform and potentially reach new audiences in the process.
Harness the Power of a Facebook Artist Page to Elevate Your Artistic Career
Creating a successful Facebook artist page requires a combination of strategy, creativity, and persistence. By posting consistently, engaging with your followers, showcasing your artwork effectively, and experimenting with different types of content and ads, you can build a strong online presence that attracts new fans and helps you sell more art.
With the right approach, Facebook can be a powerful tool for promoting your art and reaching new audiences online. But remember that's it's most effective as part of a marketing ecosystem. At the center of that ecosystem is your artist website, where you want all those Facebook followers to eventually land.
And, if you're wondering how to build your very own artist's website without the stress or expense, consider building a website with Artweb.