New weekly competition: is your image on our facebook wall?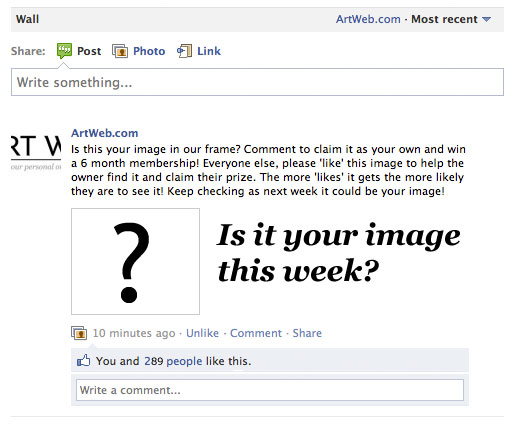 We have just launched a new competition on our Facebook page, where you could win free membership for 6 months or a year! Every Wednesday we'll be selecting an artwork at random from artweb.com and posting it on our wall in our 'frame'.
If it happens to be your image:
If it happens to be your image, and you manage to spot it before the week is up, you need to claim it to win your prize! To do this just comment on the image on Facebook – you'll need to be a 'fan' of our facebook page to do this (just click on the like button at the top of the page: http://www.facebook.com/pages/ArtWebcom/278685876393)
And if it's not your image this time, make sure you 'like' the image so it's more likely it is that the owner will find it. Like it every week to keep the prizes flowing…. Good luck!