Few years in recent memory have been awaited with as much hope and expectation as 2021, and thankfully this January brings a flurry of exciting opportunities for artists. Here is ArtWeb's round-up of the projects and deadlines to look out for next month.
Open Call: Jerwood UNITe 2021 at g39
Deadline: 6th January
In collaboration with Jerwood Arts, artist-run gallery and creative collective g39 is offering five artists a nine-week studio residency programme. Open to early-career artists working in any medium, the residency offers artists a space for artistic development, experimentation, research, and creative discussions, in addition to accommodation, a fee of £1,750, and travel costs for any artist based more than 90 minutes away from Cardiff.
World Photography Organisation Open Competition
Deadline: 7th January
The World Photography Organisation's Open competition celebrates exceptional standalone images from around the world, and seeks to give opportunity to photographers whose work might otherwise not be seen. Judges are looking for photographs that are striking, well crafted, and of exceptional quality. Photographers of all abilities can enter multiple single images to the following categories: Architecture, Creative, Motion, Landscape, Lifestyle, Natural World & Wildlife, Portraiture, Object, Street Photography, and Travel.
The overall Open Photographer of the Year winner will receive a $5,000 prize and a range of Sony digital imaging equipment, while 10 category winners will receive a range of Sony digital imaging equipment and publication in the Sony World Photography Awards book.
Call for Entries: Royal Society of British Artists Annual Exhibition 2021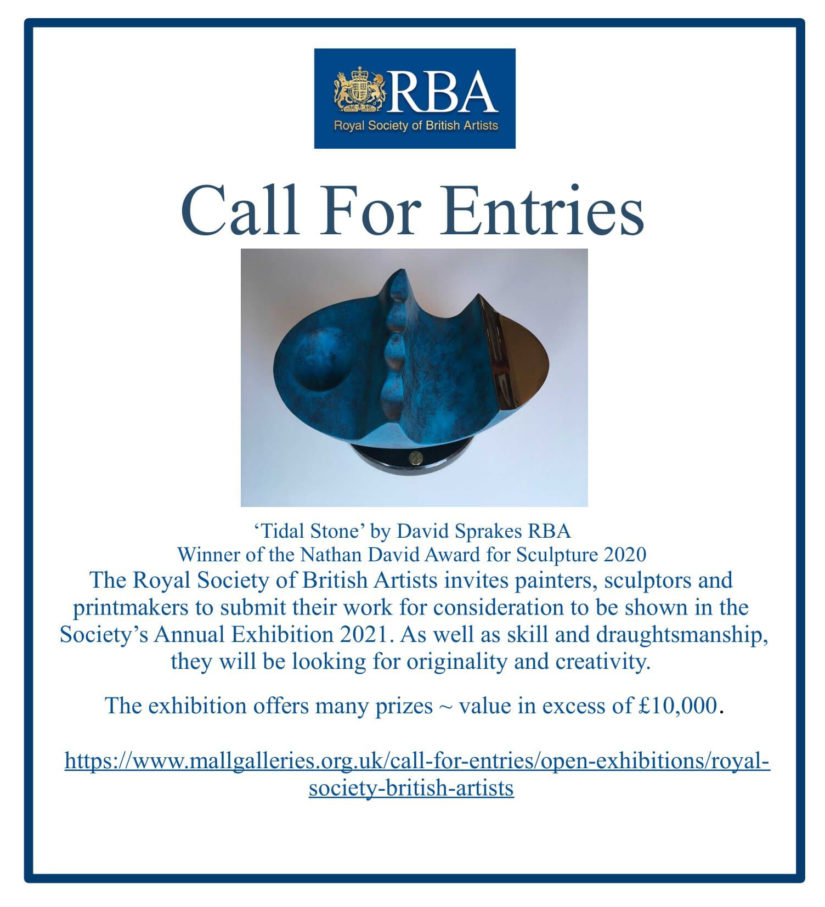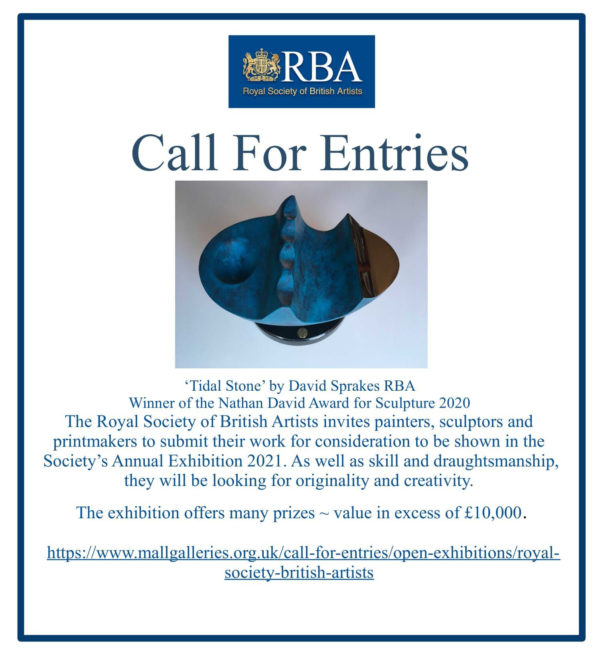 Deadline: 8th January
The Royal Society of British Artists invites painters, sculptors and printmakers to submit their work for consideration for the Society's Annual Exhibition 2021. The exhibition offers several prizes and awards, worth over £5,000, which are open to all participating artists, as well as the opportunity to exhibit work at a prestigious central London gallery. Judges will be seeking skill, draughtsmanship, originality, and creativity.
Call for Early-Career Makers: Rising Stars 2021

Deadline: 10th January
Rising Stars is a curated national platform aiming to champion early-career makers, students, and graduates from BA and MA programmes in crafts, design, and applied arts across the UK. The platform offers new makers a first step into the marketplace through a curated selling exhibition at New Ashgate Gallery, Farnham, in addition to advice on topics such as pricing, marketing work, and how to gain and manage new connections, as well as a catalogue serving as a promotional tool for participants. One maker will also be selected for a professional development award of £500, and a solo exhibition at New Ashgate in 2022.
BBC Arts Culture in Quarantine – New Commissioning Strand to Support Disabled Artists
Deadline: 12th January
To mark the 25th anniversary of the Disability Discrimination Act, a new Culture in Quarantine commissioning round has been launched to celebrate the work of disabled, D/deaf and neurodiverse artists. Ten established disabled artists will be commissioned from across the UK to create new video or audio works to be published on BBC platforms in 2021. Although there is no specific editorial brief, projects can — but do not have to — creatively respond to the disabled experience of living through the pandemic.
Call for Entries: Royal Society of Portrait Painters Annual Exhibition 2021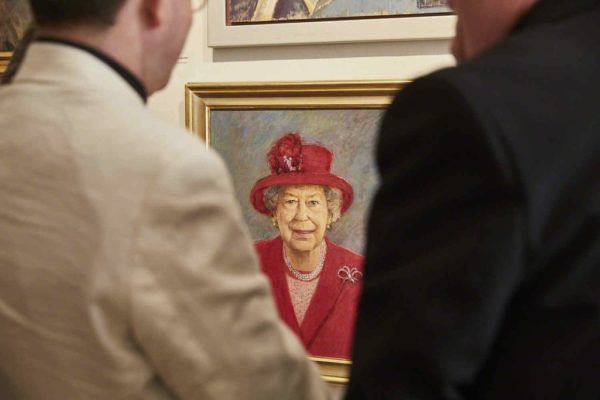 Deadline: 25th January, 12 noon (GMT)
The Royal Society of Portrait Painters is inviting artists from across the globe to apply for its Annual Exhibition 2021, which will take place at London's Mall Galleries, and offers a number of prizes and awards totalling over £43,000. The exhibition is open to paintings, drawings and original prints by artists aged over 18. Portraits must have a minimum price of £300, and must not have been previously exhibited in London. (Note: The deadline has been extended from 15 January to 25 January 2021)
Artquest Adaptations Award
Deadline: 18th January, 10 am (GMT)
Artquest's Adaptations Awards aims to support visual artists who are seeking innovative and authentic ways to adapt their practice for an age of physical distancing, travel restrictions, and resulting impacts on studio working, as well as new opportunities. Three awards of £3,000 will be offered to three artists to research and experiment with new ways of working across any medium. One award will be reserved for an artist based in London, and one will be awarded to an artist based elsewhere in England. The third award will be given to an artist based anywhere in England, either inside or outside of London.
Artist Call-Out: Togetherness Project

Deadline: 28th March
An opportunity with a longer lead time is an exciting initiative being organised by Bracknell Forest Councillor Michael Gbadebo, who is seeking artists' help to celebrate the values of kindness and togetherness in society, and to raise money for local charities.
The project is looking for 52 talented artists, who will be asked to donate a newly created painting that expresses their understanding of kindness and/or togetherness. Beginning in May, one artwork from the project will be revealed per week, until all 52 are exhibited together. At the project's end, the resulting collection will go on permanent display in a public space. One-thousand prints of each artwork will also be produced and offered for sale in aid of local charities.
Works should be A4 or A5 in size, and must be submitted by the 28th March 2021. Artists are asked to accompany their painting with a short statement (200–500 words in length) to help viewers understand its inspiration. A booklet featuring all 52 works will also be published, with proceeds from its sale again donated to charity.
For further information, or to submit your work for consideration, please email Councillor Gbadebo (michael.gbadebo@bracknell-forest.gov.uk).