View more of Sarah's botanical paintings at www.sarahwoodart.com
Being an artist
Please give us a few words of introduction about yourself
I am a floral and botanical artist specializing in watercolour. I live on the Wirral with my husband Mike and our two grown up children.
When did you decide to pursue art as a career?
It was something I always wanted to do but only recently in the last few years have I decided to pursue my art as a career.
What training did you have?
I studied watercolour at night school classes and more recently studied botanical art with the Society of Botanical Artists, achieving a diploma on their Distance Learning Diploma course.
What has been the high point of your career so far?
I have, this year, been made an associate member of the Society of Botanical Artists.
General Questions
What's your favourite quote?
'No one knows the mysteries of life or its ultimate meaning, but for those who are willing to believe in their dreams and in themselves, life is a precious gift in which anything is possible'. Dena Dilaconi.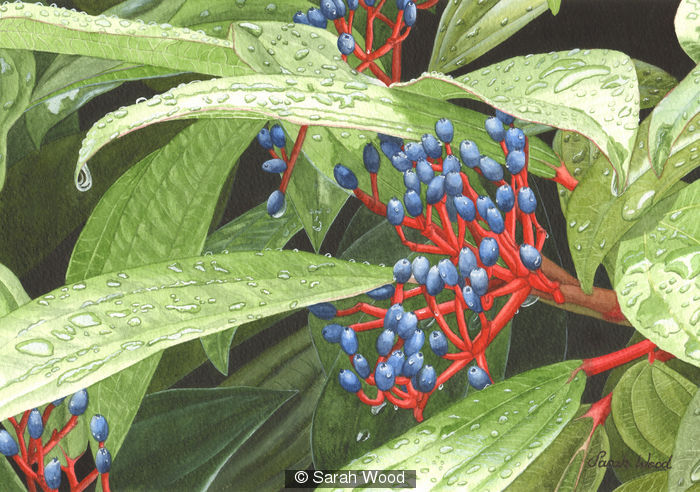 Who is your favourite artist?
Marianne North has been a big influence in my life, her work was responsible for my interest in floral and botanical painting.
What are you aiming for?
I am aiming to make a career in art.
You and art
What feelings or reactions do you hope to arouse in people who view your work? Are you ever surprised by reactions that you get?
I want people to look at a simple everyday subject and see beauty in it.
From start to finish, how long does it take for you to create your work?
It will usually take me about twenty to twenty five hours to complete a painting, but that does not include the planning and thinking time necessary to come up with the composition.
What music do you like to listen to when you work?
I love listening to anything by the Osmonds, because I'm still a big teenager at heart. I also listen to Radio 4, podcasts and audiobooks while I paint.
What are you working on next? Any future plans or projects in the pipeline that we should look out for?
I am working on a step by step demonstration. I always have about four or five paintings on the go, looking ahead to forthcoming exhibitions.
Being inspired by art
Who (living or dead) inspires you? and why?
My parents and husband inspire me, they are always encouraging me with my art.
What feelings, subjects or concepts inspire you as an artist?
I visit many public and private gardens and always find inspiration from them.
What is your favourite work that you've produced so far and why?
I have just painted a single leaf covered in raindrops. I enjoy painting raindrops.