See more of Andy's work at: www.andyfarr.artweb.com
Being an artist
Please give us a few words of introduction about yourself
I specialise in conveying movement, wih a particular interest in sport and dance.
When did you decide to pursue art as a career?
Art is a career change for me, I spent over twenty years in brand development and advertising. However, after a serious illness, I decided to refocus my life.
What training did you have?
I started out as a self-taught artist, but have been aided by the imput of other professional artists.
What has been the high point of your career so far?
It is difficult to define one high point, each time I sell a painting I get a deep sense of satisfaction of knowing that somebody has decided that they want my work in their house or business. However, a recent high was a commission to paint one of the 2012 paralympians.
General Questions
What's your favourite quote?
Carpe diem – seize the day
Who is your favourite artist?
Hard to say, Renoir, Picasso, Rothko
What are you aiming for?
I love painting commissions, so my ideal would be for a famous sports person or dancer or organisation to commission work from me.
How will you get there?
I need to be seen by the right people
Is anything holding you back?
The only thing holding me back is having the right contacts, or being displayed in the right places.
You and art
What feelings or reactions do you hope to arouse in people who view your work? Are you ever surprised by reactions that you get?
I love people to get caught up in my work. The greatest compliment for me is when someone says that they can keep looking at my work and imagining they were taking part in the event or the dance.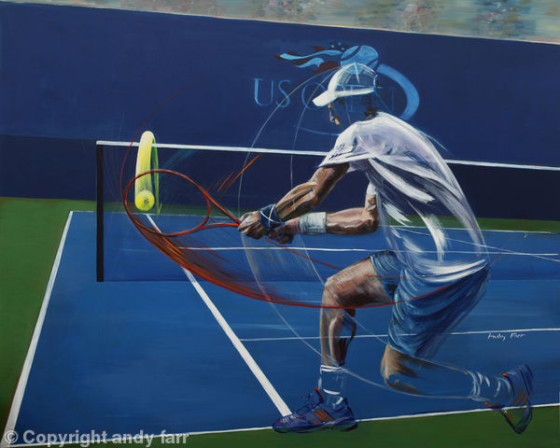 From start to finish, how long does it take for you to create your work?
The actual painting of my pieces may only take a few days, but the planning and designing can take weeks.
What music do you like to listen to when you work?
I have an eclectic mix of music on my ipod from Louis Armstrong to U2.
What are you working on next? Any future plans or projects in the pipeline that we should look out for?
I have just finished a series of works inspired by Snooker ahead of the world championships, and I am now thinking about how I can better reach people to get a commission. I also have a longer term project around WW1 that I'm working on.
Being inspired by art
Who (living or dead) inspires you? and why?
I find this a difficult question, as I find inspiration from all sorts of places.
What feelings, subjects or concepts inspire you as an artist?
I am inspired by anything with movement, dance, carousels, sport.
What is your favourite work that you've produced so far and why?
Surprisingly my favourite work is not one that conveys movement, it is called Black Dog and was something I painted after the death of my father.
an artist's advice
For those thinking about turning a passion for art into a career, could you give any advice?
Go for it.
Any tips on how to get your work seen and get the commissions coming in?
Exposure, exposure, exposure.