See more of Madhumati's paintings at: http://madhumatimanda.com
Being an artist
Please give us a few words of introduction about yourself
I'm a freelance artist. I paint in a variety of mediums, recently having experimented mostly with watercolours. My style can be best called impressionistic with a strong sense of movement and dramatic light and shade…
When did you decide to pursue art as a career?
As a very young child I was scribbling away on paper and decided very early on that I wanted to be a fine artist.
What training did you have?
I went to Kala Bhavana FIne Arts College, Visva Bharati University, Santiniketan, India, and did BFA (Hons), with 1st class.
What has been the high point of your career so far?
My Solo Shows have all been quite successful; I've had four so far and about to have another one coming up in December 2012.
General Questions
What's your favourite quote?
"Art washes away from the soul the dust of everyday life."
― Pablo Picasso
Who is your favourite artist?
Turner, Van Gogh, Rembrandt…
What are you aiming for?
To keep creating works of art that may bring a bit of joy to the lives of people…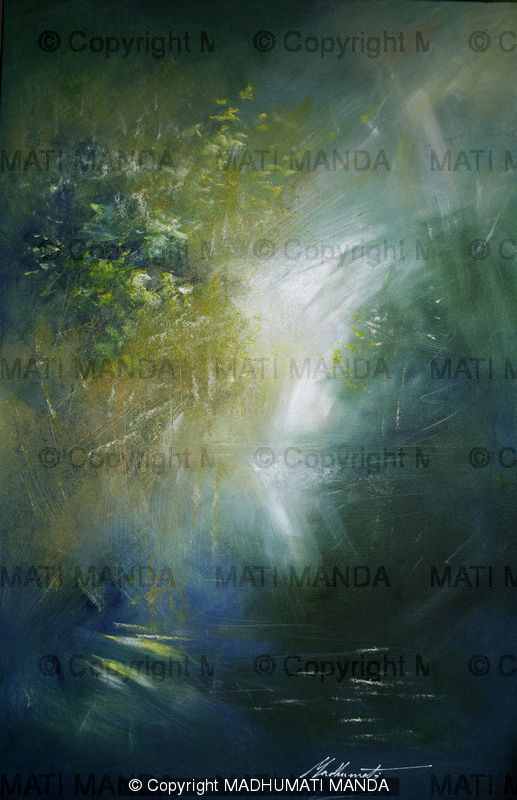 How will you get there?
By carrying on painting as best as I can…
Is anything holding you back?
Time is precious and it's very difficult for me to get round painting as I'm a full time mother and carer.
You and art
What feelings or reactions do you hope to arouse in people who view your work? Are you ever surprised by reactions that you get?
I would like people people to be moved and arrested by the beauty and joy of colour, light and movement juxtaposed together…
From start to finish, how long does it take for you to create your work?
That is a very difficult question, yet one I'm asked most often. depends on the work and the medium and the size… it can range from an hour to several weeks!
What music do you like to listen to when you work?
I like to work in silence…
What are you working on next? Any future plans or projects in the pipeline that we should look out for?
My solo show after a 3 year break is coming up in December 2012 , Kolkata, India
Being inspired by art
Who (living or dead) inspires you? and why?
My mother inspires me, she has a zest for life and an amazing mind and imagination!
What feelings, subjects or concepts inspire you as an artist?
I'm inspired by poetry, not just in writing but the poetry which surrounds us in everyday life… in nature, in the flux of people and places and objects… that which makes life carry on despite all the harsh realities and grime of everyday existence.
What is your favourite work that you've produced so far and why?
'The cyclist in the storm'. I don't have a photograph of this painting here with me today but the original lies at home, in India. This was done in College, it's an impression of a cyclist caught in a storm. This has almost been metaphorical of my life and the turns it has taken…
an artist's advice
For those thinking about turning a passion for art into a career, could you give any advice?
It;s best not to mix up the terms 'passion' and 'career'. The two don't exactly go together and often one discourages the other. It's not an easy road to take …but yet one of the most fulfilling ones… an extremely individual choice to take.
Any tips on how to get your work seen and get the commissions coming in?
I could do with more tips myself as am quite new to artweb.