Being An Artist – Jayne Stokes
Please Give Us A Few Words Of Introduction About Yourself
I am a mixed media artist living and working in North Berwick, Scotland. My current work focuses on journeys and our relationship with landscape. I have been working as an artist for 20 years, and during that time I have exhibited in a wide variety of places and spaces in the UK and abroad. I am currently represented by Cameron Contemporary Art, Fidra Fine Art & The Found Gallery
When Did You Decide To Pursue Art As A Career?
I didn't always want to be an artist, but I did always want to work in the creative arts. I started off with a foundation course and then studied painting at Edinburgh College of Art. In my final year at art school I started to explore the theme of the natural environment; at this stage, I was working in a range of media including drawing, painting and installation. Straight after I graduated I was awarded a residency at the Grizedale Forest which led to my first solo show, and the sale of work from that meant I was able to continue working as an artist for the next few months. This early success gave me the motivation to continue to pursue this career.
What Training Did You Have?
Foundation course in Art & Design
BA (hons) in Drawing & Painting
MA in Fine Art
What Has Been The High Point Of Your Career So Far?
Longlisted for the John Moores Painting Prize 2011 & 2014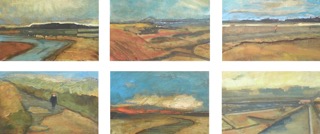 General Questions
What's Your Favourite Quote?
What would life be if we had no courage to attempt anything? Vincent Van Gogh
Who Is Your Favourite Artist?
Peter Doig
What Are Your Artistic Goals?
To one day make the final of the John Moores Painting Prize
To continue to make a living from selling my work and to continue to regularly exhibit
How Will You Get There?
Always strive to produce the best possible work that I can, do not be afraid of pursuing new ideas and avenues.
Is Anything Holding You Back?
Time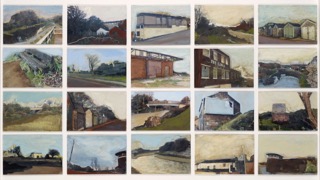 You and Art
What Feelings Or Reactions Do You Hope To Arouse In People Who View Your Work? Are You Ever Surprised By Reactions That You Get?
I hope to make people consider the landscape around them more carefully, that my work might remind of a place they have visited or a journey they have had.
I am fascinated by our relationship with images, the value we attach to them and their ability to evoke emotion. This relationship has changed with the ubiquity of digital technology. I recall the enjoyment of looking at family photo albums as a child and reflecting on the places I had visited. Now we are more likely to store away endless files electronically after a brief glance. This process is mirrored by our increasingly transient relationship with places, as our lives become busier and less appreciative of our surroundings.
From Start To Finish, How Long Does It Take For You To Create Your Work?
Depending on the size, small pieces can take a day or two. My large multiple pieces can take up to a month to research and create.
What Music Do You Like To Listen To When You Work?
BBC 6 Music
What Are You Working On Next? Any Future Plans Or Projects In The Pipeline That We Should Look Out For?
I am currently working on a series of watercolours which are inspired by road trips mostly in and around Scotland. The pieces are titled 'Roadtrip Relics' and are large scale multiples comprising of 80-100 images.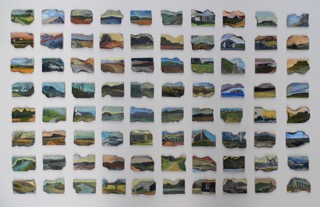 Being Inspired By Art
Who (Living Or Dead) Inspires You? And Why?
Frida Kahlo—she created beautiful paintings, did a great deal for women's art and at the same time battled so many inner demons, obstacles and disappointments in her life. A true heroine.
What Feelings, Subjects Or Concepts Inspire You As An Artist?
The ever-changing landscape, childhood, nostalgia, memories.
What Is Your Favourite Work That You've Produced So Far And Why?
I feel that I have not yet produced my favourite piece of work.
An Artist's Advice
For Those Thinking About Turning A Passion For Art Into A Career, Could You Give Any Advice?
Don't give up, it is a competitive world with many talented artists out there trying to make a career of it. I think perseverance is one of the most important qualities to have. You also have to develop a thick skin and take the knocks and the criticism.
Any Tips On How To Get Your Work Seen And Get The Commissions Coming In?
Careful what you say no to. Some of my most successful shows and experiences have come from the most unlikely of places. We would all like to exhibit in the top galleries and museums but sometimes a shop window or public space can provide a real springboard to great opportunities.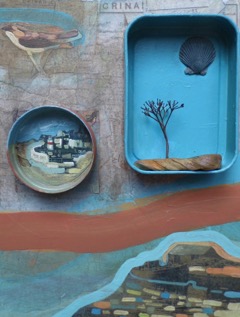 Check out more of Jayne Stokes' work at jaynestokes.com