Hello!
It's that exciting, festive time of year again, when arts & crafts fairs are taking place left right and centre, and customers are on the look out for original, personal, and creative gifts for their loved ones. It's the perfect opportunity to get your work out there and in the public eye, and to sell your work of course.
This article will focus on how to get the most out of your stall at your fair, from products and pricing, to visual display and exposure… we hope you find it helpful!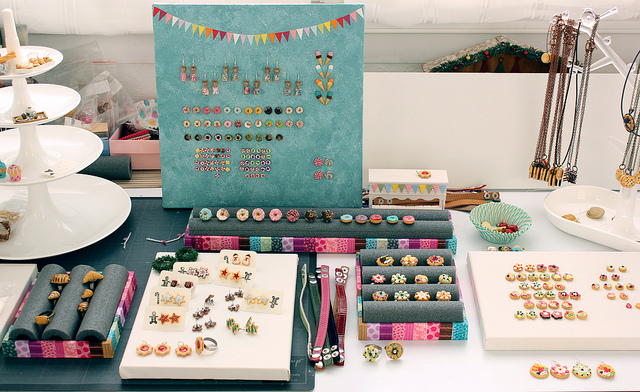 Image by Stéphanie Kilgast

1. Ensure it is cost effective
Nearly all arts and crafts fairs will charge artists to hold a stall. This varies depending on the type, size and popularity of the event, but can range from around £15 – £60, with Christmas fairs often being at the higher end. This means it's essential to be honest with yourself about your pricing structure, and how much you'll need to sell in order to make a profit. If you're only selling cards at £2.00 each, it'll take a lot of sales to cover the cost of the stall, let alone make it worth your time! So this might be a time to reconsider your pricing and product structure.
2. … But also consider it as potential exposure
However, even if you come away from a fair having made a loss, think about how many potential customers may have seen your work, taken your business cards, and made a mental note of your artwork for the future. It's worth working out the amount footfall per cost of the stall, and comparing that to say, online advertising costs. You may be surprised at how you can reach a targeted network of potential customers, particularly if you make artwork that features your local area in some way.
3. Understand your market/audience
Craft fairs can be anywhere, from school halls or community centres to boutique indoor markets, so knowing the audience for the location is an important factor to planning on what to sell. Think about the footfall and, if it's a regular market, do some research by visiting an earlier event. See what's selling the most, talk to people, and get a feel for what works and what doesn't. This might also be a good way to decide on whether you're making the right decision, as you'll be able to see how many people they manage to get through the door.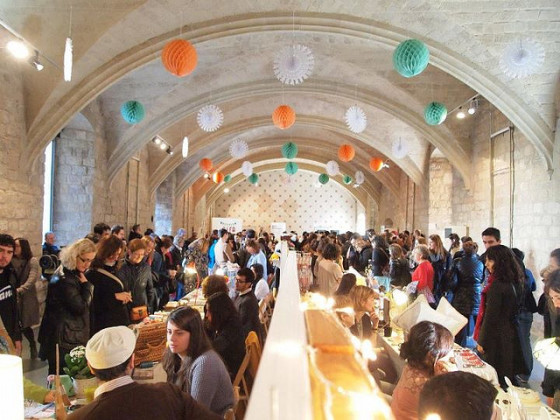 Image by Alícia Roselló Gené
4. Think about smaller, impulse-buy products
Although you might not want to only be selling smaller, low cost items (see point 1), they can be a great addition to keep your sales topped up. People are much more likely to buy something without really deliberating if it's under a fiver, as opposed to pricier works that take a bit more consideration. So, have your original paintings, etchings or darkroom prints priced appropriately, but also consider making print reproductions of other works that can be sold for less, or postcards, greetings cards, etc. Other nice ideas are things like pin-badges, coasters, and small gift items.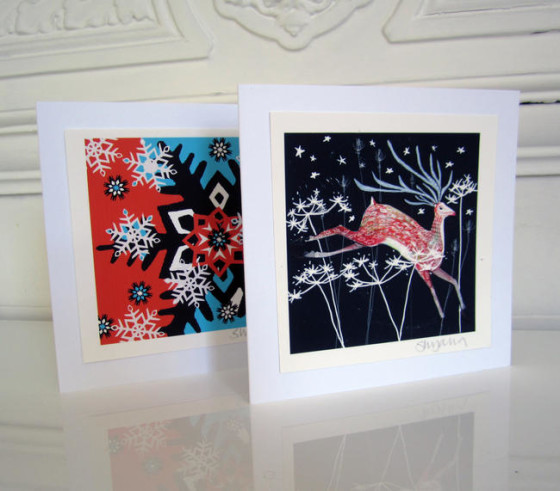 Christmas Cards by Shyama Ruffell 
5. Always have business cards
In this online world, it's easy to think you might not need those old fashioned things: business cards. But when running a stall, there's no more important place than to have a stack of cards for people to take. When someone wants to take your details for later, the last thing you want to be doing is scribbling your website on a ripped off bit of newspaper. Having well-designed business cards is a quick, professional way to ensure you stay in someone's mind for the right reasons. If you haven't heard of them already, Moo.com are fantastic for high-quality, creative business cards.

Example of business cards by jewellery maker Abigail Percy from Moo.com
6. Price your products!
How many times have you been to a craft fair, and been confused over the pricing, or can't even see a price at all? Most likely, too often! It may sound obvious, but it's so important to make the effort to price every product. If someone is interested in an item with no displayed price, and you are busy with another customer, the initial impulse reaction may have time to wear off, and people are likely to put it down and move on. With a clear and considered pricing structure, they can start persuading themselves they need it straight away!
7. Get to know your neighbours
Part of the joy of taking part in a craft fair is the network you might build with other artists and makers. Take the time to walk around the fair (obviously making sure your stall is manned!), meet people and talk about their work. You might be able to gain some advice from people who've been doing it for longer, such as which are the best fairs, what sells best etc. Why not invite them to your next open studio or exhibition?
8. Do your art justice – plan your stall layout in advance
Your stall appearance is imperative to the impression you give your customers, and ultimately will reflect the products you're selling. Put some time into researching techniques for enhancing your stall, such as varied levels, hanging systems for jewellery, fabrics and table cloths etc. If you've got paintings, you might need to scout the venue first to see if you're able to hang paintings on the wall behind you. Likewise, if you're selling limited edition prints, consider having a portfolio open on your favourite or bestselling piece. Make sure everything is neat and that the design is well thought-out, eye-catching, and festive (a few fairy lights at this time of year are a great way brighten up your table!)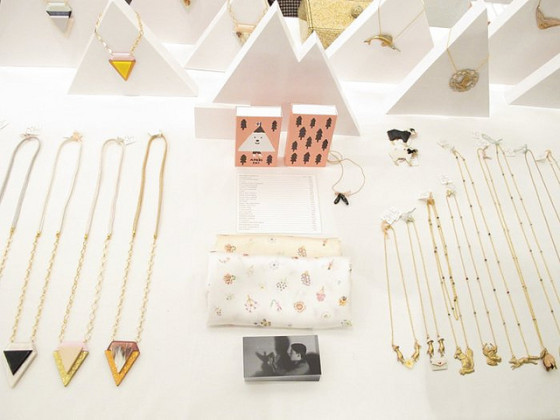 Image by Alícia Roselló Gené
8. Gift-wrapping service? why not…
This is a particularly nice idea at Christmas time. You could include simple tissue paper and ribbon free of charge, or even charge a little extra for fancy wrapping options. Perhaps you could include personalised or custom designs on your paper, labels, and ribbon… but for this you'll likely need a willing helper!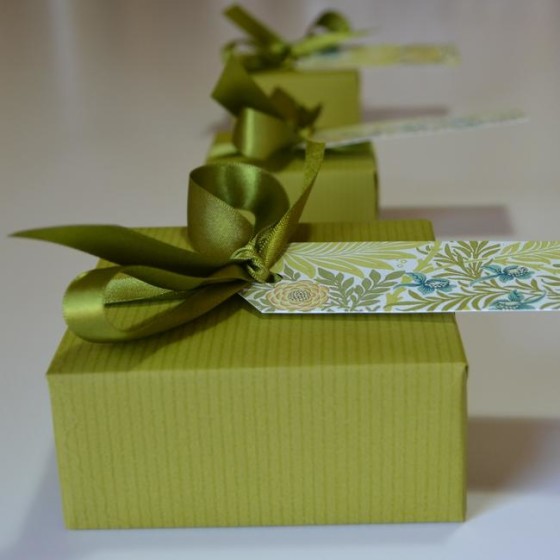 Optional Free Gift Wrapping By Muriel And Lily
9. Link sell
The term 'link-selling' might sounds like a dodgy sales tactic, but really it's just about being clever with your arrangements, layout, and quantity options. Perhaps you have one Christmas card design that always sells well? Then it might be worth making extra and selling them as packs of 5, nicely packaged together. Or if someone is enquiring about a pair of earrings, remember to show them the matching necklace. It's not about being pushy, just ensuring people notice what you have on offer.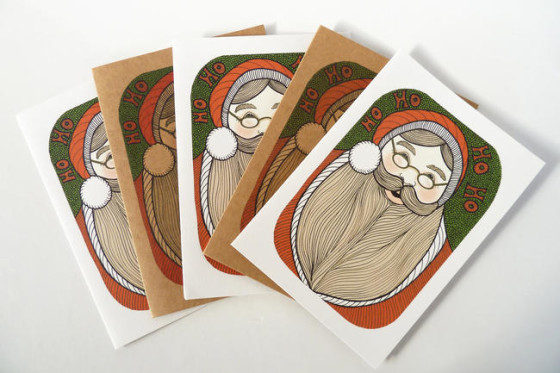 Pack of 5 Christmas Cards by Steph Parker
10. Have a mailing list sign up
Going back to the point about seeing the marketing and exposure potential, asking people if they'd like to sign up to your newsletter is a great way of expanding your reach. Have a handy list somewhere that's easy for people to reach.
11. Remember to invite your network
With all the excitement of setting up your stall, it might be easy to actually forget to invite people! It's always a good idea to plan your marketing schedule, sending an email a couple of weeks before, and then another one a couple of days before the event. Share it with your social media networks, friends, work colleagues, and fellow artists, put posters up, tell everyone you know.
12. Last but not least…
…Remember to bring a chair!