Welcome to this month's Artists' newsletter, on the subject of arts/craft fairs – fitting for Christmas!
We hope you find these little snippets of advice useful, whether you have already held an art fair this year, or are thinking about doing one in the future!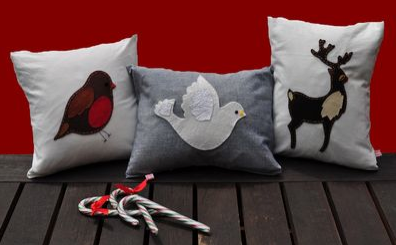 'Christmas Cushion Collection' by Lettie Belle
1. Marketing
So you've spent hours handcrafting your products, have arranged a stall and are all ready to go… you need people to come!! Of course, being part of a larger Christmas market will in some cases guarantee you a great footfall. However, a bit of marketing before you go could have a great impact. Social media is the obvious tool here – get Tweets out to craft-focused organisations who might re-tweet to their followers, think about your audience and who would like your work and target those areas.
Marketing also continues throughout your Christmas Stall, and being part of a fair is a great way to promote your work. You don't want people walking away from your stall without knowing who you are, or how to contact you for future sales! Make some simple business cards, or even just paper slips with your website details to give away with each sale. If they like your artwork now, then they are quite likely to want to find out more.
2. Display
'Vintage Wedding Bunting' by Nicola Corrigan

As an artist, you are bound to be confident creating a creative and appealing display. But often, with so much else to organise, you may find yourself rushed and unable to plan your space before the doors open to the fair. A little pre-planning can go a long way in this situation! Draw up a couple of plans and consider how to creatively stand out from the crowd.
Think about your bestsellers, what you think will have more impact and draw people in, and also think about the direction most of your audience will be coming from (something that might need to be reconsidered once you see the space!)
Think of inventive ways to display your work. Cards stacked in a box might not be the most exciting way to show off your designs – they need to be visible and every design needs to be showcased!
Remember, this time of year people are bound to get into the Christmas spirit! Even if your work isn't inherently 'christmassy', a few fairy lights or twinkles might encourage people to see your work in a more 'gifty' light!
3. Packaging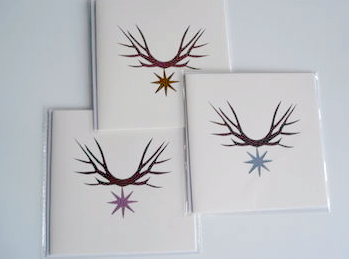 'Christmas Star Cards' by Sharifa Brooks Read
One thing people will love at Christmas fairs is the option to have their purchases wrapped. This doesn't need to be anything extravagant or expensive, some simple tissue paper with a little bit of ribbon or bow will go a long way!
Provide paper bags for larger items to allow people to take their purchases away easily, without effort
Clever packaging is also a great way to link or up-sell your work. If a customer loves a print, you could mention that you also sell them as packs of 3 (nicely tied with a ribbon, all ready to go!)
4. Price
Clear pricing will often make or break a sale! If a potential customer can't see a price, they'll very often walk away rather than asking, especially if you are busy talking to another customer.
Label your prices in a fun and friendly way, perhaps you could personalise each piece of work with a little quirky sentence that describes the piece!
Before pricing your work, you need to research and see what similar items around you are selling for. You don't want to be selling similar items to those around you at a higher price, but equally you don't want to under sell your artwork!
And finally, here is some advice from some of our Twitter followers, who are particularly experienced in the art of the Arts/Crafts Fair!
RT @1958 Munich Get to know your stall neighbours at the fair- How many fairs do they do- which are the best ones? What sells? make friends!
RT @peggy_martinez: Arrive early, some fairs state they open @ 10am but let crowds in @ 8, missed opportunities! Be friendly & open-minded.
RT @BronaghKennedy: bring a seat! Standing for hours on end makes for a tired grumpy artist!
RT @jobs_and_opps: Christmas Fair tips: Clear price labels, decent wrapping + smile no matter how cold you get!
David Rodgers, whose Spotlight interview is currently on our blog, has helpfully compiled some art fair advice on his own blog, visit his post here! Thanks David!
We hope this helps if you have an upcoming fair, or perhaps inspire you to get involved in one this year or next!