How to create a successful facebook artist page
---
Many of you may have a personal account on facebook but would benefit from knowing how to create a facebook artist page that will help promote your work.
Here is the twelve step process that will help you create a useful Facebook page. A Facebook page does not replace your own website, but rather SUPPORTS your work and helps to build your profile.
Facebook artist page
1. Understanding the purpose – the right mindset
Remember that your art does not speak for itself and it will never be able to. The best person to help build the profile of your art is you. Think about promotion activities as an extension of your art — not separate from it.
Writing about your art, displaying photographs of your work and communicating with your audience are all great opportunities that shouldn't be wasted. Good language skills put you in control as your art's 'brand leader'. Take time to think about what is important in terms of presenting yourself an artist and to get the words and images right.
When you do this, there will be little room for being misunderstood. You can influence the way your artwork is perceived and experienced.
2. Create your Facebook page under your professional title.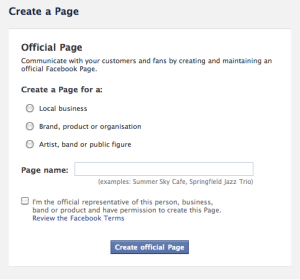 A Facebook Page, sometimes referred to as a Fan Page, is a single page separate from your personal account that people create for many different purposes outside personal sharing. Think of it as a one-page meeting place, with information, links, a message forum box, RSS and anything else you want.
The way people will get to interact with your page is by 'liking' it or finding it. Once someone has 'liked' your page they will receive your status updates and will be able to view your photo albums, just like a regular Facebook account page.
Take action: Go here to create your facebook page: http://www.facebook.com/pages/create.php
3. Choose a unique page image
This is one of the most crucial components of a fan page. It's a simple component yet this image is of the utmost importance. Your image can either be of the most striking examples of your work to date or great high resolution photo of you at work. This photograph has the opportunity to leave a lasting impression, so make it good!
Have a look at some of the examples of ArtWeb members that we think really fit the bill: (Sorry, in this edition they all happen to be attactive females!)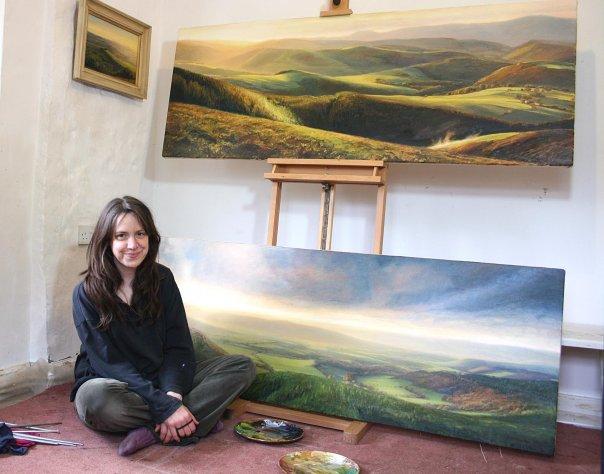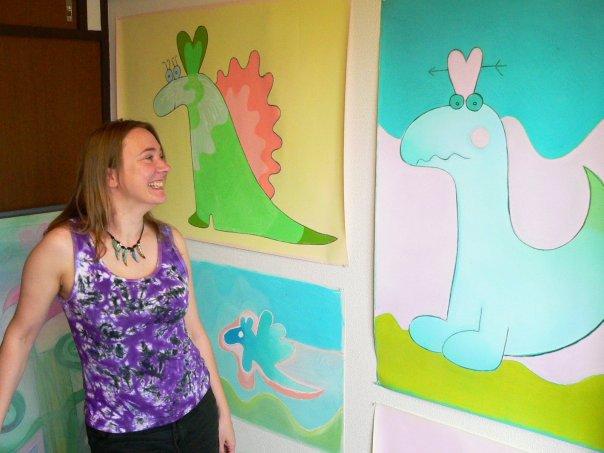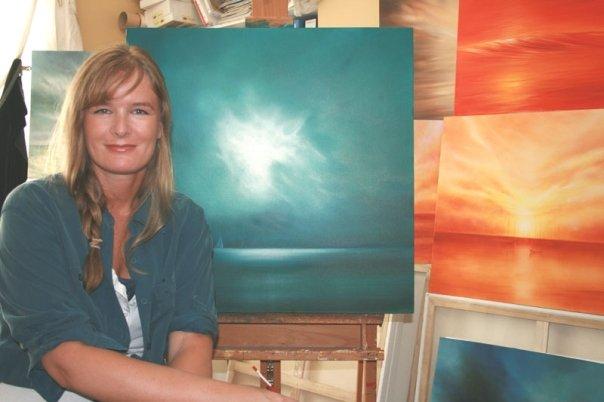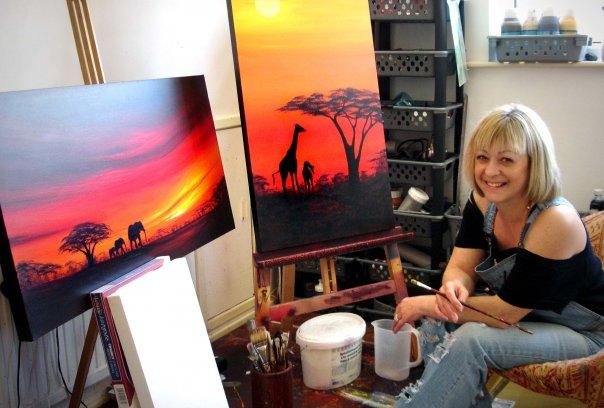 4. Make a gallery of your images
A major advantage of Facebook is the ability to share images. Ask yourself: how is your work divided up? Do you have different collections? Would you like to show a tour of your studio or represent your artistic influences?
Use the ArtWeb Facebook gallery app to create a professional artist's gallery of your work – it even syncs automatically with your website.
We recommend always maintaining a strong image of yourself in your 'profile' picture and change it only once every couple of months (if at all).
5. Write a good bio and include relevant data for the 'info' section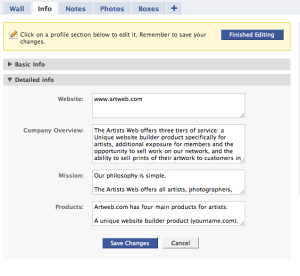 As previously mentioned, visitors will definitely appreciate your art without the addition of words, but the right words can make critical connections between you and your audience. A well-written statement and biography is the backbone for any promotional effort you make, and a good statement takes time to incubate. Include:
Education (if you deem it relevant)
Current location
Prizes you may have won
Exhibitions you are involved in
Main web address
and anything else that you believe may be of interest for both you and your audience.
Take action: Add this information to the 'info' tab of your facebook page – click on the 'info' tab, then press edit information.
6. Interact with your fans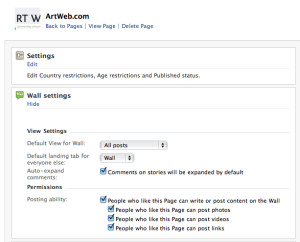 Always allow people to comment on your wall. That means every time someone comments on your new status, a photo, a video, a discussion thread, or anything else, you need to comment on it. You need to be talking to fellow artists and fans alike. They'll ask you questions that you can reply to and you can ask questions as well. Ask for their feedback on your work in a natural way. This will ensure that fans keep coming back if you interact from your spectacular brand!
Take Action: To allow people to post on your wall, click the 'edit page' link (under your profile pic) then click 'Wall Settings' then check the 'People who like this Page can write or post content on the Wall' box.
7. Landing page
The new facebook time line doesn't allow this anymore, however you can at least set which of your page tabs/apps appears in the "top 4" at the top of your page.
You can control which page people land on first and so you might like to 'control' their experience by making sure that new people arrive somewhere interesting like an album of your artwork. If you ideally want and get good feedback from your fans, then the wall is good too.
8. Import your Twitter feed into your Facebook page
We hope you've already started your twitter account. If not, join today, it takes literally five minutes. (Don't forget to go straight to TheArtistsWeb and 'follow' us too!) By importing your twitter feed into your facebook page you will have a continual flow of updated information, even if you are only 'tweeting'. It also gives Facebook fans an even more detailed look at the content you share.
You can do this using the 'selective Twitter' Facebook application (currently the official Twitter Tacebook application only works with personal accounts).
Take Action: Go to http://www.facebook.com/selectivetwitter and click on 'Add to my page', then configure with your Twitter username.
9. Publish useful, relevant content
Just like in other areas of social media (blogs, Twitter, etc) you can easily provide interesting content to your readers. Your Facebook page will be no different. Unlike a personal Facebook page, you should use your facebook fan page to regularly reference content you think will be relevant to artists and buyers. Because you have taken the time to do this, your fans will keep returning to your page. A Facebook Page will give you a weekly update of how many visits you have had within that week, and 'repeat visitors' is one of the most effective measurements of the success of your communication!
So how do you find interesting content?
Start with your favourite blogs, websites, video clips, and other forms of content aggregators like Delicious.com and Digg.com. If you are outside of the new media industry, you'll have to use traditional sources like Google News, Google Blogsearch, and the mainstream media.
You can also repost content from other users! Just like a retweet in Twitter, re-pasting other people's content is complimentary to that person and will result in more exposure to what you want to present later.
10. Use widgets to get more fans
A widget is a stand-alone application that can be embedded into third party sites by any user on a page where they have rights of authorship (e.g. a webpage, blog, or profile on a social media site). Widgets are fun, engaging, and useful applications that allow users to turn personal content into dynamic web apps that can be shared on just about any website.
End users primarily use widgets to enhance their personal web experiences, or the web experiences of visitors to their personal sites.
The use of widgets has proven increasingly popular allowing users of social media are able to add stand-alone applications to blogs, profiles and community pages.
You can put widgets on your website, other webpages you have to encourage people to become fans:
e.g. http://developers.facebook.com/docs/reference/plugins/like-box
The bottom line is communicating about your art will help YOU learn more about it and thus how to share it effectively with others. Understand that defining your art gives you control and confidence. A great Facebook Page created especially for your career is definitely a step in the right direction.
Remember, until you know and understand the soul of your art, you can't explain it adequately to others.
Visit the ArtWeb Fan Page: http://www.facebook.com/pages/ArtWebcom/278685876393
And follow us on Twitter: @TheArtistsWeb
11. Monitor your progress
Facebook makes available detailed information about the visitors to your Facebook page – use this information! Click on the 'view all' button under the 'insights' box on the left column. Here you can see historic data as to when people commented, liked, or removed your Facebook page. Pay particular attention to when there is any significant change – maybe you are posting too much and people hide you from their newsfeed, maybe you just asked a particular engaging question and this attracted a lot of opinions.
Facebook even gives you a quality rating – this is key, the better your rating the more your page's activity will be visible across everyone's newsfeed, so it's really essential you work to keep that high. Use the insights section to get a reliable picture of what works and what doesn't.
The ArtWeb Facebook gallery app give you quick access to visit stats too.
12. Be patient
Building up to a popular facebook page can take time, you'll probably get a chunk of friends and contacts supporting you at first and then progress may not continue with exponential growth. You might be tempted to keep repeat inviting people (that's the 'Suggest to friends' link), but be very cautious about doing this more than a couple of times, it's better not to be seen as 'spamming people'.
You might also be tempted to 'Promote with an advert', as Facebook often encourages you to. Rather be patient at first and watch to see what organic growth your new page will muster, once you're been up and running for a month or so then you have a better picture as to how things may continue to grow.
And finally, be sure to follow us on facebook – we'll be continuing with more detailed articles and tips: http://www.facebook.com/pages/ArtWebcom/278685876393.