Blogging for Artists

This month we are looking at the benefits of blogging for artists, providing some tips and advice as well as giving you an idea of the different blogging platforms available, and other online articles that shed some more light on the blogging world.
Firstly, some thoughts on why blogging might be good for your art practice in this digital social media age!
– Blogging allows you to post ideas and thought processes without committing to it being 'finished work'
– It encourages feedback and initiates discussion about your work in progress
– A well-thought blog can bring traffic to your website, if used cleverly
– It acts as a point of reference to things that inspire you, acting as a digital scrapbook
– Artists can link their blog to Twitter and Facebook and other social networking, allowing for wider audience potential
– Many blogging platforms act as communities as well, where you can meet other artists and initiate collaborations
– Curators often look online to find info on artists- the more of a presence you have the more information about your practice you are putting out there.
– Many artists feel that theory and process is as much part of their practice as the outcome, and voicing your thought processes could help to emphasise the theoretical elements of your work, and clarify your direction.
Drawbacks?
In my opinion, there aren't any drawbacks to having more of an online presence, especially for artists! The only thing you might want to think about is keeping your images safe. One way you could do this is using a creative commons liscence (see our previous article on Getting the most out of your website for more info on this). Some of the blogging platforms out there encourage others to repost and share the work you post, which can be great for exposure, but if you aren't happy with this make sure you read and adjust the settings to your requirements.
Some links to other useful articles on the net, worth a look:
A-N has some great articles on the benefits of blogging for artists, and even has a blogging platform of it's own:
http://www.a-n.co.uk/artists_talking/article/406327

http://www.a-n.co.uk/artists_talking/article/539709

Other sources of info:
http://www.squidoo.com/blogging-for-artists: Lots of articles and in depth discussion on tips and advice for artists who want to start a blog!
http://www.theloungegroup.com/the-rise-of-the-digital-scrapbook-culture/: Interesting article on the Rise of Digital Scrapbooking
Some examples of popular blogging platforms, and what we think:
Blogger:
http://www.blogger.com
Very simple and great for 'following' other blogs, which can initiate conversation with others and encourage others to follow your blog. Links to Googlemail accounts so good if you already have one, as you can utilise your existing contacts.
Example of blogger template designer: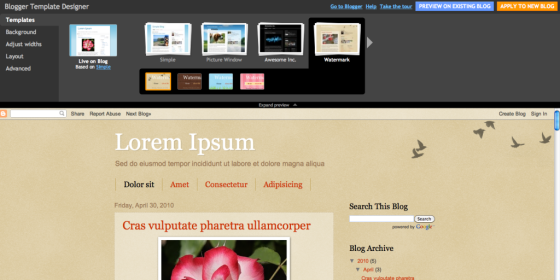 WordPress:
http://wordpress.com/
Extremely customisable and great for the techie artist who wants to create their own blog design. WordPress offers a hosted or self-hosted option, so if you know your stuff you can have absolute control over the look and feel of your blog. For some people this might be important in expressing their work, for others it might be unnecessary and a little daunting to begin with.
Posterous:
https://posterous.com/
This platform is great if you just want a blank canvas (no pun intended!) to spill out your ideas without fussing over design. Acts as more of a note/ jotting space and allows for email updating on the move, which is perfect if you spot something inspiring out and about!
Tumblr:
http://www.tumblr.com/
Imge: example of Tumblr search function via tagging
This has a lot of nice layout choices, very contemporary and simple. Tumblr is great if you just want to post images as and when you feel without having to make too much sense of your ideas. Another good thing about this platform is the search functions and the ability for others to find your work and repost, like or follow you. Personally this is my favourite in terms of exposure and getting your work/ ideas seen!
Example of Tumblr search function:
Livejournal:
http://www.livejournal.com/
Very community focussed- so brilliant if you're looking to make connections and discover people with similar interests. Very simple and usable.
A few tips
– Utilise search function capabilities such as tagging, labels and categories – the more info you attach to an image the easier it is for search engines and your audience to find it!
– Explore other blogs and comment on posts – this will encourage people to reply and have a look at your blog. It will also allow your avatar to be viewable by their followers, who may also have a peek at you posts.
– Post regularly and keep the content relevant – once a day is great, but a couple of times a week is a good start. If you start to get followers, they'll want to know what you're up to, and taking an extended break from blogging could cause them to unfollow!
– Link your blog to your Twitter and any other Social networks – Your friends and family are a great place to start when trying to get your blog out there!
– Include your blog address in your email signature. Often people will be more inclined to look at a blog site rather than an artist's website, perhaps it's our nosy nature… whatever brings traffic to your work though can't be a bad thing!
To summarise…
There are of course many more blogging platforms, so do your research and see what's best for your needs! Think about what is most important to you – exposure? collection of ideas for your own process? networking and collaborating? All platforms offer these things but perhaps some focus on certain things more than others.
Happy blogging, and leave a comment if you have a blog, perhaps you could inspire others!