For this month's article we're looking at the benefits of collaboration, setting up peer mentoring groups, and starting artist spaces!
Peer mentoring
A peer mentoring group is a collective of people practicing in a similar field, or at a similar level. These can be small or large, but probably work best with a group of around 5-10 people. Groups can meet weekly, monthly, however often they feel necessary. Organising meetups with other artists can be extremely beneficial to the development of your work. Peer mentoring is a great way to boost your confidence when speaking about your work, motivate you to create work for specific deadlines/talks, and challenge the way you think about your work.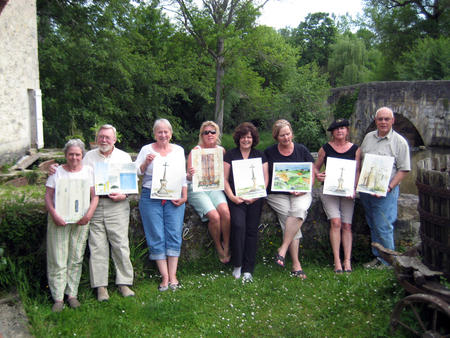 (Image by Ray Johnstone)
More, I hear you say! Here are a few more benefits to peer mentoring:
Finding out about opportunities through others
Being inspired by other people's work
Putting your work on centre stage and benefitting from feedback
Talking about the industry you're in, learning from people who might be at a higher level to you
Passing your own advice on to others
If you're looking for a good place to start, try Meetup.com!

 Also, If you have a studio, speak to the other artists around you on a regular basis… it is afterall one of the main benefits of renting a studio space! If it doesn't already happen, why not arrange a weekly session where everyone who wants to can discuss and critique each others' work.
('Prep photos' by Jackie Raybone)
Networking in other ways
In this digital age, there are many ways to join virtual peer mentoring groups. Nothing can beat face to face interaction, but if you're a bit daunted about meeting people you don't know, here are some ways you can start off:
Why not start by simply joining some online art forums in order to put your work out there for critique. It might seem scary to open your practice up to people, but getting direct advice can only be a good thing! Even if you don't agree with what's being said, it will help you to see how others view your work. ArtWeb has a forum space for discussing all things art-related. Why not introduce yourself right now?
Look for communities that you would feel most connected with. If you're a conceptual video artist, perhaps joining a forum devoted to craft-making isn't going to suit you long-term! It may of course provide you with some inspiration or subject matter, so by all means keep checking out new routes, but with your limited and valuable time you want to get the most out of a group. Do your research, find out what the other artists are like, and explore your options.
We keep banging on about it, but social media is an instant way to gain feedback from those around you. Think how many people comment on photos you upload to Facebook and Twitter, and now think how many people would comment if you openly asked for critique! We are always featuring work on our Facebook page, and it's always encouraging to see varied feedback and discussions starting.
As another example, collective Desperate Artwives are also looking for like-minded artists! Check them out here. In their own words, Desperate Artwives 'are a group of women and artists who have been putting our "artistic needs" on hold to attend to our family and work duties, but who have also never forgotten who we really are at heart. We are now ready to reclaim our artist status and are looking for others who feel they belong to this category to join our group.'
Starting an artist-led space
For the ambitious artists out there, starting an artist led space could be a great way to collaborate with others, initiate your own projects and exhibitions, and to gain exposure. It isn't easy, but definitely achievable!
That's it for now! We'll be back next month with some practical advice on how to sell online and successfully making money from your art. We'll see you then!