PROVIDE THE CENTREPIECE FOR NOZSTOCK FESTIVAL AND GET IN FREE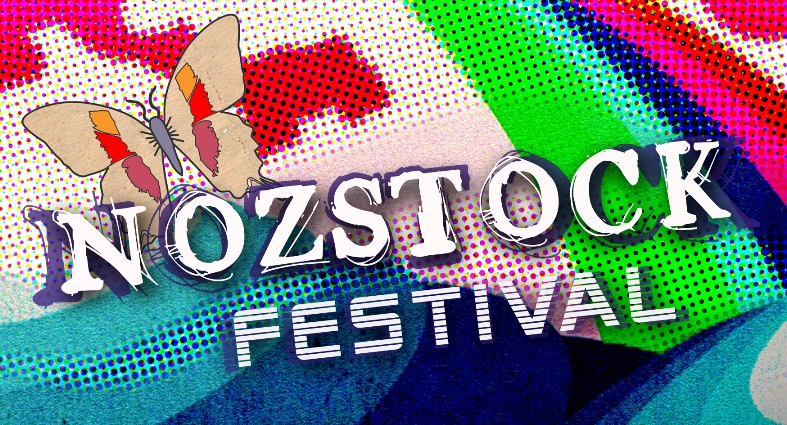 Nozstock is a fantastic festival taking place in the Summer heat (hopefully!) of July in beautiful Herefordshire.  More intimate than it's big brothers, Glastonbury and Reading, it is attracting some glowing reviews and some class music acts.  Interaction has always been at the very heart of Nozstock and this year for the very first time there is a competition for Nozstockers to design and build the centrepiece of the festival which will be displayed in the middle of the lake. The winner will receive two free festival passes, a feature on the Nozstock website and inclusion in this year's festival programme and publicity campaign.
Are you the creator of a strong, visionary sculpture that deserves to be seen by many or perhaps you have a concept that could be developed in time to exhibit?
We want to see your existing images or preliminary sketches. The winner of the competition will have their work presented at Nozstock as the focal artwork present at 2010's festival.
The piece should complement the 'Handmade' theme of the festival and needs to be no heavier than a ton, no wider at the base than 4 foot and no taller than 15 foot. Works should be unique and hardy, capable of dealing with the English elements.
The centrepiece will be visible from the festival site looking down on the lake in the Coppice field. It will be backed by a canvas of display lighting of the field's perimeter trees and highlighted through the festival day and night.
All entries are to be received by midnight Friday, May 28th 2010. The winner will be informed by June 4th, providing artists with unmade sculptures one month for completion. Please do not enter the competition if you will not be able to complete your sculpture within the month (Nozstock will not provide material costs).
Take a look at the entry page on the Nostock Festival website HERE:
http://www.nozstockfestival.co.uk/festival-home/latest-news/130-provide-the-centrepiece-for-nozstock-festival-and-get-in-free
To enter:
Please send photos/drawings and information to:
Centrepiece Competition, FAO: Toki Allison, Nozstock Festival, Rowden Paddocks, Bromyard, Herefordshire HR7 4LS
toki@nozstock.com
The winner will receive:
A stage for their sculpture with a plaque from the main viewing spot
A news article on the official Nozstock website profiling the sculpture and artist
A profile within the official Nozstock programme for 2010's festival
2 free tickets to the festival for the full weekend
– Competition Terms and Conditions
1. This competition is open to entrants aged 18 years or over.
2. All information detailing how to enter this competition forms part of these terms and conditions. It is a condition of entry that all rules are accepted as final and that the entrant agrees to abide by these rules. Submission of an entry will be taken to mean acceptance of these terms and conditions.
3. To enter this competition, entrants must submit their sculpture design or photo in along with an explanation of the inspiration for their sculpture to the published email or postal address. Entrants must include their name, address and contact telephone number. The written element of an entry must be in English and be no more than 200 words long. Entries will not be returned.
4. The final sculpture will be no taller than 15 foot, no wider or deeper than 4 foot, and be no heavier than a ton and made of durable materials. It will be visible from above and for a 180° aspect from the front.
5. All entries must be received by midnight on Friday, May 28th 2010.
6. All entries submitted must be the original work of the individual submitting them. It is the responsibility of each entrant to ensure that their entry does not infringe the rights of any third party or any laws.
7. Rights in all designs submitted for this competition remain with the respective entrants. However, in consideration of Nozstock Festival providing the competition, each entrant grants a worldwide, irrevocable, perpetual licence to Nozstock Festival Limited to feature any or all of the submitted essays and designs in any of their publications, their websites and/or in any promotional material connected to this competition without payment to the entrant. The individuals responsible for any designs so featured will be fully credited.
8. Only one entry per person. Late, illegible, incomplete, defaced or corrupt entries or entries not within the design criteria will not be accepted. No responsibility can be accepted for lost entries and proof of transmission will not be accepted as proof of receipt. Entries must not be sent through agencies or third parties.
9. The overall winner shall be announced on the Nozstock website and via our social networking media and on Friday, June 4th 2010. The winner will be the entrant whose sculpture, solely in the opinion of the judges, displays the most original and exceptional thinking and inspiration, whilst suiting Nozstock Festival. The decision of the judges is final and no correspondence will be entered into.
12. The winning entrant shall have their sculpture exhibited at the festival, which will be on display throughout the weekend of 9-11th July. The sculpture will be commemorated by a plaque, placed at the best viewing point with the winner's name and biography. The winner will also receive free entry for themselves and a guest for the full festival weekend and will have a news article written profiling their work.
13. Travel, accommodation or incidental expenses for attending the ceremony are not included.
14. The winner may be required to take part in publicity.
15. The prize as described is available on the date of publication. All elements of the prize are non transferable and there are no cash alternatives.
16. Events may occur that render the competition itself or the awarding of the prize impossible due to reasons beyond the control of the Promoter and accordingly the Promoter may at its absolute discretion vary or amend the promotion and the entrant agrees that no liability shall attach to the Promoter as a result thereof.
17. Nozstock Festival is responsible for the publication and adjudication of the competition and also for the provision of the prize.
Nozstock Festival Ltd, Rowden Paddocks, Bromyard, Herefordshire HR7 4LS