In the spotlight today is designer/maker Josephine Gomersall. See more of her work at www.josephinegomersall.artweb.com
Being a crafts maker
Please give us a few words of introduction about yourself
I am a designer/ maker/ craftsperson. I had a career as a Textiles Designer and worked in the Textiles Industry for many years. I now work from my home studio creating metal artwork sculptures from Silver, Brass, Copper and recycled Tin, and Silver Jewellery. I design and make mixed media framed original artworks incorporating my metalwork, from which I sell giclee prints and greetings cards.
I also design and print glass cooker splashbacks, which have featured on Channel 4's Grand designs programme with Kevin Mc Cloud, and Britain's Best Homes with Sarah Beeney.
I have always loved to draw flowers, my 'Botanical' style watercolour pencil drawings are influenced by Charles Rennie Mackintosh's flower drawings collection which I had the pleasure of seeing two years ago in Glasgow. I recently sold a collection of original watercolour pencil drawings to Liberty for their Spring / Summer 2013 Art fabrics collection, another of my designs is already in production. My drawings are in the Liberty archive.
When did you decide to pursue making crafts as a career?
I decided to follow my dreams and use my creative skills to try to establish myself in the Contemporary Craft sector. I have watched others do it, and thought I would give it a shot myself, after all you only live once, may as well be doing something you love, use your talent and be happy.
I had been studying Silversmithing and Jewellery making for several years, whilst raising a family. Despite having two young children at home, and becoming a single parent, I gradually set up a wonderful home studio where I could just 'be', in a creative space for designing and making, drawing and painting whilst balancing my role as a mother and a home maker to list a few…
I became a 'Flow' member of Design Factory and started to do Craft Fairs and exhibit my work in Galleries, and work on glass splashback commissions.
My work is evolving all the time and I consider myself very fortunate to be able to do this in the early stages of my Arts and Crafts Career.
What training did you have?
I have a BA (Hons) degree in Textiles Design, I specialised in Printed Textiles. I also have a BTEC National Diploma in Surface Pattern Design and a level 4 PTTLS (Preparing to teach in the lifelong learning sector) qualification. I have done classes in printmaking and etching, ceramics, Jewellery and silversmithing and tinsmithing. I have worked as a Product and Textiles Designer and in Buying and Product Development, sampling and production of wallpaper, weaves and prints. I worked closely with Tricia Guild at Designers Guild as part of the Creative Team.
What has been the high point of your career so far?
There are a few things that spring to mind:
Having my work featured on the Emporium pages of Country Living Magazine (twice) were proud moments.
Selling original flower drawings to Liberty Art Fabrics and seeing my designs 'in print' on cloth in a Liberty Art fabric pattern book gave me quite a buzz.
Seeing my Jewellery and miniature metal sculptures in a glass display case of their own in a gallery as part of an exhibition for the first time was a definite high point.
Being accepted as a 'Flow' member of the Design Factory made it real.
Approving my NEW Greetings card collection and seeing it go to print gave me a good feeling.
There are lots of good moments, hearing that your application to exhibit at a craft fair has been successful is an achievement and brings a smile everytime.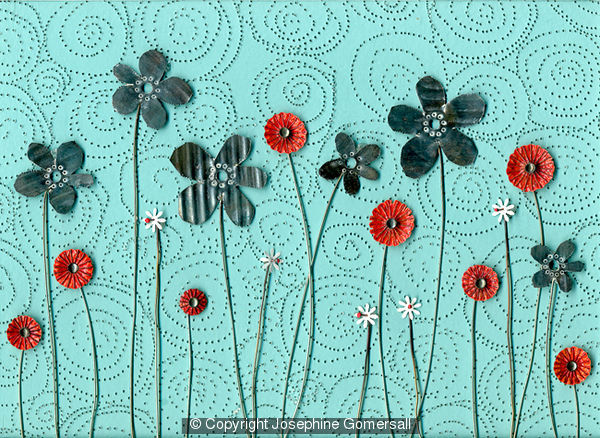 General Questions
What's your favourite quote?
'Art is the flower. Life is the Green Leaf'. (Charles Rennie Mackintosh)
'You can't stop the waves, but you can learn to surf', so I am doing, i've got my own board and wetsuit too!
Who is your favourite artist?
Charles Rennie Mackintosh
What are you aiming for?
To become an established Designer / Maker in the Contemporary Craft Sector.
I would also like to Teach. I have a level 4 P.T.L.L.S. City and Guilds qualification, (Preparing to Teach in the Life long learning sector), and in the Autumn term 2012 I will be Teaching an Adult evening class in 'Botanical style' pencil and watercolour drawing. I would like to become an Associate Lecturer in Higher Education on day.
How will you get there?
I have found that by talking to like-minded people new opportunites and introductions arise all of the time. It is actually a very small tight knit community, and quite surprising how many people know each other forming a network.
I have found volunteering has many rewards, mostly unexpected. Good things come back to you when you are not expecting anything.
Is anything holding you back?
Cashflow. You need to invest so much. For example paying to frame your work before an exhibition, ordering a batch of greetings cards before a fair. But in time, I am confident that this will get easier.
You and making crafts
What feelings or reactions do you hope to arouse in people who view your work? Are you ever surprised by reactions that you get?
I want people to like and appreciate my work, perhaps to make them smile. My work is delicate and decorative so has a certain charm, I would hope that it would cause intrigue as to how it has been made. The best compliment I have had is to hear it being called 'Unique', as there is so work out there it is hard to stand out and do some thing original and different.
I have tried to combine my training in Printed Textiles and Surface pattern design with my silversmithing skills to try to produce work that is different and has that something special.
From start to finish, how long does it take for you to create your work?
I really couldn't say as I like to make things in stages and come back to it. This is sometimes dictated by the processes involved, for example waiting for paint to dry before applying another coat. When I am making my metal art work sculptures, there are many stages, drilling, soldering, hand stamping, so I work on several pieces at once so that I can stay at my work bench and not have to wait before the next stage.
I can spend a day or two making a flower pencil drawing, I enjoy this the most.
What music do you like to listen to when you work?
I like Acoustic guitar and folk music, currently I am listening to Jose Gonzalez and Kings of Convenience. Sometimes I listen to Classical music depending on my mood. I love the Bob Dylan song with the Lyrics 'She's an Artist, she don't look back', not sure of the title of the song.
Alternatively, I open the patio doors in my studio onto the Garden and listen to the birdsong. I live in a picturesque village in rural leicestershire on a dead end lane, so there is little traffic, a tranquil, calm and peaceful setting.
What are you working on next? Any future plans or projects in the pipeline that we should look out for?
To build my website, to include all that I do and have to offer.
I hope to have an on line shop.
I have been promised another drawing brief from Liberty in the Summer.
More craft fairs and galleries to add to the list
Being inspired by making crafts
Who (living or dead) inspires you? and why?
Helen Hallows, Teresa Green, Tricia Guild, they are all talented, strong, determined women, need I say more, they make things happen, respect due.
I stayed up very late to watch a recent David Hockney programme about his latest work and exhibition at the Royal Academy. I have visited Salts mill and love his watercolours of landscapes and hedgerows, he is an inspiration.
Charles Rennie Mackintosh – flower drawings, they are exquisite, what a talent.
I am a fan of Janet Bolton, and Bronwen Tyler Jones and Lyndsey Mann.
I went to Cotswold open studios last summer and met Vanessa Arbuthnott, I have her Cow Parsley wallpaper in my living room. I really like the simplicity of her designs, imagery and colour palette, I found her very inspiring, she also has a beautiful home.
I like Kirsty Elson's driftwood work too.
Poppy Teffrey – she doesn't get her thread tangled.
What feelings, subjects or concepts inspire you as a crafts maker?
My work is inspired by the Natural world (all the beauty i see), from Garden and Hedgerow, flowers and foliage, birds and chickens, countryside to Coastline. I like to apply pattern and love the quality of a printed image combined with the linear quality of a hand drawn mark. I use decorative stamps to create repeating patterns, indenting the metal and paper. I like collage and layering and use natural objects in my work: driftwood, acorn cups. poppy seed head caps.
What is your favourite work that you've produced so far and why?
Hen House
It just works. I like the balance of colour, the composition of the piece, the techniques I have used. I especially like the irregular perforated rings in the back ground created by drawing with a sewing machine needle without thread. I did try with the thread, but got in a tangle. The legs of the Hen House are made from a tiny wooden peg, and the scoring and centre punch marks on the House are to imitate wooden boards and nails. I don't really want to part with it. I exhibited this piece at Melbourne Festival last year and it made everyone smile. It was inspired by my childrens' Chickens, 'Gem' and 'Noodle' that live at the bottom of our garden in a Hen House my brother built for me as a Birthday gift. The House is on stilts and he made a ladder from pieces of branches. We have an abundance of Hen's eggs, so I have started to blow them so they are hollow and have painted them and sell them individually in a gift box.
a crafts maker's advice
For those thinking about turning a passion for making crafts into a career, could you give any advice?
Probably not, as I am just starting out myself really despite being in my 40s.
I have bought books on the subject, watched friends do it, been on Marketing courses and lectures, become a member of various organisations, but I have found that personally I have to go at my own pace and 'find' my way. This is creative development time for me as I could go off in many directions, but I'm not sure which road to go down at the moment but always moving forward with mini triumphs along the way.
I plan to refresh my screen printing skills and print on paper and glass next. I'm still enjoying experimenting.
Any tips on how to get your work seen and get the commissions coming in?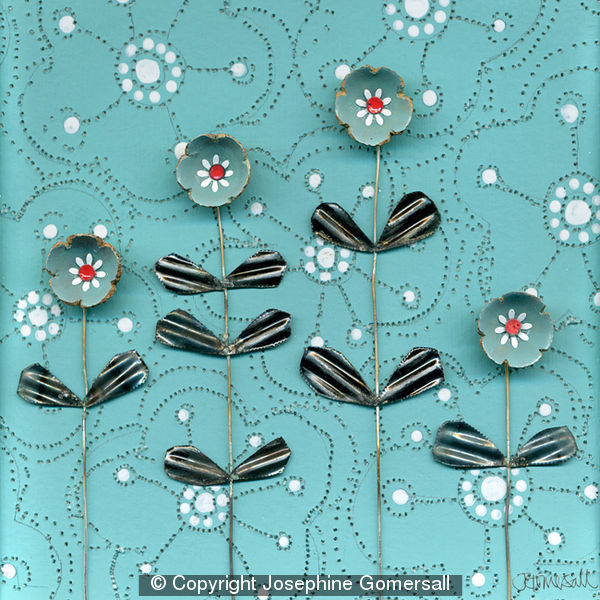 From my own experience, Craft Fairs and Galleries.
Having your work in a magazine, newspaper or on TV.
I have a small business facebook page: Josephine Gomersall designs
Having a website, and having your work online!