Being an artist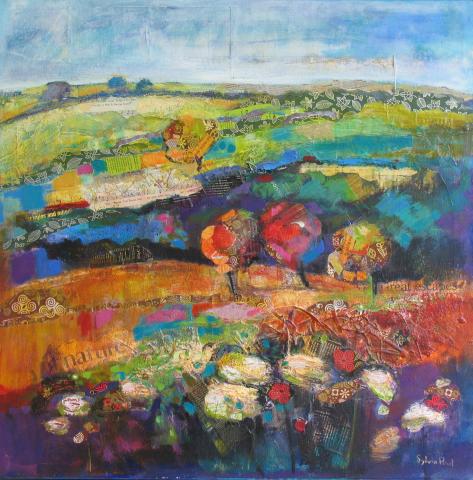 When did you decide to pursue art as a career?
I have wanted to pursue a career in art since secondary school.
What training did you have?
I left school at 16 yrs and did a foundation course in art for two years at Colchester School of art. I then chose to do a teacher training course for three years at Hockerill College of Education. I taught a little bit for a couple of years but soon decided to concentrate on my painting career. Now I occasionally run workshops for adults.
What has been the high point of your career so far?
I was very pleased to have one of my works chosen for the Royal Academy Summer Exhibition and then most recently I was thrilled to hold my second solo exhibition in Nagoaka Japan, where I sold 36 works in 3 days.(Old Beach House)
General Questions
Who is your favourite artist?
I always admire the work of Barbara Rae RA
What are you aiming for?
I hope one day to be completely satisfied with the work I produce.
How will you get there?
I will constantly strive to experiment and improve.
Is anything holding you back?
Only myself getting older.
You and art
What feelings or reactions do you hope to arouse in people who view your work? Are you ever surprised by reactions that you get?
I hope people can enjoy my work at different levels. To see the fun I have had creating the piece and hopefully an exuberance of colour and texture. Also to find things within a painting that may evoke a feeling or memory within themselves. Sometimes people see things that I hadn't noticed and I am surprised by what they say.
From start to finish, how long does it take for you to create your work?
It's difficult to say how long a piece takes it depends on the medium and size. But I always try to finish a work within a few days sometimes only one day or even one hour. I don't often go back to work on a piece later on.
What music do you like to listen to when you work?
I like to have the radio on when I am working usually Radio 2 I like a wide range of music and it keeps me company.
What are you working on next? Any future plans or projects in the pipeline that we should look out for?
I am opening my studio as Part of Colchester Open Studios on 14/15th and 21/22nd September 2013 Then I hope to get back to painting. It has been a busy summer and I am looking forward to producing some new collage and acrylic works. Perhaps some on a Japanese theme using ideas from my recent visit.
Being inspired by art
Who (living or dead) inspires you? and why?
Of course I am inspired by the impressionists and expressionists particularly Monet and also Matisse and Van Gough because of their use of colour and the way they continued to try new things throughout their lives. Lately I enjoyed the Kurt Schwitters exhibition at the Tate Gallery and found the collage work reassuring.
What feelings, subjects or concepts inspire you as an artist?
I am always inspired by the media I work in. In oils I enjoy working freely with a lot of texture and experiment with colour combinations. I love painting landscape and do sketches (in pastel but lately on Ipad) in the field which I can use for reference in the studio.(Barn) Colour inspires me through everything around me and I find still life painting a good way to put colours together.
In my collage work I use all sorts of papers which I find, old books, magazines, music, tickets, maps etc. I love the feel of old things and think about the people who have written them of owned them. I have a large collection of Japanese papers, some I have bought, others that have been given to me. I particularly love the colour and design on the origami papers but also the text in a newspaper, for instance.
I have recently worked on collages inspired by England and my local area the landscape. These have mostly been done from memory and my imagination.(Landscape Escape)
What is your favourite work that you've produced so far and why?
It's very difficult to choose a favourite work, but my first collage inspired by Japan (Sand, Stone, and Little Treasures) was such a breakthrough for me and the first time I had done an abstract painting.
an artist's advice
For those thinking about turning a passion for art into a career, could you give any advice?
Keep practising your work and don't get distracted by housework!
Any tips on how to get your work seen and get the commissions coming in?
Get your work seen. Try entering open art exhibitions. Try to be a little different. Use social media. Keep trying. Don't give up. Don't be afraid to ask for help from your family and friends.
Check out more about Sylvia Paul and her artwork at http://www.sylviapaul.com/
For Facebook – https://www.facebook.com/SylviaPaulArt
Twitter – twitter.com/sylviapaulart