See more of James' paintings at www.jamesalexanderpaintings.com
Being a painter
Please give us a few words of introduction about yourself
I'm based in Bristol, England which is a great place to be an artist as it's in the culture of the town.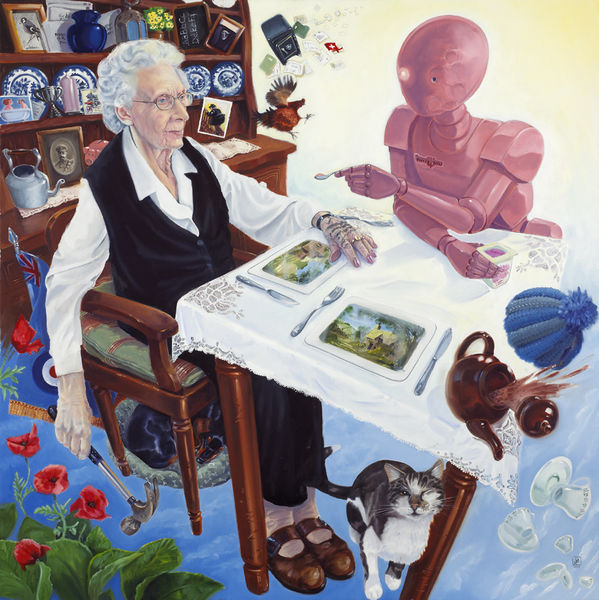 I've survived by adapting to what people want to buy over the years.
which has meant I can turn my hand to pretty much anything now.
Like a session musician, I've paid my dues and I'm able to concentrate on my own solo stuff now.
When did you decide to pursue painting as a career?
The day they threw me out of Art College and told me I'd never make it if I lived to be a hundred.
I should really go back and thank them some day as it was perhaps the best piece of reverse psychology I've ever encountered.
What training did you have?
One year at college ( see above) and a lifetime of assuming it can't be that difficult.
What has been the high point of your career so far?
Still waiting on that one which is why I get up in the mornings.
General Questions
What's your favourite quote?
'You know you're stuff's working when they look at the picture, not the paint'
Who is your favourite artist?
J.W.Waterhouse
What are you aiming for?
A shift in attitudes towards the kind of people I paint.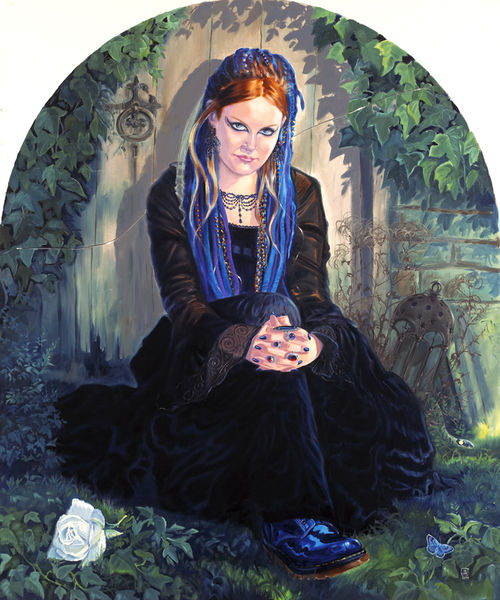 The paintings are just a medium for what really matters.
How will you get there?
The same way I've always got anywhere – by painting myself to a standstill morning, noon and night.
Is anything holding you back?
The only things that hold you back are excuses, and I lost those in the crowd a long time ago.
You and painting
What feelings or reactions do you hope to arouse in people who view your work? Are you ever surprised by reactions that you get?
I love it when people pick up on the sense of celebration that inhabits these paintings, but you have to allow for the fact that everybody brings their own views to bear.
I'm still surprised when anybody in this day and age gets a crinkly mouth over exposed skin though.
From start to finish, how long does it take for you to create your work?
Big paintings (ie.100cmx150cm) always seem to come out at 45hrs for some bizarre reason, regardless of content.
Paintings that aren't very good can struggle on for months before I concede defeat.
What music do you like to listen to when you work?
All sorts, depending on the mood of the work.
Headbanging stuff and monster solo's generally speed the whole process up, but I'm no stranger to Vaughan Williams as well.
What are you working on next? Any future plans or projects in the pipeline that we should look out for?
A one man show from Aug 18 – 24 at the Parlour in Bristol.
I'll be showing the last two years work which is all about the connection between Goths, Burlesque and Retirement Homes.
No, really…
It's also a fundraiser for the Sophie Lancaster Foundation http://www.sophielancasterfoundation.com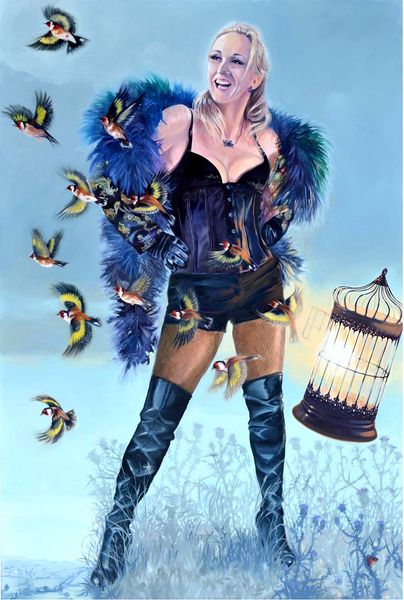 Being inspired by painting
Who (living or dead) inspires you? and why?
David Niven, Amy Johnson, Spike Milligan, Quintin Crisp.
They all made the most of who they were by refusing to bend to convention.
What feelings, subjects or concepts inspire you as a painter?
Show me someone with colour and courage and I'm as happy as a pig in pyjamas.
What is your favourite work that you've produced so far and why?
Generally it's whatever I'm working on as it's such an intense experience.
Under the Ivy was kind of a breakthrough painting for me, so I have a bit of a soft spot for that one.
a painter's advice
For those thinking about turning a passion for painting into a career, could you give any advice?
No. If you have to ask how it's done, you'll never find it for yourself.
Any tips on how to get your work seen and get the commissions coming in?
Like any business or activity, it's all down to how many people know about you.