See more work at www.katherinetripolitaki.artweb.com
Being an artist
Please give us a few words of introduction about yourself
I am from Buckinghamshire, I love art and everything creative. I enjoy comics and reading story boards so guessing that is where I get my passion for my art from!!
When did you decide to pursue art as a career?
Ever since I was little. I have members in my family who are professional creative people and I took a liking to them and hopefully follow in their footsteps.
What training did you have?
I have done art during school, as well as Art and Photography in A Level and further on from that as well.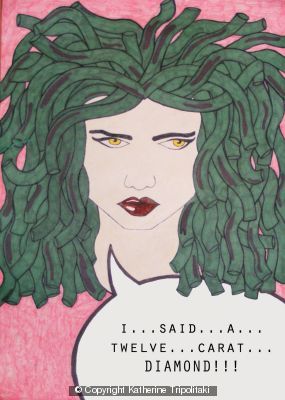 What has been the high point of your career so far?
Everyday is a highlight for me, as long as I get to do what I love!
General Questions
What's your favourite quote?
'An artist cannot fail; it is a success to be one' Charles Horton Cooley
Who is your favourite artist?
Roy Lichenstein, Andy Warhol
What are you aiming for?
For people to like my art! (and to buy some 🙂 )
How will you get there?
Determination!
Is anything holding you back?
I dont listen to negativity, it just brings you down. I know I will do what I want to do in life so if I am the only person who has faith in me then that is fine.
You and art
What feelings or reactions do you hope to arouse in people who view your work? Are you ever surprised by reactions that you get?
I just want people to maybe laugh at some or just look at a painting and think I want one like that of me and I will do that for them!
From start to finish, how long does it take for you to create your work?
Roughly about from 4 hours to two days!
What music do you like to listen to when you work?
Any! I love music so anything gets me in the mood, although I do like feel good songs! Whitney Houston, Michael Jackson, Beyonce.
What are you working on next? Any future plans or projects in the pipeline that we should look out for?
Hopefully will have a clothing line selling soon!
Being inspired by art
Who (living or dead) inspires you? and why?
Gene Kelly and Lady Gaga, they worked as hard a they did to get where they wanted to be! And did not listen to any comments from other people.
What feelings, subjects or concepts inspire you as an artist?
Love, Laughter, Words, insipring people.
What is your favourite work that you've produced so far and why?
My take on Medusa. I wanted to create a woman who when had a gift she did not like from her partner would turn into Medusa and her wrath would take over! I thought it would be different and quite comical.
an artist's advice
For those thinking about turning a passion for art into a career, could you give any advice?
Work Hard and do not give up! I am just starting out and I have already had grief but you just need to keep going and you will live your life through your art!
Any tips on how to get your work seen and get the commissions coming in?
Do everything you can, art websites, Craft Fairs, Galleries, Shops that need art work on the walls. Anything!