See more of Sandra's work at www.sandrawarmerdam.co.uk
Being an artist
Please give us a few words of introduction about yourself
I am a Shropshire based self-taught Dutch artist with a partner and two children.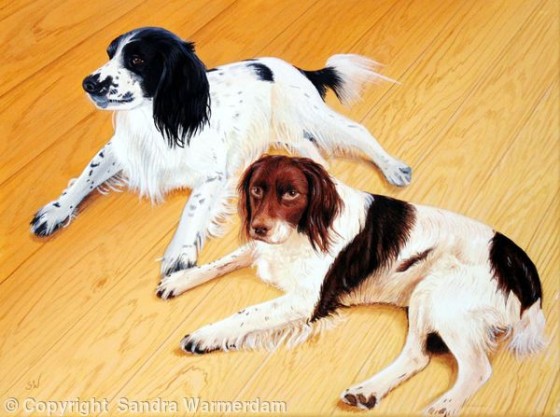 When did you decide to pursue art as a career?
After becoming made redundant, it was for me an opportunity to start my own business.
What training did you have?
I am self-taught although I had a lot of advice and support of my older brother who went to an arts academy.
What has been the high point of your career so far?
Several things come to mind, one of them is painting a poppy and designing a card for a local Branch of the British legion another one is Painting on 2 milk churns for a tractor mechanic.
General Questions
What's your favourite quote?
You can only be young once, but you can always be immature.
Who is your favourite artist?
My brother Frank Warmerdam, his artwork is not of this world, I admire his originality and the humour you see in his paintings.
What are you aiming for?
Provide a regular income via selling my art on greeting cards and do commissions.
How will you get there?
Via attending markets and shows and via social networking I hope to reach the public that is interested in my work.
Is anything holding you back?
At the moment there's nothing that holds me back to be honest.
You and art
What feelings or reactions do you hope to arouse in people who view your work? Are you ever surprised by reactions that you get?
Maybe the wow effect? A father of a good friend of mine started to cry when he saw the painting I did of his dog, that was really touching. Also my sister in laws dogs kept barking to the portrait I made of them, I see that as a huge compliment.
From start to finish, how long does it take for you to create your work?
It all depends on size subject and perhaps maybe even the mood I am in. Normally up to a week for an acrylic painting sized 30 x 40 cm, small work sometimes only in a day or two.
What music do you like to listen to when you work?
Rock music, heavy metal, mostly Kerrang! Radio.
What are you working on next? Any future plans or projects in the pipeline that we should look out for?
Currently I am working on a painting of a hare, which will be used in a series of greeting cards as well, and some commissions for Christmas.
Being inspired by art
Who (living or dead) inspires you? and why?
My partner who works on a small farm, my children, the people who I meet at shows and the market are all a big inspiration to me.
What feelings, subjects or concepts inspire you as an artist?
Nature, farms and living in the countryside.
What is your favourite work that you've produced so far and why?
One of my favourite works is the churn with three stages of farming, it was a challenge to paint on something else then paper or canvas. Another favourites of mine are the square Bull painting on board and the Dutch Guitar player Adrian Vandenberg, acrylic on paper.Another favourite of mine is the square Bull painting on board.
an artist's advice
For those thinking about turning a passion for art into a career, could you give any advice?
My own brother advised me not to go to an academy, because it could fade out your original style. Always trust in yourself on paper or canvas.
Any tips on how to get your work seen and get the commissions coming in?
Artweb of course and social media as Twitter and Pinterest, work well for me to get my work seen. I also go to local art fairs and shows and markets, always make sure you got business cards and leaflets ready!