See more work at: http://loveartsoul.artweb.com
Being an artist
Please give us a few words of introduction about yourself
I have always drawn, I love art and creating it. Inspired by spirituality and the world I keep a book of doodles and poetry which form the starting point for my pieces.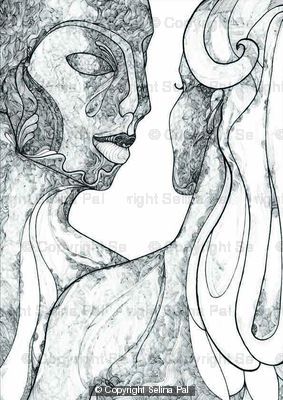 How and when did you start out as an artist?
I started to do casual freelance and do wall art at the beginning of 2009. This included graphic work and wall art.
What training did you have?
A BA hons in Graphic Design.
What has been your best creative achievement so far?
Setting up my own art sale and selling 10 signed pieces in one day!
General Questions
What's your favourite quote?
"I wish I could show you when you are lonely the astonishing light of your own Being"
Daniel Ladinskey
Who is your favourite artist?
Gustav Klimt.
What are you aiming for?
To be a well know artist and designer.
How will you get there?
Doing commissioned art work and networking with the creative inspirational people. Also partaking in any craft sales. I have volunteered and enjoy doing art workshops too.
Is anything holding you back?
Hell no! 🙂
You and art
What sort of reactions do you get to your work? are you ever surprised?
I was overwhelemd with the reaction at my art sale. People were stopping and staring then coming over to say well done and shake my hand or pat me on the back lol! Shock people cannot believe it is all in biro pen and not done using CAD.
Inspirational, deep, beautiful, stunning, meaningful, thought provoking.
Although some people do find some pieces scary, a bit dark…
From start to finish, how long does it take for you to create your work?
It depends on size, A1 drawings can take 3-4days ( 6hrs a day) Smaller pieces take a day. Commissioned art pieces vary in time and acrylic on canvas can take a week as I tend to layer and require paint to dry.
What music do you like to listen to when you work?
Coldplay (strawberry swing)- I love them! Norah Jones, The XX, and I love film soundtracks more so instrumentals such as the Gladiator, the Da Vinci Code soundtrack.
What is next in the pipeline for you? Any new directions or shows coming up?
I am looking to do a photoshoot which will involve me drawing on faces.
Being inspired by art
Who (living or dead) inspires you? and why?
My highly spiritual friend who is the most inspirational being I have and will ever meet.
What feelings, subjects or concepts inspire you as an artist?
Spirituality, mysticism and the soul. Poetry and the beauty of love. The existance of humans and just 'being'… Hope that's not too confusing..
What is your favourite work that you've produced so far and why?
My favorite piece is the drawing entitled The beginning It was created to illustrate how I felt when I could not find words to express it and did not know how to get this feeling out with justice. There was a urgency, a need to draw rather than just creating it for the fun of it. Everytime I look at it I feel drawn in by it and it makes me hopeful.
an artist's advice
Have you got any advice for those starting out as an artist?
Enjoy what you do and do it because you love it, not to make money, or even for a positive reaction. Be like Marmite- people will love it or hate it, it doesn't matter just create! Be inspired by life and let go! Also don't try to imitate any artist, individuality is key.