See more work at www.colinrossjack.co.uk
Being an artist
Please give us a few words of introduction about yourself
Kind of 'jack' of all trades -retired physics teacher, astronomer, photographer, artist, used to write poetry/novels – probably master of none, but enjoy them all.
Scottish, from Anstruther in Fife, have lived in England since 1970. Married with a son and daughter and 2 granddaughters.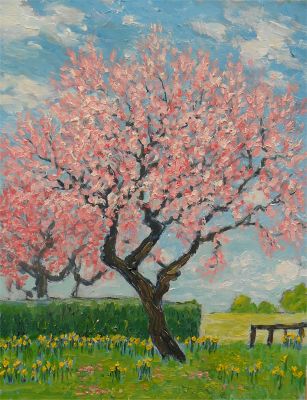 When did you decide to pursue art as a career?
it is not really a career, more a passion, though I exhibit and sell, especially at the annual Pittenweem Arts Festival in August where I have a solo exhibition.
What training did you have?
I am self taught.
What has been the high point of your career so far?
Having 2 pictures of Michael Steele, former bass player of the Bangles, owned by the lady herself.
General Questions
What's your favourite quote?
Too many to list!
About art? .. 'a picture is not about what a place looks like but how it feels'
or ..'art is less about making marks than making choices'
or 'a painting , like a poem, is never finished, only abandoned'
or 'a painting needs 2 people, someone to paint it and someone to take it away'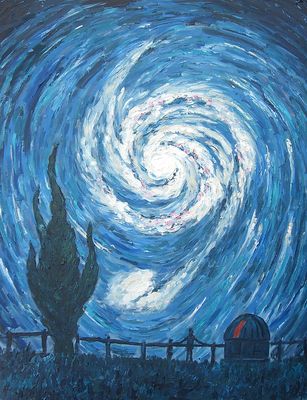 Who is your favourite artist?
Vincent Van Gogh.
What are you aiming for?
Just to keep on keeping on.
How will you get there?
Hopefully by just keeping going!
Is anything holding you back?
Not at the moment, hopefully…
You and art
What feelings or reactions do you hope to arouse in people who view your work? Are you ever surprised by reactions that you get?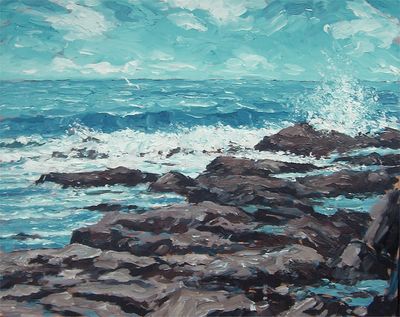 Art is a kind of showing off, inevitably. so i hope people will praise my work, maybe buy it [!], but mostly be moved by it.
From start to finish, how long does it take for you to create your work?
I paint fast. I tend to do a large picture in 3/4 hours, a small one in less.
What music do you like to listen to when you work?
Since 2007, i have been stone deaf [meningitis]. i used to listen to dylan or classical.
What are you working on next? Any future plans or projects in the pipeline that we should look out for?
I try to do different things always – seascapes and scottish scenens are my staple, but I am linking my passion for astronomy with art too, using astronomical images as a basis for subjects. I often go back to my 12 years doing pastels to try the same compositions in oils. I am now experimenting with making my own oil paints.
Being inspired by art
What feelings, subjects or concepts inspire you as an artist?
Everything really. To paint a picture, I have to see something and be desperate to begin painting it, no matter what it is. if I don't feel like that, I shouldn't start it.
What is your favourite work that you've produced so far and why?
Not sure, that changes with time. At the moment I am pleased with the pink blossom pictures I have just done, as the blossom inspires me every spring
an artist's advice
For those thinking about turning a passion for art into a career, could you give any advice?
It is not really my career, so not really. I guess it is very hard to make a living from art, hope that doesn't sound too negative!
Any tips on how to get your work seen and get the commissions coming in?
www.artweb.com for a start!
Facebook, with a lot of contacts is good for being seen too.