Today we have artist Sarah Stokes in the spotlight – see more of her work at: www.sarahstokes.artweb.com
Being an artist
Please give us a few words of introduction about yourself
Hello I'm an intuitive artist who loves playing with mark making in the moment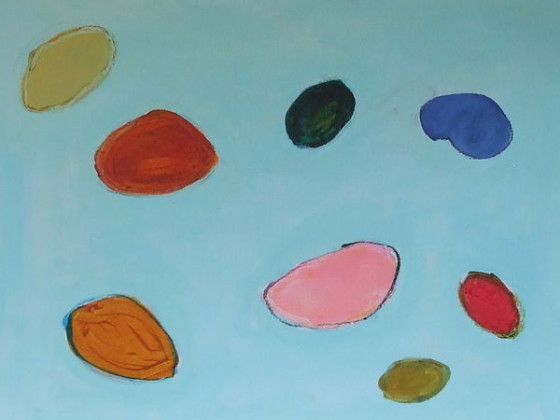 When did you decide to pursue art as a career?
I started painting in 1995 as a way to express my anger, and then kept going, transforming difficult moments through my Buddhist practice and very expressive style.
What training did you have?
Allowing myself to make lots of 'mistakes' and just being honest.
What has been the high point of your career so far?
Oh being able to keep going and still love lettingmy energy flow- and its always great to sell a piece too when someone really appreciates what I'm doing.
General Questions
What's your favourite quote?
'You must not for one instance give up your effort to build for yourselves new lives. Creativeness means to push open the heavy groaning doorway of life. This is not an easy struggle. Indeed it may be the most difficult task in the world. For opening the doorway to your own life is in the end more difficult than opening the door to the mysteries og the universe.' Daisaku Ikeda
Who is your favourite artist?
I like Helen Frankenthaler and many friends' works.
What are you aiming for?
A poetic beauty, a sense of freedom that resonates with others.
How will you get there?
Keep on trying- perseverance and patience!
Is anything holding you back?
Only we limit ourselves!
You and art
What feelings or reactions do you hope to arouse in people who view your work? Are you ever surprised by reactions that you get?
Yes i can be -one of the loveliest things someone said was they could hear children coming up from the beach in one of my pieces!
From start to finish, how long does it take for you to create your work?
Oh that can take 10minutes to years of going over and over ad nauseum!
What music do you like to listen to when you work?
Sigor Ros, classical- Bach, anything can take my fancy.
What are you working on next? Any future plans or projects in the pipeline that we should look out for?
I'd like to try and work more on untreated canvas to get a more fluid style and also do larger pieces of the colour shape and space theme…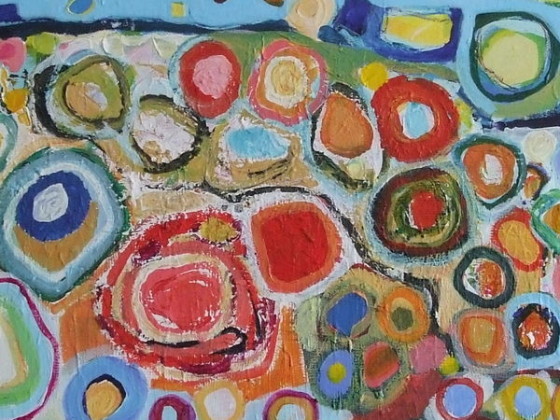 Being inspired by art
Who (living or dead) inspires you? and why?
Any artist who puts their heart and life into their work- Van Gogh is an obvious.
What feelings, subjects or concepts inspire you as an artist?
Nature- when people are sincere and heartfelt
What is your favourite work that you've produced so far and why?
Oh many, I still like stepping stones- a lovely combination of colour and tone and space- freedom
an artist's advice
For those thinking about turning a passion for art into a career, could you give any advice?
Don't let anyonre talk you out of it!
Any tips on how to get your work seen and get the commissions coming in?
Be bold – its self-belief and confidence!