Spotlight artist interview with painter Yasmine Giessa. See more of Yasmine's work at www.yasmineartgallery.com
Being an artist
Please give us a few words of introduction about yourself
I am an artist and an oil painter from Egypt, and I am currently living in Los Angeles, California. I mainly paint oriental and Egyptian portraits, still life and landscapes. I accept commission orders too.
Art has to be felt by the heart before seen by the eye.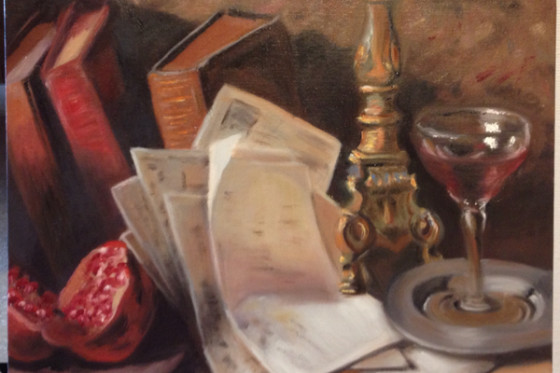 When did you decide to pursue art as a career?
I have decided to pursue art as a career just a few months ago but have been pursuing it as a hobby on a professional level from a long time ago. Art became like the air I breathe every day to survive.
What training did you have?
I have been receiving several art classes, for several years, in various countries.
What has been the high point of your career so far?
Selling oil paintings online, and at well known galleries.
General Questions
Who is your favourite artist?
Van Gogh and Rembrandt.
What are you aiming for?
I am aiming to present better art in this world, to present art that people can really feel. I want people to get connected to my art, and to me through the art I present.
How will you get there?
I will reach my goals by choosing wisely. I only choose to paint those photos that present something unique, and could be felt at the same time. Otherwise, art would be just paint on canvas.
Is anything holding you back?
Seeking perfectionism, which I should not be.
You and art
What feelings or reactions do you hope to arouse in people who view your work? Are you ever surprised by reactions that you get?
The reaction I am always hoping for is of course for people to like my paintings, and to connect to them at the same time. Feeling those expressions on my portraits' faces is one of my aims, because it shows that I have succeeded in transmitting feelings through art.
I have always received praise for most of my artwork, from those whom I know and even from strangers.
From start to finish, how long does it take for you to create your work?
Starting a painting takes time because I have to feel connected to it. That is the most difficult part. Painting it takes from two days to a week depending on the details in the painting itself.
If it's a portrait, most probably it takes longer because it has to show a lot of emotions.
What music do you like to listen to when you work?
I like the oldies music.
What are you working on next? Any future plans or projects in the pipeline that we should look out for?
I am working on presenting more womens' portraits or paintings as they show femininity and elegance.
Being inspired by art
What feelings, subjects or concepts inspire you as an artist?
The eyes in any photo inspire me to paint it, because I want to always be able to show the character and its feelings through the eyes.
What is your favourite work that you've produced so far and why?
All of my portraits are so special to me, because each has its own character and feelings which is so clear in their looks, eyes and clothes.
an artist's advice
For those thinking about turning a passion for art into a career, could you give any advice?
Just paint and learn from your painting experience. Every struggle is a way of learning, so never give up. You will reach out to peoples hearts as long as you are painting from your heart.
Any tips on how to get your work seen and get the commissions coming in?
Having a website is the best way to present all your artwork to people. Seek any website or gallery, especially those online to present your artwork to be more exposed and seen by more people.
Word of mouth is very important in this career, so don't underestimate it. Tell everyone you know or you don't know about your new paintings and accept criticism with an open heart in order to learn and become better at what you are doing.
Artwalks are a major way of getting exposed and known to people and galleries.