See Judy's work at:
www.judyfoulsham.artweb.com
Being an artist
Please give us a few words of introduction about yourself
My name is Judy Foulsham. I have been painting and designing for 49 years, i.e. all my life! When I went to my interview at Winchester School of Art to do an Arts Foundation Course, I said I wanted to be an Artist and they said they could see me as a Textile Designer, so everything comes full circle and now I am an Artist with a Textile Design background!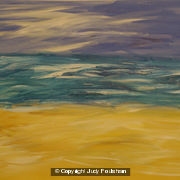 When did you decide to pursue art as a career?
I always wanted to be an Artist as a small girl, but when I was an Aupair in USA when I was 18 in 1979, the family signed me up for Art Evening classes, and I got into college to do Art when back in the U.K in 1980 and haven't looked back since
What training did you have?
I went to Winchester School of Art, to do a Foundation, Chelsea School of Art to do HND in Textile Design, Royal College of Art to run my own business for Art Graduates in 1986, and Coventry University to do an M.A in Electronic Art and Design specialising in Computers, and Textiles and Art and Design.
What has been the high point of your career so far?
I was watched by 2.5 million people on Channel 4s Watercolour Challenge in 2004, and exhibited at The Mall Galleries in the Watercolour Challenge Exhibition, which was visited by more people for 2 weeks than any other Art Gallery in the same time in the U.K – the power of T.V!
I came in the final of The London Evening News Small Business Competition, and had lunch with Margaret Thatcher (not sure if that was a highlight though!)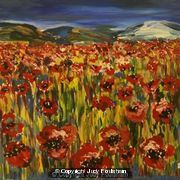 General Questions
What's your favourite quote?
Its Nice to be Important but its more important to be nice.
Be good to the people you meet on your way up, because you'll need them on your way down
Who is your favourite artist?
Many Artists have been my favourite over the years, including Monet, Van Gogh, Paul Gell, Paul Klee, Kandinsky and Rolf Harris.
What are you aiming for?
I would like my paintings to be bought and collected all over the world and loved and cherished.
How will you get there?
Through Artweb of course!
Is anything holding you back?
No, I love life and I love Art and friends and family.
You and art
What feelings or reactions do you hope to arouse in people who view your work? Are you ever surprised by reactions that you get?
WOW I would love to own an original Judy Foulsham – The Judy Foulsham!
From start to finish, how long does it take for you to create your work?
It depends, but I always say my age and the extra hours so say 49 years and 2 hours on average
What music do you like to listen to when you work?
Classical guitar music. Songbird by Eva Cassidy and others
What are you working on next? Any future plans or projects in the pipeline that we should look out for?
Next week I am painting my favourite era which is the 1920s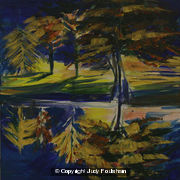 Being inspired by art
Who (living or dead) inspires you? and why?
Rolf Harris, because my style and my classes I teach are called 'Fast & Loose Watercolours & Acrylics' & I grew up watching 'Can you see what it is yet' which inspired me to practise and practise and never give up.
What feelings, subjects or concepts inspire you as an artist?
Passion, colour, light, travel, the world, flowers, landscapes, seascapes, colour, colour, colour!
What is your favourite work that you've produced so far and why?
Sea, Sky and Sand because it reminds me of empty beaches in Fremantle near Perth in Western Australia, where I lived for a year and I absolutely loved it.
an artist's advice
For those thinking about turning a passion for art into a career, could you give any advice?
Never give up. If at first you don't succeed and all that. Think high and just enjoy it. Network and plan. Talk to people and get your work out there but don't undersell yourself or your work
Any tips on how to get your work seen and get the commissions coming in?
I think it is a combination of the internet and exhibitions these days.