See more of Michelle's work at www.michellecobbin.com
Being a painter
Please give us a few words of introduction about yourself
Hallo, my name is Michelle Cobbin, I make abstract paintings and am based in Brighton, UK. I've recently transferred my artist site to Artweb and am very pleased with the results.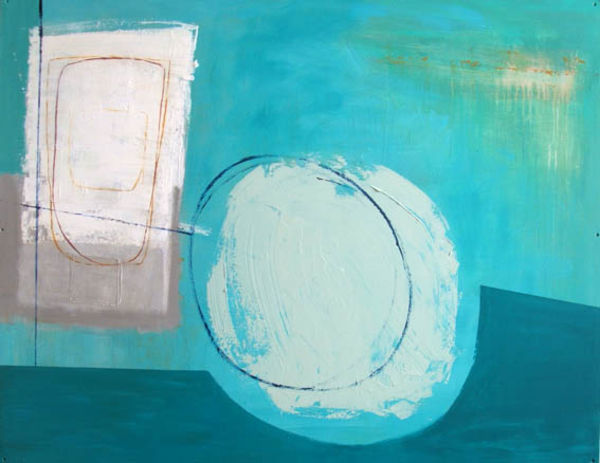 When did you decide to pursue painting as a career?
I began painting about five years ago. I picked up the 'Artists Way' by Julia Cameron, that had been sitting on my bookshelf for ten years, and started doing the exercises. Painting and drawing had been put on the back-burner in favour of 'proper' work, and this book helped me to realize how much I valued these creative activities. I enrolled on a pre-foundation course and haven't looked back.
What training did you have?
I trained in Brighton with various courses. I already had a BA (Hons) in Visual Culture – art history and critical art theory, before picking up the brushes myself. I started with a pre-foundation course, and then did a wonderful part-time Foundation, followed by a year of the FdA (Foundation degree Fine Art) at Brighton University. I've also had some fab personal tutoring from painters Nick Bodimeade and Ron Cavedaschi.
What has been the high point of your career so far?
Being commissioned to make a site specific piece for Unit 4 yoga studio was a real buzz. I was rather daunted to begin with, and had to get over my self-consciousness and fear of the painting not being liked. The piece was installed in June 2012 and the feedback from the owners and students/teachers at the centre has been wonderful. I'm delighted with the outcome.
General Questions
What's your favourite quote?
'Our thoughts become our words. Our words become our actions. Our actions become our habits. Our habits become our values. Our values become our destiny…'
– Gandhi
Who is your favourite artist?
In order to narrow my choice, I have to choose someone alive, so it's Pierre Soulages – such magnificent works in black – quiet, imposing and so elegant.
What are you aiming for?
Currently I'm aiming to show my work more by exhibiting and gaining gallery representation. I'd also like more commissions or corporate work – particularly large scale pieces. And I'm interested in the idea of collaborations or group projects/exhibitions. Really I just want to make paintings and get the work out there.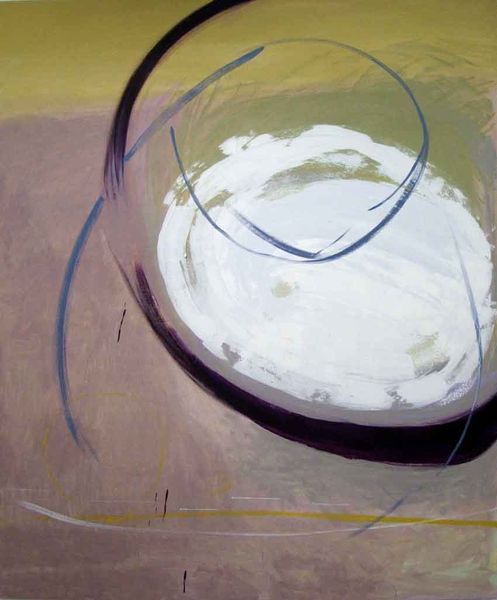 How will you get there?
Last summer I joined the Chalk Gallery collective, based in Lewes, Sussex, which now shows my work with a new hang every six weeks. I'm hoping that this gallery experience will give my work exposure and lead to other interesting opportunities.
Is anything holding you back?
I think my own fears hold me back more than anything.
You and painting
What feelings or reactions do you hope to arouse in people who view your work? Are you ever surprised by reactions that you get?
People seem to love my use of colour and say that my paintings are beautiful, inspiring and calming. Of course some people find abstract work hard to connect with, and I fully respect that, but even many non-abstract lovers have been complementary which has been surprising.
From start to finish, how long does it take for you to create your work?
There isn't a standard time. I often repaint things over and over before resolving an image. 'Acetabulum' the commission for Unit 4, took six months and underwent many changes. The 'After St Ives' series, on the other hand, was made very quickly in an afternoon, after a week of making lots of marks and drawings in my sketchbook. I can't hurry the work, and need to wait to get into the right 'head space' – to get out of controlling and being too careful, so that the energy flows.
What music do you like to listen to when you work?
I often work in silence, connecting with my body and the ground. Sometimes I listen to radio 4, and if I need to get my energy flowing – if I'm being too tentative with my mark making, I play very loud old punk/goth/indie music – a throw back to my youth when my expression came mainly through identifying with these subcultures.
What are you working on next? Any future plans or projects in the pipeline that we should look out for?
I have a 'Featured Artist' show coming up at Chalk Gallery on 12 November 2012 for three weeks, called 'Come Down Softly' where I have the opportunity of showing a larger selection of new works. I have also been approached by the lovely Bluemoon Gallery in Tunbridge Wells and they have just started to show my work.
Being inspired by painting
Who (living or dead) inspires you? and why?
There are a whole host of artists that inspire me – many painters from the St Ives school from the 1950s – most notably Heron, Lanyon and W. Scott, also the Abstract Expressionists, Color Field painters, Minimalist art, Zen calligraphy.
What feelings, subjects or concepts inspire you as a painter?
Movement, stillness, quietness are states that I work with as a yoga practitioner and they inform my paintings too. The Japanese art of Wabi Sabi, finding beauty in the imperfect and incomplete comes to mind frequently when I paint.
What is your favourite work that you've produced so far and why?
This is constantly changing. 'Acetabulum' is a recent favourite – I think because I'm so pleased with it's outcome after a hard struggle. 'Breathe' is another older favourite – again another large canvas, this was my first real achievement in large scale work and is about moving into stillness. I'm excited about the current series entitled 'Interbeing'. The series is evolving as I work on them and are mostly acrylic mid-size paintings.
a painter's advice
For those thinking about turning a passion for painting into a career, could you give any advice?
Follow your heart, not your head. Just keep on keeping on.
Any tips on how to get your work seen and get the commissions coming in?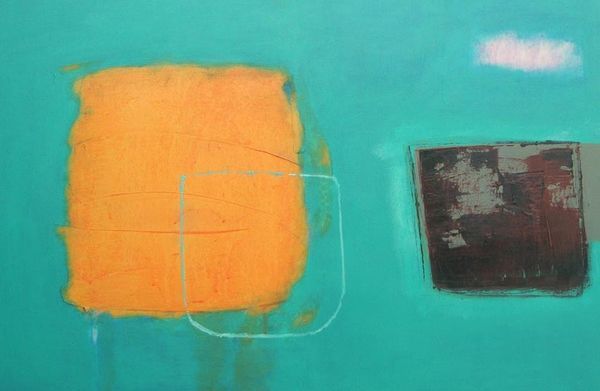 I've found having a website/blog and a facebook artist page has helped spread the word.