Being an artist
Please give us a few words of introduction about yourself
My name is Katy Galbraith, sometimes i use Recycle Me Mosaics as a 'business' title, but not sure if it is worth the time and energy to have a separate name.
I live in Crieff, Perthshire, and also run a B&B and self-catering flat which I do enjoy, but more essentiallly, it pays the bills so that i can create what i want to create.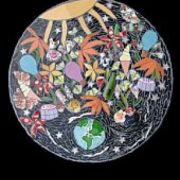 When did you decide to pursue art as a career?
I wish i had gone to art college after school, but followed a different path instead – following poorly judged (imo) parental advice.Having dabbled in various medium as a hobby over the years, I discovered mosaic about 8 years ago, and was hooked.
I took the plunge a couple of years ago and started selling and being more pro-active in promoting myself. I have done a lot of soul searching over the last couple of years, and have realised that for me, being deemed 'an artist' is very important, and that i want to be represented in quality galleries or 'craft' outlets.
What training did you have?
I was taught by a friend, Jan Kilpatrick of Wild Tiles, who used to live in the area. My first project was a table top for the garden – as my husband and i at first couldn't decide on what table to have, but agreed on mosaic – nothing like being ambitious! When Jan moved away from the area, we started to run mosaic classes using my B&B as the venue… so over the years, i have been able to tap into her expertise.
What has been the high point of your career so far?
Being accepted into the juried exhibition of BAMM (British Assoc for Modern Mosaic) which took place at Lichfield Cathedral April 2011. Hopefully, my piece will sit alongside more experience artists.
General Questions
What's your favourite quote?
Two roads diverged in a wood, and I –
I took the one less traveled by,
and that has made all the difference.
Robert Frost, The Road Not Taken, last 3 lines
Who is your favourite artist?
Klimt and Tiffany
What are you aiming for?
Striving to perfect my technique, and to continue to be able to make what i want to make, not just what is marketable.
How will you get there?
Playing in my workshop, experimenting with new materials, and hopefully getting to attend some masterclasses with other mosaic artists around the world (i also love travelling so if i can combine the two!)
Is anything holding you back?
Recognising that doing B&B does enable me to unlimited creativity, however, it does restrict my ability to attend workshops elsewhere, as they all seem to happen at the peak of our tourist season.
You and art
What feelings or reactions do you hope to arouse in people who view your work? Are you ever surprised by reactions that you get?
I hope that they enjoy my work as something lovely to look at – and in some cases, that functionality and beauty can work side by side (ie mirrors, table tops, stepping stones). I often include quirky items in my pieces, which aren't immediately obvious, but on second glance… so hopefully these bring a smile to faces.
Mosaic tends to be seen as a Roman, square tiles, marble… I hope that those seeing my work realise that there is another way which is more contemporary, and includes many different materials.
And finally, i use primarily recycled materials – from broken car windows with a sweet wrapper collage underneath to re-fused sheets of glass from the wastage of the Caithness Paperweight factory, wine & gin bottle glass to broken ceramics. I feel that this sums up my environmental commitment, and displays that nearly everything can have a second life albeit out of context with the original purpose. Usually it is the last thing given to me that stimulates the next mosaic
From start to finish, how long does it take for you to create your work?
It can vary!
What music do you like to listen to when you work?
I love music that mixes western style with other world music. I think my favourite is Natasha Atlas – middle eastern meets the Midlands
What are you working on next? Any future plans or projects in the pipeline that we should look out for?
I am working on my Gingerbread House piece which is going into the Opus Mosaic Gallery, Exeter for their Forest exhibition. It is just to be grouted. Then i want to make a piece for the Flotsam, Jetsom, Lagan & Derelict exhibition, for the Banff & MacDuff Coast Exhibition (juried) where the remit is to use only recycled materials.
The BAMM exhibition at Lichfield Cathedral will have not just my main piece, entitled Eden, but also a gothic miniature.
And a gallery in Aberfeldy wants to see some pieces… so i keep trying to add outlets to my list of galleries, but find it very daunting to approach them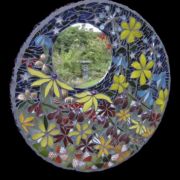 Being inspired by art
Who (living or dead) inspires you? and why?
Barbara Kingsolver – novelist and essayist. She writes about various social issues, and has a strong environmental commitment. Her work has been consistantly good, and inspires a change in our own lives. The message that you get is that you can live a good and fulfilled life, be considerate to your neighbours, have sound social and environmental ethics and still achieve what you want out of life.
What feelings, subjects or concepts inspire you as an artist?
In terms of subjects, I love flowers and gardens, so many of my pieces are floral representations… though occasionally other ideas do pop into my head at times. I do follow a few online mosaic forums, who have regular competitions, and so if i am stuck for an idea, then i will work towards an entry in that. My Geisha Triptych came about because of an online competition. The competitions are also a great way of encouraging you to learn new techniques or work with new materials.
As mentioned above, i am a passionate recycler, and love the use of mixed materials in creating a mosaic, and feel that it is an important part of my work to illustrate the reuse of materials.
What is your favourite work that you've produced so far and why?
Heaven is to Me – Opus mosaic Gallery 'Heaven's Above' exhibition 2009
My first exhibition piece, which was fun to do, really represented what i was about, was well received at the gallery, and sold!
an artist's advice
For those thinking about turning a passion for art into a career, could you give any advice?
Get a thick skin, and learn to cope with the rejection from galleries / competitions / submissions. It can really hurt your pride and dent your confidence to get the rejection letters, as of course if we didn't think that our work was great then we wouldn't be doing it!
So i am learning the art of having a good moan to my husband, then picking myself up again, and writing the next submission…
Any tips on how to get your work seen and get the commissions coming in?
I am still comparitively new to this, and am working on the Facebook, website, social media, media…. but the balance of time spent on the computer and in the workshop is a bit out of sync.
I have found that submitting free pieces (to a point) – i have done a piece for an international mosaic exhibition & auction to raise money for Medicins sans Frontiers, which i was able to use as local pr too.