See more work at www.vijaysarafmeenaghe29.artweb.com
Being a painter
Please give us a few words of introduction about yourself
Painter, Installation Artist, Sculptor, Muralist, Print-Maker, Poet, Photographer.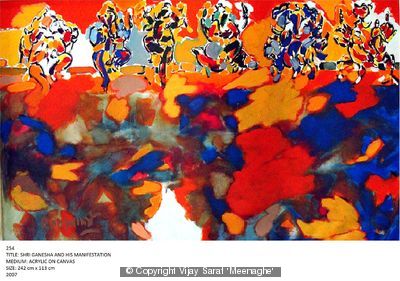 When did you decide to pursue painting as a career?
1973
What training did you have?
B.F.A (Fine Arts)
INDIA
What has been the high point of your career so far?
2000 – Got Senior Fellowship, from H.R.D. Ministry, Govt. of India.
2010 – Member, General Council, J&K Academy of Art Culture & Languages.
General Questions
What's your favourite quote?
'Art is a collarboration between God and the artist, and the less the artist does the better.'
Andre Gide
Who is your favourite artist?
Picasso.
What are you aiming for?
Ultimate Reality.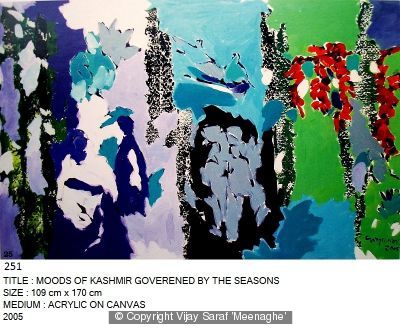 How will you get there?
One of the great undiscovered joys of life comes from doing everything one attempts to the best of one's ability. There is a special sense of satisfaction, a pride in surveying such a work, a work which is rounded, full, exact, complete in its parts, which the superficial person who leaves his or her work in a slovenly, slipshod, half-finished condition, can never know. It is this conscientious completeness which turns any work into art. The smallest task, well done, becomes a miracle of achievement.
Is anything holding you back?
Nothing as such.
You and painting
What feelings or reactions do you hope to arouse in people who view your work? Are you ever surprised by reactions that you get?
Good art is not what it looks like, but what it does to us.
From start to finish, how long does it take for you to create your work?
Depends upon the work.
What music do you like to listen to when you work?
Indian classical.
What are you working on next? Any future plans or projects in the pipeline that we should look out for?
Exhibitions in India and Abroad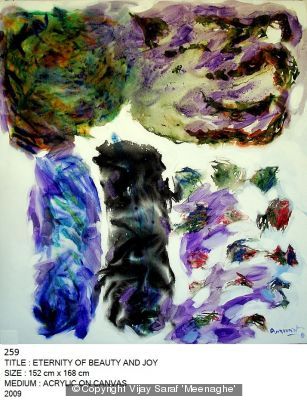 Being inspired by painting
Who (living or dead) inspires you? and why?
Nature.
Because it purifies me.
What feelings, subjects or concepts inspire you as a painter?
Monsoon, Space, Nature defying beauties….
What is your favourite work that you've produced so far and why?
1994-Oil Painting (12´ × 4½´) (Harmony "Parimahal, Shankaracharya, Hari Parvat, Hazratbal & Dal Lake) for Raj Bhavan, Jammu and Kashmir.
1994-Oil Painting (12´ × 4½´) (Jammu 100 years ago) for Raj Bhavan, Jammu & Kashmir.
Because these works took out all from me inside.
a painter's advice
For those thinking about turning a passion for painting into a career, could you give any advice?
If you are gifted naturally then go and strive hard.
Any tips on how to get your work seen and get the commissions coming in?
Through my website http://vijaysarafmeenaghe29.artweb.com, Saatchi online, If required personally i'll be there.. 🙂