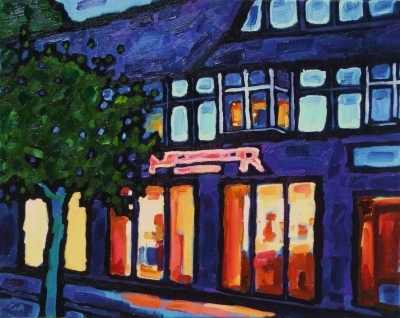 Being a painter
Please give us a few words of introduction about yourself
I studied photography at college and became a press photographer in Fleet Street and then Manchester. I was very lucky, having turned my hobby into my career. Sadly, I was hit by a car and badly injured so turned to painting as a way of filling my time.
When did you decide to pursue painting as a career?
I started painting in 2005, though only thought of it as a 'career' in the last 12 months. I've had a studio in an old mill in Stockport near Manchester since 2007.
What training did you have?
None. I'm self-taught, though Sandra, my wife, model, muse and critic, gives much needed advice and the artists at my studio have been known to offer the occasional comment.
What has been the high point of your career so far?
Take any from . . . two sell-out solo shows at one of the north's top galleries, being on local tv and radio, featuring in magazines and newspapers, and (most of all) meeting some of the fantastic people who make up Manchester's artistic community.
General Questions
What's your favourite quote?
My wife has been known to ask me, "Is it finished?", which I find quite funny because it usually is.
Who is your favourite artist?
Matthew Smith.
What are you aiming for?
The moon.
How will you get there?
Rocket ship.
Is anything holding you back?
Chronic pain, unfortunately.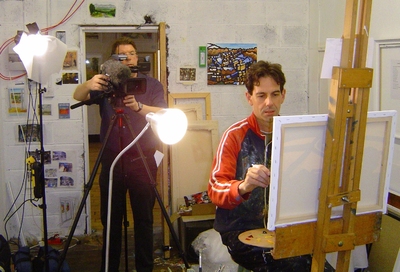 You and painting
What feelings or reactions do you hope to arouse in people who view your work? Are you ever surprised by reactions that you get?
Joy. I paint to make myself happy and sometimes others feel the same way, though it still surprises me that people like the work so much.
From start to finish, how long does it take for you to create your work?
It varies from a few days to months and months. Sometimes they work straight away and sometimes they take time to 'evolve', which entails a lot of head scratching and banging of head against wall. Currently, I finish just over one work a week though I'm hoping to slow down in future.
What music do you like to listen to when you work?
I'll often work to silence, though I do sometimes like loud music when I paint; anything from Gershwin to Paul Weller, via Mozart, to Florence and the Machine.
What are you working on next? Any future plans or projects in the pipeline that we should look out for?
My next solo show opens at Collect Art on Friday 20th May and the work for that is almost complete. I'm fortunate to have been offered solo shows at the gallery for the last few years and am hoping that will continue, with exhibitions becoming more thematic over the years.
Being inspired by painting
Who (living or dead) inspires you? and why?
Frida Kahlo because she showed me how to paint despite being in a lot of pain. When I'm having a really bad day I call up her ghost and she speaks to me.
What feelings, subjects or concepts inspire you as a painter?
Life, landscapes and teapots.
What is your favourite work that you've produced so far and why?
That's a tough question. My feelings about the work are very fluid. Usually when a painting is finished I'm disappointed. It takes time for me to realise that it's okay. But of my latest work, 'Still life with French coffee pot' is one I do like. It's what I call an 'alligator' painting – I had to wrestle with it.

a painter's advice
For those thinking about turning a passion for painting into a career, could you give any advice?
Don't. Seriously, if you've got a job stick with that and paint in your spare time. You'd be mad to do otherwise. I lost my job and then started painting, so if you're one of the thousands about to lose theirs it could be just the opportunity you need. But there are very few opportunities for artists. To make money you need to be very lucky and hugely committed. It can be utterly amazing when things go well, a real high. But factor in studio rent, materials, no sick pay/pensions/holiday pay and a total lack of security when you're trying to calculate if it's worth giving up the day job.
Any tips on how to get your work seen and get the commissions coming in?
I don't do commissions as I don't want any outside interference. But there are things you can do to get your work seen. Joining an artists' co-operative if there's one anywhere near you is a great idea. It made a huge difference to my 'career'. Art fairs can be good for connecting to collectors, but avoid the small ones. Try and be professional if you're looking for a gallery to show your work (show them less not more). A website is a must, but cut out the text and let your work speak for itself.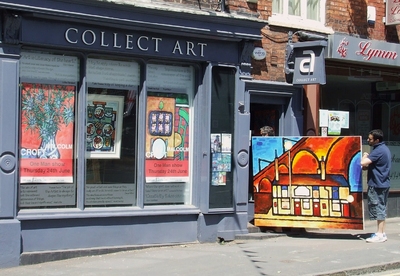 Thanks Malcolm!
You can check out more of Malcolm's art at www.croftart.com and his upcoming May exhibition at Collect Art.