Illustrator Jason Kattenhorn is in the spotlight – visit his work at www.jasonkattenhorn.artweb.com
Being an illustrator
Please give us a few words of introduction about yourself
Biro drawings embellished with graphic print. From anthropomorphism to famous faces, expect lots of biro and bewildering sights.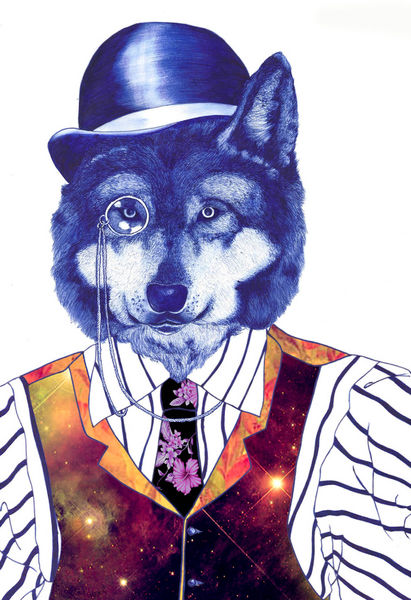 When did you decide to pursue illustration as a career?
I have been persuing a career as an illustrator for some time, however it is only since i have built up a larger collection of work that I wanted to spread the arty love.
What training did you have?
No Formal training
What has been the high point of your career so far?
Exhibiting at Showcase cities at the Rich Mix in Shoreditch. The enthusiasm from people about my work was great and inspiring.
General Questions
What's your favourite quote?
An eye for an eye only makes the world blind.
Who is your favourite artist?
Classic artist would have to be Picasso, however fab ciraolo is an amazing up and coming artist.
What are you aiming for?
Spreading the love of detailed art that can be bright, fun and creative.
How will you get there?
By creating art continuously, and by exhibiting more of my pieces. I want to have so much art that I dont know what to do with it all.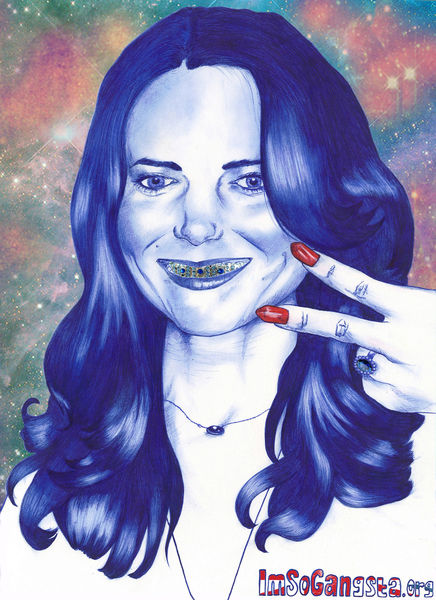 Is anything holding you back?
Currently work full time 37 hours a week to keep a roof over my head.
You and illustration
What feelings or reactions do you hope to arouse in people who view your work? Are you ever surprised by reactions that you get?
I want people to look at the work and think how on earth did he do that. So much emotion can be created by drawing a portrait. For instance the emotion of the subject captured can invoke many feelings in the beholder. Doing that in biro is just another added curiosity.
Very surprised how some people read into the meaning of my pieces.
From start to finish, how long does it take for you to create your work?
Can take anywhere from a week, to a month. The quicker I finish the quicker I can start a new doodle.Drawing in biro is alot easier as you can go into alot more detail.
What music do you like to listen to when you work?
Anything from the relaxing rythms of She and Him, to the feel good gyrations of Molotov Jukebox.
What are you working on next? Any future plans or projects in the pipeline that we should look out for?
Currently working on a murder she wrote peice. Its going to be a portrait style image, with my signature bright florals and cosmic patterns embellishing clothes and backgrounds.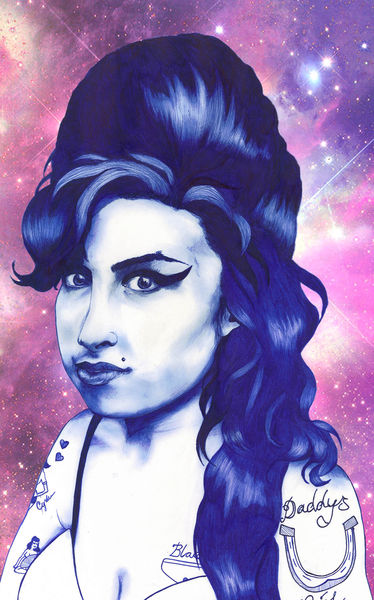 Being inspired by illustration
Who (living or dead) inspires you? and why?
My grandparents have always inspired me with their traditional sense of home living. There collection of vintage photography is amazing. That in itself has influenced me to draw in a traditional fine art sense, with lots of detail. My friend Maisey whittle is just starting out as an mens fashion line designer and her rude yet fun prints a e always inspiring and pushing me to keep being creative.
What feelings, subjects or concepts inspire you as an illustrator?
I love anything to do with human emotion. By drawing portraits or the human form I feel alot of expression can be created.
Nature and crazy dressed people also inspire me. If I see a gentlement with a big moustache or a lady with a full sleave tattoo, my urge to draw them is sometimes uncontrollable.
What is your favourite work that you've produced so far and why?
My favourite piece is Colonel Monocle. Alot of detail and effort went into creating him and I feel like he is an extension me me in someway.
an illustrator's advice
For those thinking about turning a passion for illustration into a career, could you give any advice?
Keep going and never give up. Even if someone isnt looking at your work, just keep creating and build yourself up a little following. Exhibit your work when you can and never let it become a chore to create things.
Any tips on how to get your work seen and get the commissions coming in?
Exhibit and dont be afraid to email people. Even if they say no, sod it at least you have tried.