Our latest spotlight interview is with painter Kimberley Harris, and you can see more of her work at: www.kgharris.artweb.com.
Being an artist
Please give us a few words of introduction about yourself
My name is Kimberley, I am 29 years old and i live in Suffolk, England, which is a very picturesque county – tons of inspiration!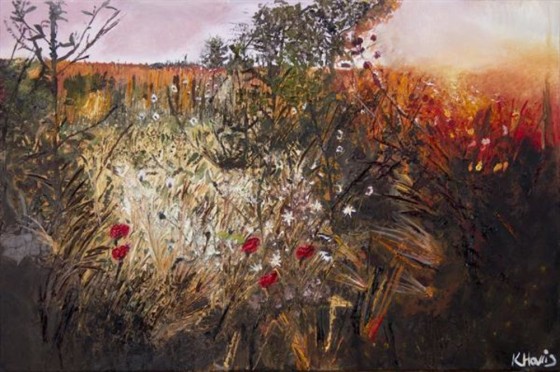 How and when did you start out as an artist?
Im not sure there was a starting point as such, it's always been there but I would say the past 6 months I have the felt I should be giving it a fair shot. I tried my hand at jewellery design as a creative output but painting as always been a bigger part of me.
Ideas often spring to mind and I wanted to start putting them to canvas. I have had great encouragement from friends and family, which spurred me on.
What training did you have?
The school of life! I went to college and studied Art & Design but personally feel a lot of it has been trial and error. If something doesn't work you move on and know what not to do next time. I have to say, a local artist called David Porteous-Butler proved a fantastic mentor, he intoduced me to the palette knife which has become invaluable to my work.
What has been your best creative achievement so far?
So far the feedback has been brilliant, I feel really positive about my work and with a few exhibitions coming up, hopefully rightfully so!
General Questions
What's your favourite quote?
"Imperfection is beauty, madness is genius, and its better to be absolutely ridiculous than absolutely boring" – Marilyn Monroe said that apparently.
What are you aiming for?
Respect and recognition – and to quit the day job! Painting every day would be bliss.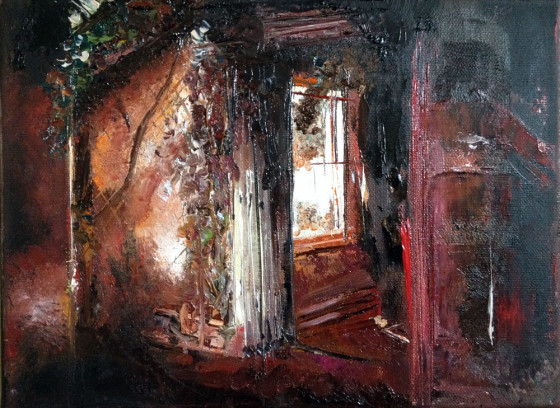 How will you get there?
Through endless marketing, which is the day job funnily enough so I should get there.
Is anything holding you back?
Absolutely not! If at first you don't succeed…
You and art
What sort of reactions do you get to your work? are you ever surprised?
I have been very lucky with the reactions so far, they have definitley encouraged me to make each better than the last and keep at it. Facebook has really been a great tool for getting my work out there which is always the hardest bit. The plugging takes the time away from doing the actual painting.
From start to finish, how long does it take for you to create your work?
It depends on the detail, size of the canvas… on average? I actually really couldn't say!
What music do you like to listen to when you work?
Motown… Led Zepplin… Seasick Steve… and Fleetwood Mac is a great one to get the creativity flowing!
What is next in the pipeline for you? Any new directions or shows coming up?
'The Good Story' exhibition for 18-30 year olds at the Highwaymans Gallery in Risby, which opens on the 25th April to the public for 1 month, and The Hadleigh Show in Hadleigh, Suffolk on 17th May.
Being inspired by art
Who (living or dead) inspires you? and why?
Anyone from the Impressionism period or the Romantics.
The Boulevard Montmartre at Night by Camille Pissario is awe-inspiring, if I can ever paint a night time scene with so much atmosphere and presence, I have made it!
What feelings, subjects or concepts inspire you as an artist?
Nature will always be close to me as the most wonderful subject. Growing up in a very rural location I have great memories of walking the dog in the months of Summer as Dusk falls and the sky is a palette of pink hues… Light & shadows play a massive part in my pieces.
I have always had a fascination with derelict buildings, the appearance of decay and emotional presence of history and abandonment can translate beautifully onto canvas.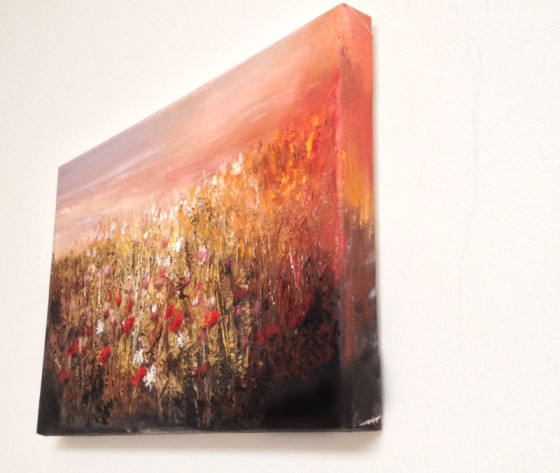 What is your favourite work that you've produced so far and why?
One yet to be named or seen but a great woodland piece depicting Rougham in Suffolk, also 'Through the Window' for its darkness & drama but 'Dancing by Sunset' for its pink hues, a great little mood lifter.
an artist's advice
Have you got any advice for those starting out as an artist?
1. What moves you not what you think you should paint. It's a personal journey but will convey most honestly if you are true to yourself.
2. Don't be afraid to approach galleries, send a catalogue to as many as you can in fact, even if just for a confidence boost.
3. Have fun with it! Give them interesting names. People often comment on the quirky titles like 'The Humble Bumble' I give my pieces.