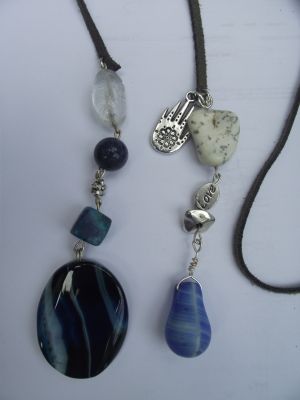 Being a crafts maker
Please give us a few words of introduction about yourself
Through a lifetime of travel I have discovered many crafts and media supports that have awakened my interest and given me the inspiration to develop my own style.
How and when did you start out as a crafts maker?
I started over 10 years ago thanks to a lot of spare time but did nothing on a consistent basis, just whenever I felt like it without pressure.
What training have you had?
All self taught.
What has been your best creative achievement so far?
I have made all sorts of things like collages, hand painted tissue boxes, frames with oriental objects, etc. Now I work on my own style of necklaces and my best achievement is the encouragement and support I have from many people who have bought so many items from me.
General Questions
What's your favourite quote?
Have a core principle, everything else is tactics.
Who is your favourite artist?
I don't have a favourite artist, I like all the artists that dare to explore.
What are you aiming for?
Enjoy myself and cherish time for my passions.
How will you get there?
With perseverance and spontaneity.
Is anything holding you back?
Maybe a bit of lack of confidence.
You and making crafts
What sort of reactions do you get to your work? are you ever surprised?
Well, I get very excited when I discover a new stone with unusual patterns, it's surprising how it can open a wide spectrum of creativity.
From start to finish, how long does it take for you to create your work?
If I consistently dedicate the hours to create a necklace, it takes me anywhere from 4 to 6 hours between designing, putting things together, making it all work in a flow and being happy with the finished product.
What music do you like to listen to when you work?
Mainly Jazz music.
What is next in the pipeline for you? Any new directions or shows coming up?
No other projects at the moment.
a crafts maker's advice
Have you got any advice for those starting out as a crafts maker?
Follow your instinct.

Thanks Laura!
You can see more of Laura's designs at www.lauraalexandrou.com