See more of Peter's work at http://peterwatsonwood.artweb.com
Being a painter
Please give us a few words of introduction about yourself
I have been painting since the 1960s, when I lived in West Cornwall, and spent time with the many, now famous, artists living in the area. These artists were my inspiration and set me on a journey of discovery, exploring different forms of expression, through my painting.
When did you decide to pursue painting as a career?
Painting has always been part of my life, but I have also worked in documentary film making, and more recently in feature film.
What training did you have?
I am self taught, except for a brief year at Brighton College of Art. However, my real training came from working with the great artists I met in West Cornwall, often filming them at work, and importantly, as friends.
What has been the high point of your career so far?
The two or three exhibitions of my work. It is great to hear other people's thoughts on your work.
General Questions
Who is your favourite artist?
Tough question, I admire so much, quite widely different work. Picasso, Peter Lanyon, Patrick Heron, Matisse and many, many more…
What are you aiming for?
The next challenge, another chapter on the journey?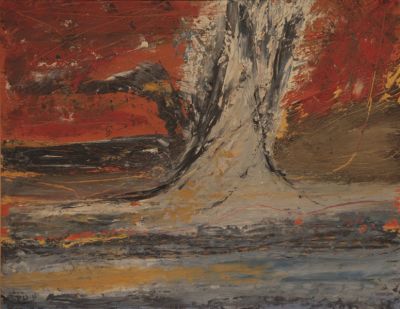 How will you get there?
Hard work.
Is anything holding you back?
Not any more, I just have to get on with the work.
You and painting
What feelings or reactions do you hope to arouse in people who view your work? Are you ever surprised by reactions that you get?
Landscape is the centre of my work, man is ephemeral, but earth, sea, sky, they are timeless, an endless challenge to the painter. Most recently, I have returned to Abstract work, but based on landscape, a landscape influenced by nature, in all its forms. The 'elements' can create change in the structure and geography of the world about us – floods, raging seas, gales, can reshape the land we live with.. Centuries in development, the landscape is for us all, an enduring reality, the 'bedrock' of our lives. My abstract work tends to de-construct the reality we know, to dig deep in search of those organic elements that lie beneath the surface. I feel that there is a glorious randomness in nature – a stream here, a rock strewn hill there, now a formidable cliff face, not too much logic, these elements just exist, here or sometimes there – random reality! These random elements tend to be embedded in the pictures. Add my 'minds eye' to the mix, and the abstract image is complete – well not quite complete, there is a continuing restless need to delve further, dig deeper!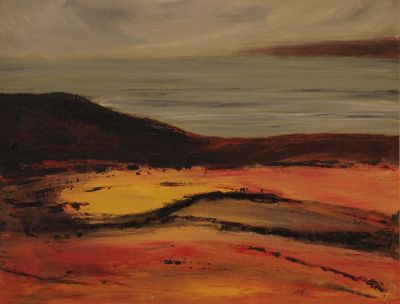 From start to finish, how long does it take for you to create your work?
Impossible to say, on occasion, an afternoon, but most often many days, building the canvas, from its stark, bare bones beginning, to the moment, I decide to stop, that's it, that's the painting.
What music do you like to listen to when you work?
A mixed selection, different days, different moods, many favourites, from Pink Floyd to Mahler.
What are you working on next? Any future plans or projects in the pipeline that we should look out for?
Just to continue the journey of discovery, that journey will never end……..
Being inspired by painting
Who (living or dead) inspires you? and why?
Patrick Heron, for his wonderful understanding of the dynamics of colour. Peter Lanyon, for his breathtaking involvement with landscape, and its elemental drama. Picasso, whose de-constructing of the human form, is so exciting, the human figure as a kind of landscape, very revelatory.
What feelings, subjects or concepts inspire you as a painter?
I think I address this earlier, but to sum up, it is quite simply, the awesome power of the world about us!
What is your favourite work that you've produced so far and why?
There have been moments in a long life, when a particular piece has been favourite, but then another year and another favourite.
a painter's advice
For those thinking about turning a passion for painting into a career, could you give any advice?
A career, not sure how wise that is, but if the passion drives, you may have no option, but to pursue your chosen path with that very passion.
Any tips on how to get your work seen and get the commissions coming in?
No magic wand, only to say that you have to get it out there, and promote yourself with total conviction.