See more of Karen's work at www.karennelson.artweb.com
Being a painter
Please give us a few words of introduction about yourself
I live in the wee village of Stow in the Scottish Borders where I have been for 20 years bringing up my 2 boys with husband Stuart. I was a full time mum for a few years but now work part time in our local Post Office as well as pursuing a career as an artist.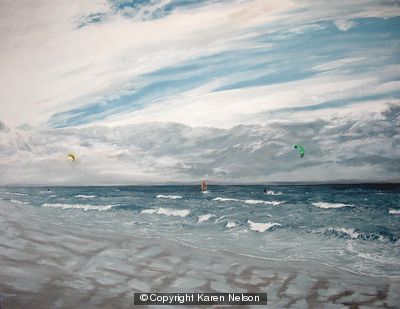 When did you decide to pursue painting as a career?
Something I have considered for a number of years whilst juggling other work,etc. with commission work. It's probably only in the last year that I have decided to pursue it more seriously as my career choice.
What training did you have?
I am self taught. Painting and drawing is something I have done and enjoyed all my life.
What has been the high point of your career so far?
Selling my first painting to someone I hadn't met before at an exhibition of my work.
General Questions
Who is your favourite artist?
David Hockney
What are you aiming for?
I want to be painting full time, and be able to explore and express all the imagery in my head.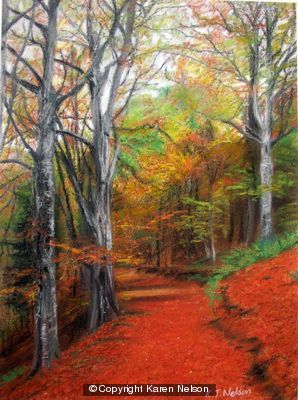 How will you get there?
Continuing to take commissions and promoting my work through fairs and exhibitions.
Is anything holding you back?
I have got to learn to drive. I don't like relying on others to transport my work and I am restricted in getting to galleries in order to promote myself.
You and painting
What feelings or reactions do you hope to arouse in people who view your work? Are you ever surprised by reactions that you get?
I want people to feel they can walk into my paintings and can feel the atmospheres evoked by the movement in my seas and the colours and shapes of my trees. I like to create movement in my paintings such as the kite flying. People always surprise me when they express their admiration and feelings for my work.
Someone once said they felt loneliness in my paintings but I would feel far more lonely in a crowd of strangers.
From start to finish, how long does it take for you to create your work?
Anything from 12 hours for a small painting or pastel to 30 hours for something larger. But I also spend time contemplating and just looking, so it generally takes a week or two.
What music do you like to listen to when you work?
I am quite eclectic in my musical tastes but I mostly listen to classical when I am working.
What are you working on next? Any future plans or projects in the pipeline that we should look out for?
I want to do some more kite surfing seascapes. Some downhill biking may also be in the pipeline.
Being inspired by painting
Who (living or dead) inspires you? and why?
JMW Turner. The atmosphere created with his skies and the movement of his seas are inspirational. I love David Hockneys approach to landscape painting. Hearing him talk about his thought processes makes alot of sense to me. Visiting The Glasgow Boys exhibition last year stimulated my creative imagination.
What feelings, subjects or concepts inspire you as a painter?
Feelings of freedom and enjoying what nature has to offer are important to me and my wellbeing so I want to express this through my work. The enormous extent of the sea and the sky and their ever changing moods are particularly inspirational as are trees with the changing seasons. Alot of my commissions are of more static subjects, but I enjoy the intricate work and play of light on the cars for example and capturing the likeness of someones pet.
What is your favourite work that you've produced so far and why?
I always want to do better. I like taking a fresh look at pieces I haven't seen for a while and realising I still like them. My seascapes and trees are my favourites, but I couldn't pick out just one.
a painter's advice
For those thinking about turning a passion for painting into a career, could you give any advice?
I think it's too early in my career to be giving advice. I know it is important to get your work out there being seen but self promotion is time consuming and not always easy, particularly when you just want to be painting.
Any tips on how to get your work seen and get the commissions coming in?
Although it is not always comfortable 'blowing ones own trumpet' you have to take any opportunity to tell people what you do. I have promoted my work by selling my own prints and cards at craft fairs and local events.