To tie in with our website of the week, today we are publishing painter Lajos Varkonyi's Spotlight interview! See more of Lajos' work here: www.lajosvarkonyi.co.uk
Being a painter
Please give us a few words of introduction about yourself
I am a professional artist and art teacher living in the U.K. I am originally from Hungary and have in me the sensitivity, spirituality and creativity of my culture. In my Hampshire studio I am currently working mainly in watercolours. I consider myself very lucky as my work is sought after. My studio is open to the public and recently I also gave in to the demand from people loving my art to offer private tuition.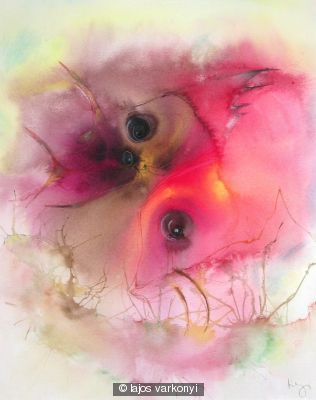 When did you decide to pursue painting as a career?
In 1997 I got an offer for my first big solo exhibition and my career took off from there. Every 1 to 3 years I have at least one exhibition and I have regular customers around the world who follow me and some already started a mini collection of my art.
What training did you have?
My primary school teacher noticed that I had talent and from an early age I was a private student of a renowned Hungarian artist. I continued my education in the Art and Craft College and then obtained a Masters Degree in Art Education. I continuously improve myself and whenever I can I take part in residentials where I can exchange learning with other artists.
What has been the high point of your career so far?
In terms of my professional development the major turning point was when I started to work in watercolour. In the early years of my career I worked in oil but there was a certain time when I had a commission with a short deadline and I did not have the facilities to paint an oil. I was sort of forced into watercolour and never looked back since. The other highlight was my first national television interview in 2001.
General Questions
What's your favourite quote?
Start by doing what's necessary; then do what's possible; and suddenly you are doing the impossible. ( Francis of Assisi)
Who is your favourite artist?
My favourite artist is Nature. There are no more beautiful creations, everything else is just a faint copy of Nature's perfect work.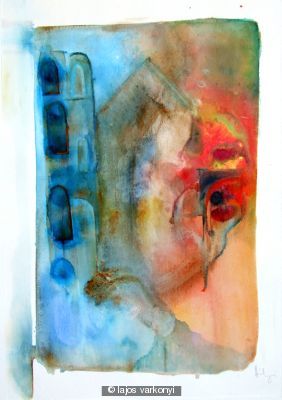 What are you aiming for?
Through my art I would like to connect with as many people as possible.
How will you get there?
Through hard work and determination. I am not a natural great social person and had to overcome my weaknesses that as a visual artist I like to stay in the background and observe rather than be involved. But people like to know about artists and the process of creation so I made very big efforts to learn to connect this way too. I opened up and now I am actively seeking more and more ways to engage with others.
Is anything holding you back?
There is a natural maturation in the process of developing as an artist and connecting through art. This takes time and a lot of patience. I keep focus and continue improving what I am doing and engaging with people.
You and painting
What feelings or reactions do you hope to arouse in people who view your work? Are you ever surprised by reactions that you get?
My art is interactive and although static, it evolves over time. It connects with people on the deepest level, evolving as individual psychological process in each of us and gives the freedom of creation and people report many different feelings. This is a great power in today's world when so much of our everyday life is determined. I almost always do not like to give titles to my watercolours and even when I do, they only indicate what I see in the paintings in a certain moment but it also changes when I re-look at my paintings. Even those who are not ready to enter in this deeper self-discovery say they get great pleasure from my colours.
From start to finish, how long does it take for you to create your work?
An artwork is never complete it is only stopped.
What music do you like to listen to when you work?
I either listen to the birdsong in my garden, with the horses and cows in the background from nearby farms or music that evoke pleasant memories. I do not need music to inspire me.
What are you working on next? Any future plans or projects in the pipeline that we should look out for?
I will have a major solo exhibition in the summer of 2013 that is very important to me. It will be shown in a beautiful setting, the 19th century villa of one of the most famous Hungarian painters at the time, Miklos Barabas. I will have a great space and excellent light and I am planning to create a brand new collection of 30-odd large watercolour paintings. As an preamble to this I will show a smaller collection in a smaller venue this autumn. To connect with the local Hampshire community on a bigger scale I opened my studio to the public and will be present at the Winchester Art Fair from June.
Being inspired by painting
Who (living or dead) inspires you? and why?
Everyday people, nature, life, the built and natural environment, everything around me can serve as an inspiration. I have a photographic memory and thus a huge photo-album with many ten thousands of pictures in my mind. There is a certain point in my creative process when this album activates itself and brings sudden clarity to it.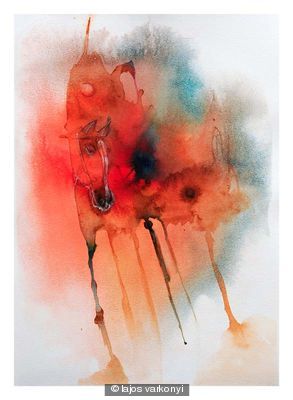 What feelings, subjects or concepts inspire you as a painter?
The biggest inspiration for me is the possibility to connect with people and when I can observe the process of creation my paintings invite people to. At times I am privileged to witness even cathartic moments when someone finds a deep re-connection with something long hidden and my artwork is the catalyst!
What is your favourite work that you've produced so far and why?
My work is like my own children to me. I love them all and could not select from them. I even find it difficult to part with them and like to know that they find a good home and will be looked after well and with care.
a painter's advice
For those thinking about turning a passion for painting into a career, could you give any advice?
I believe creation starts with trusting in your ability to express yourself. Then it takes a lot of hard work, work and work, seeking continuous improvement and development. It is important to want to connect with people, learn from them and give one's best for others to learn from us. An artist will never feel 'ready' there is always a feeling of imperfection and thriving for more, but this is just as well as this drives us forward. If you strongly believe in yourself and your ability to give to other through your art, then you have it and do not give up.
Any tips on how to get your work seen and get the commissions coming in?
It is very competitive out there nowadays, but there are some very good resources many of them low cost and internet based, like Artweb. There are artist groups and conventions. I would like to emphasize again that it is essential to connect and meet with people, not only to let them know about you but also to feel that you belong and you have opportunity to exchange knowledge and information. It does not always come easy because many of us visual artist are not men/women of word, but it can be learnt.