Painter John Townsend creates tranquil, peaceful works depicting isolated coastal and landscape scenes. To see more of his work, visit: http://www.johntownsendart.com/
Being an artist
Please give us a few words of introduction about yourself…
Although I was born and went to school and university in England, I've been living and working in France for most of my life.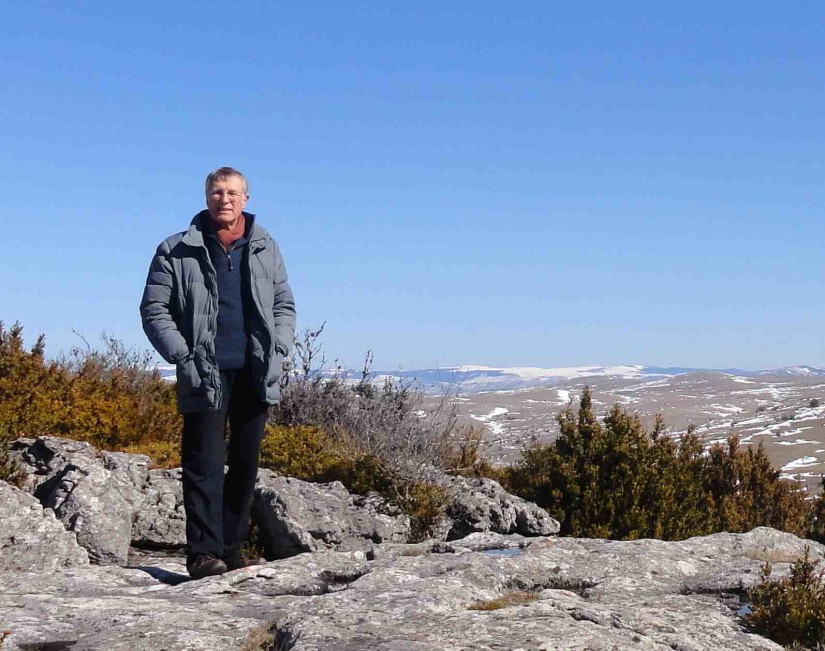 When did you decide to pursue art as a career?
In 2002 my wife Fiona (also an artist) and I decide to move from our home in the Jura to the Languedoc region and, as we moved towards retirement, I was able to start painting full time.
Did you train in the arts? If so, what and where did you study?
I'm basically self-taught, apart from some watercolour courses including one with David Bellamy in Wales.
What has been the high point of your creative career so far?
I'm very satisfied with having found what and how I want to paint… in other words what I call 'sandscapes' of peaceful places. It's very rewarding when people say that my work appeals to them – especially when they see it from their world rather than mine.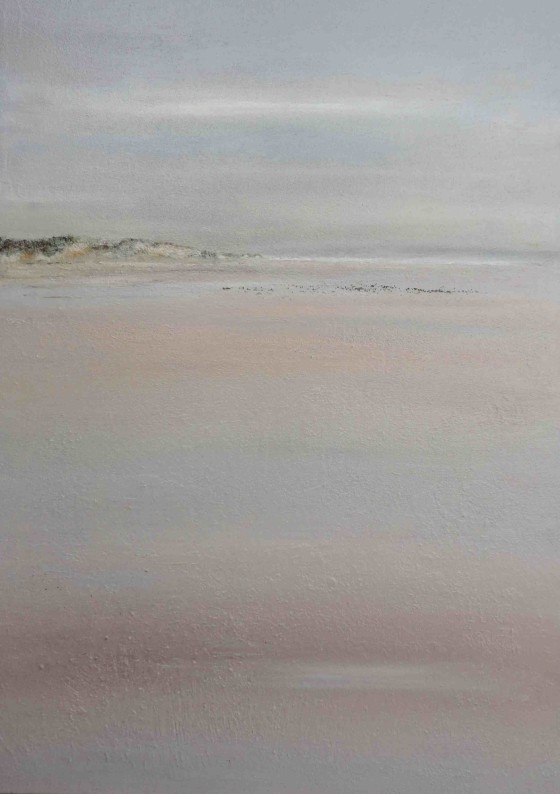 General Questions
What's your favourite quote?
"If a painting needs an explanation it doesn't deserve one"
– I seem to remember that it was Modigliani but I can't trace it on Google …. maybe someone could help
Do you have a favourite artist? What do you like about their work?
Historically I'd say Turner and then Monet for their bravery in breaking away from the idea that things have to look as realistic as possible. Today I'd choose 4 painters I admire. Two local artists from Uzès: Iva Tesorio for the depth of her colours and audacious style, and Viva Blevis for her 'moments of light'.
Also Helen Shulman from Vermont for her colourful, 'figuratively abstract' creativity, and Michael Marrinan on Cape Cod for his immense skies and sands – generosity and emptiness!
What Are You Aiming For?
Balance, harmony and peacefulness in my painting (and in my life!)
You and art
What feelings or reactions do you hope to inspire in people who view your work? Are you ever surprised by reactions that you get?
I hope that people will feel peaceful when they look at one of my paintings because it takes them to a peaceful place of their own.
I'm sometimes surprised (and gratified) when people tell me that one of my paintings is of somewhere totally different from the one which inspired it. Tant mieux!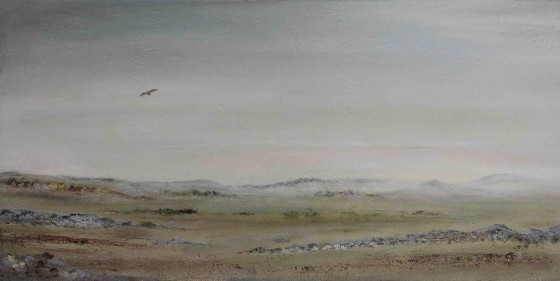 What mediums do you prefer to work in, and why?
I'm concentrating on acrylics, dry pigments and sand because of the wonderful tactile nature of the gestures of first laying down the foundation (almost like masonry!) and then building the colours and mixing the textures. I love working with the effects of blur and smoothness – the shadows and lightness which seem sometimes to create themselves.
From start to finish, how long does it take for you to create your work?
I'd say an average of one week  – in various sessions.
What music do you like to listen to when you work?
When I first came to France in the late 60's I was a pop group drummer for two years but am now composing and producing albums of peaceful instrumental music myself… so… I listen to all sorts of stuff!
Pink Floyd, Jackson Browne and Coldplay as well as Mozart, Haydn and contemporary instrumental music ranging from Back to Earth to Sigur Ròs.
What Are You Working On Next? Any Future Plans Or Projects In The Pipeline That We Should Look Out For?
I'm preparing 3 exhibitions at galleries in the Langeuedoc, writing some new music for an album to be called 'Moorlands' and looking forward to improving my new Artweb website!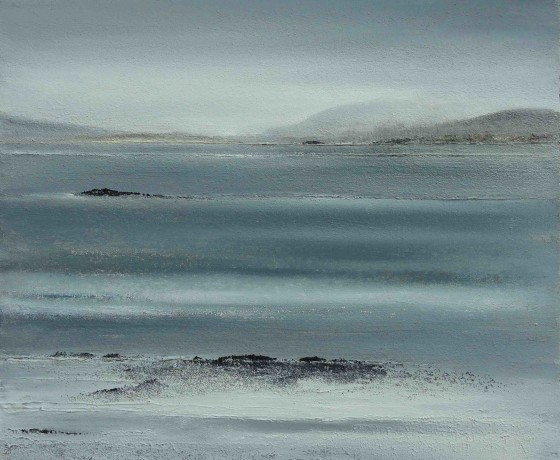 Being inspired by art
What feelings, subjects or concepts inspire you as an artist?
I'm almost exclusively inspired by all those lonely places where we can get away from busy-ness  – horizons which seem to melt into the sky and mist moving and softening everything it touches then slipping away to reveal pockets of sharpness
Who (Living Or Dead) Inspires You? And Why?
When I was able to free up enough time to concentrate on painting I was very much inspired by David Bellamy's water colours  – to the extent of joining one of his workshops in Wales. He and his wife Jenny were an inspiration. I love their 'wind in your hair and water in your wellies ' approach to finding the lights and shades for the right composition of a picture in the wild places of the planet
More recent inspiration has come from the incredibly serene photography of Ken Bryan who lives and works on the Isle of Skye in Scotland (www.ken-bryan.co.uk)
Is there a particular place that inspires you?
There are three! Lindisfarne, Skye and Cape Cod
What is your favourite work that you've produced so far and why?
I think this one – 'Cuillen' I think it sums up what I said above!!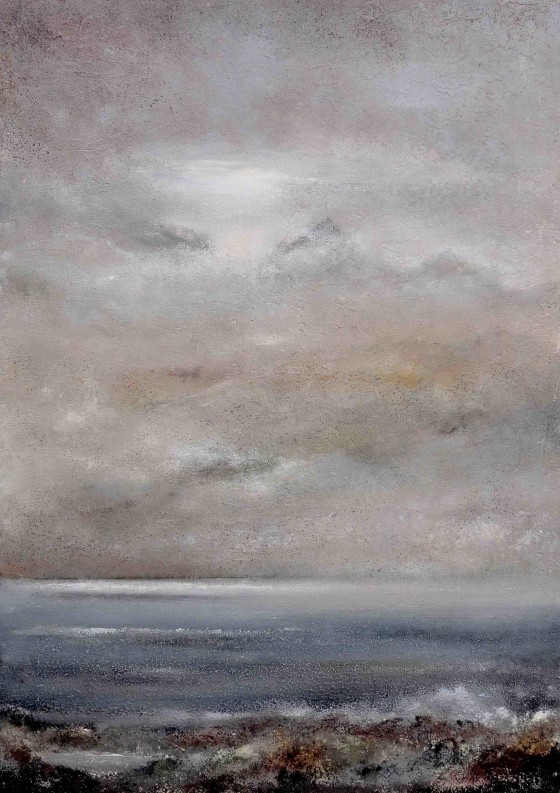 An artist's advice
For those thinking about turning a passion for art into a career, could you give any advice?
I don't really feel qualified to give advice to other artists except maybe to quote my wife Fiona, a ceramist and painter ,who has always given me so much support and encouragement …. "Creativity is born of curiosity and curiosity is nourished by the absence of fear"
Any Tips On How To Get Your Work Seen And Get The Commissions Coming In?
Do what you love to do, don't be afraid to rent a gallery, use Artweb for your website!!