In this artist interview, Kip Kavallares shares with us his artistic process, ideas and inspiration. To see more of Kip's work, please visit his online gallery.
Editor's note: This interview was lightly edited for length and clarity.
Being an artist
Please give us a few words of introduction about yourself.
My name is Kip Kavallares and I live in Newent, Gloucestershire, having moved from London some 20 years ago. I'm married with a son.
When did you decide to pursue art as a career?
I have always been interested in art from way back in my school days. My first real taste of professional work was more than 20 years ago when a good friend of mine introduced me to a horror film magazine editor who was looking for someone to illustrate the short story feature in a new magazine, Darkside, for which I supplied three illustrations.
I carried on drawing and painting for my own pleasure until seven years ago when I submitted a piece of work into the Cheltenham School of Fine Art's end-of-year exhibition, and to my surprise it sold! That was when I thought 'Maybe I can progress with this', and here I am a few years down the line as a full-time artist.
What training did you have?
I am mainly self-taught. I did A level art at school but nothing else until approximately seven years ago when I attend evening classes at Cheltenham School of Fine Art for a couple of years for formal training. The tutors at the CFA allowed me to be expressive in my lessons, which was great.
Since then, I have attended workshops at Chapel Cottage Studios in Abergavenny, where I am now tutor. They have some wonderful guest tutors at Chapel, one of which is Glyn Macey whom on occasions I have contacted for advice on being a pro artist; he is very approachable and helpful.
A few years back I attended a workshop with well-respected colourist Ashley Hanson in Cornwall, who I have stayed in contact with and on occasions ask for his opinions.
Now in my role as a tutor I find myself being asked similar questions, so its nice to give back in that respect.
What has been the high point of your career so far?
That's a difficult question as things don't stand still and I hope they never do, but a couple of things could come into that bracket: the sale of my first piece at my very first public exhibition and, more recently, being asked by the wonderful people at Heart Research UK to donate work to be auctioned for their cause.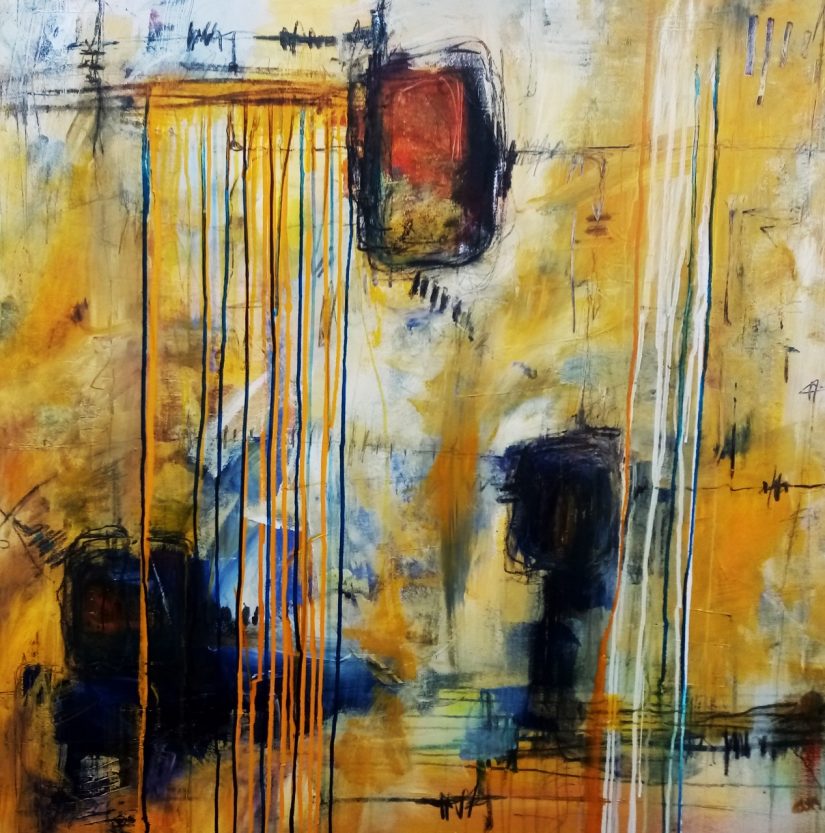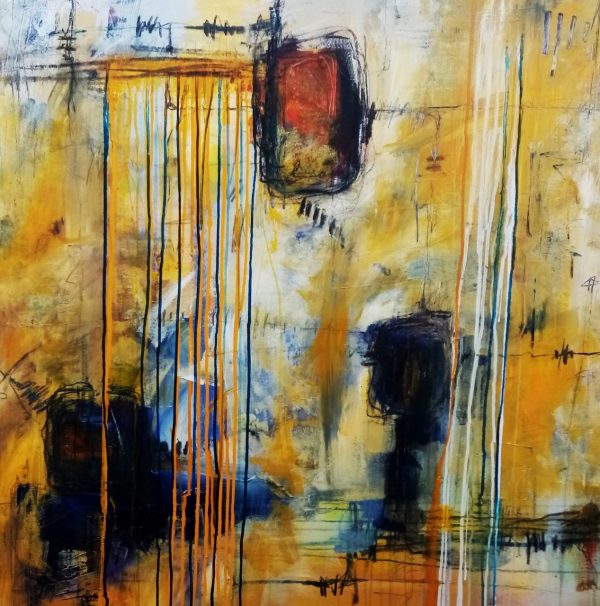 General questions
What's your favourite quote?
In my studio I have a couple stuck to the wall to inspire me, along the lines of: 'Every child is an artist, the problem is how to remain an artist once you grow up', said by Picasso. The second is 'Painting is easy when you don't know how but very difficult when you do', by Edgar Degas.
Who is your favourite artist?
As a mainly self-taught artist, I approach my craft by studying past and present artists and learning from what they have done. However, if I were to pick a group of artists, it would be the giants of abstract expressionism from the 50s, especially De Kooning and Kline from the New York school, but I would add Joan Mitchell and Cy Twombly as particular favourites.
What are you aiming for?
I don't think I have an ultimate goal or target. The aim is always to keep developing myself and my work, so I strive to always be learning, but the main thing is to keep enjoying doing it!
How will you get there?
Continued experimentation, trying different techniques, willing to listen to others and to keep pushing myself, but not to lose my enjoyment of painting.
Is anything holding you back?
The only thing that could hold me back would be if I wasn't willing to learn and listen. Thankfully I don't feel I have an issue with that.
You and art
What feelings or reactions do you hope to elicit from people who view your work? Are you ever surprised by reactions that you get?
When people look at my work I want them to be interested enough to get right up close to see all the different layers of paint and the marks in it. I am not looking to elicit a specific feeling or emotion to a piece—I would rather that was left to the viewers interpretation.
I'm constantly surprised by the positive reactions I get from people regarding my work. There are lots of full-time artists out there like me trying their hardest to produce, so its always nice to hear positive comments about your work and even more exciting when they want your work on their wall! It never ceases to make me feel happy.
From start to finish, how long does it take for you to create your work?
Really depends on the size of the canvas or what I'm trying to do. When I had a full-time day job, I mainly painted when I got home or at weekends, so that was a major factor on time spent. However, since turning full-time, that regime has happily changed and I have all the time I need now to work on pieces and everything else that comes with being a full-time artist. So to answer the question: It takes as long as it takes!
What music do you like to listen to when you work?
The music I listen to the most when I work is Motown, 70s funk, reggae, ska, jazz and swing, all played extremely loudly.
What are you currently working on? Any future plans or projects in the pipeline that we should look out for?
Currently I am working on quite a few abstract pieces both large and small as I build up towards a solo exhibition planned for October at The Secret Gallery in Newent. Fingers crossed we will be able to do a proper opening night viewing as opposed to the restricted numbers and socially distance show we did last year.
I am always working on new pieces for the galleries I'm associated with: Paragon in Cheltenham, Creates in Monmouth and The Secret Gallery in Newent.
Also, I'll be producing work for the Heart Research UK's upcoming Anonymous HeArt auction.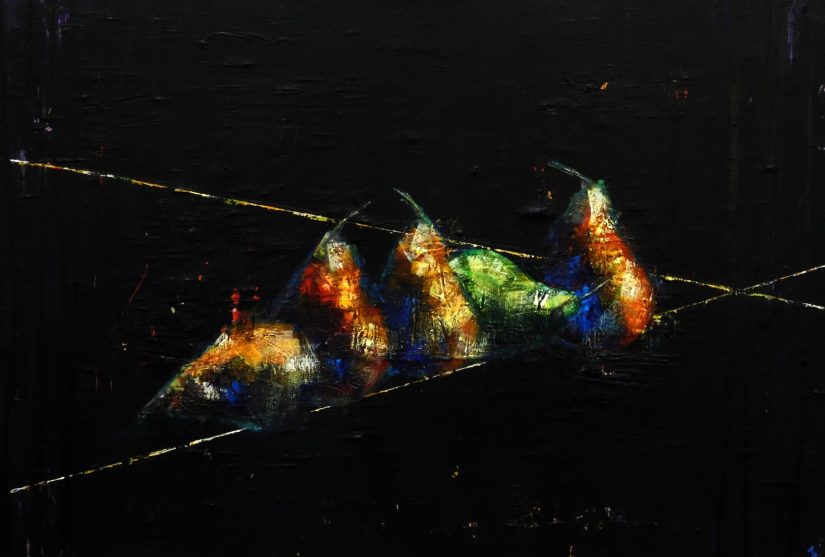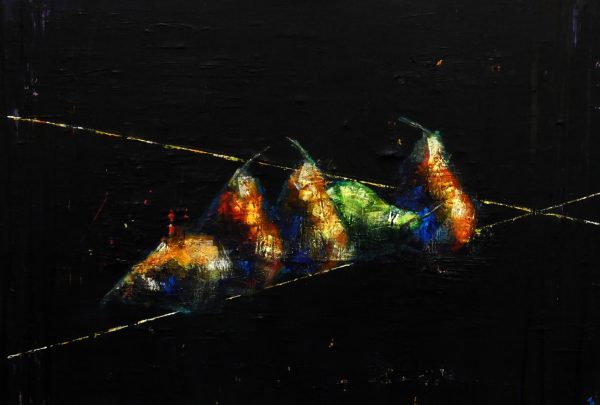 Being inspired by art
Who (living or dead) inspires you, and why?
This is not an art inspired answer, but my mum inspired me. Sadly, she passed away, but she was a very strong person and often used to say: 'Have a go as you never know what might happen'—a good rule to live by.
What feelings, subjects or concepts inspire you as an artist?
I'm not really sure how to answer that, but some while back I watched a documentary on David Hockney. In it he says: 'I paint what I like, when I like', which rang true for me as any topic can take my fancy and I'll have a go at producing a piece and see what happens.
As for feelings, I don't consciously go out to produce a piece based on feelings; I think the feeling comes from the enjoyment or frustration of the act of working on a piece.
What is your favourite work that you've produced so far and why?
I have many, but there is one which is now hanging in a cottage in France and that's Festival – Where's our tent? because the colours are really vibrant, it has a raw almost juvenile finish to it, which gives it its vibrancy, and lastly because I had no idea where I was going with it. It just started to emerge and having been to several festivals I could see it unfolding in front of me.
Words of wisdom
Could you offer any advice to those thinking about turning a passion for art into a career?
Don't be afraid to make mistakes; always believe in yourself; don't get too offended when people don't like your work; and try to keep enjoying what you do.
Any tips on how to get your work seen and get the commissions coming in?
As I was told very early on get a website. It's important to be visible in this online age. The way I did it was to use an art-specific platform (e.g. ArtWeb), which not only had the templates and the technical support we all need at times, but also has an online gallery presence which is great. Regular Facebook and Instagram posts are a great way to get your work out there too and lead people to your website. Go for it!
See more of Kip's work.