The most successful artists set up multiple ways of making money from their art and training. One of the most popular ways for artists and makers to boost their income is to share their skills and talents through art classes and workshops. So how do you set up a successful art workshop?
What's the difference between art workshops and art classes?
Usually, the difference between a workshop and a class is a matter of time. Workshops tend to be standalone events, while art classes are a commitment to a series of sessions.
Creative workshops
It's easy for us artists to underestimate the pure pleasure that comes with making something. We do it every day, but most people haven't experienced the joy of creating something and proudly taking it home to display since kindergarten. It is no wonder practical arts and crafts workshops are so popular.
Art workshop ideas
Makers and creators of all kinds can lead a workshop. Plan a single session to make a lampshade, a piece of jewelry, a candle, a piece of pottery or a picture frame.
Art classes
Art classes are designed to teach a skill. I've run ten-week beginner art classes for many years that have always run at capacity. The students are usually interested in learning about art and testing their talents. The students do the hard work. The teacher is there to create a structure, inform, and encourage, encourage, encourage!
Art class ideas
Painting (landscape or watercolor), drawing (still life) and potting are popular art class ideas. Once you decide the type of class, you will need to create a week-by-week curriculum that explores the history of the medium you are teaching and breaks down the medium's key elements.
Abstract painters can run a series of classes that covers the basics of abstraction and offers participants the chance to create a painting. Perhaps give them a go at a Jackson Pollock-esque painting as part of the curriculum. I did it during an artist-in-residency program and everyone loved it. Another idea is to try spin painting, made famous by Turner Prize–winner Damien Hirst.
My own personal favorite is ball paintings. Dip old tennis balls in water-based paints and bounce them onto canvases. Dip into a different color and repeat until it looks good!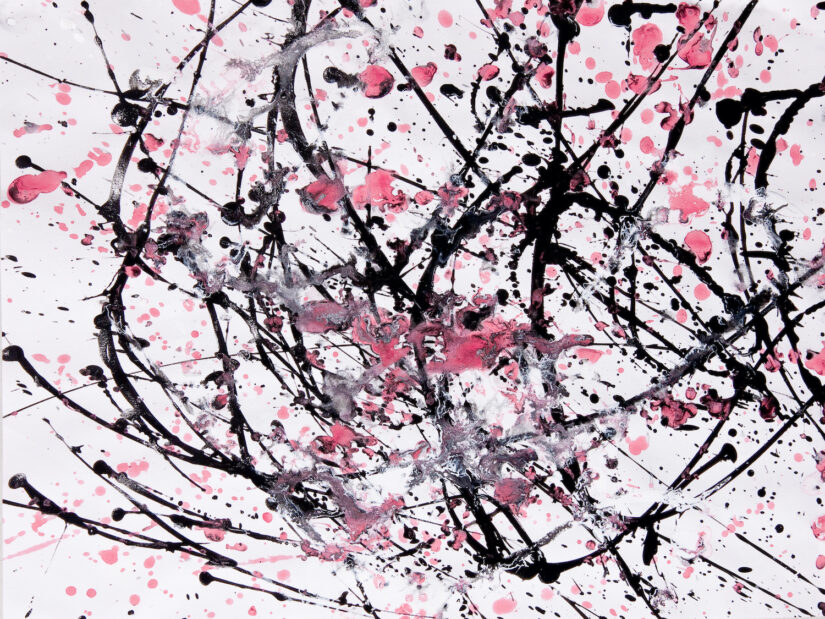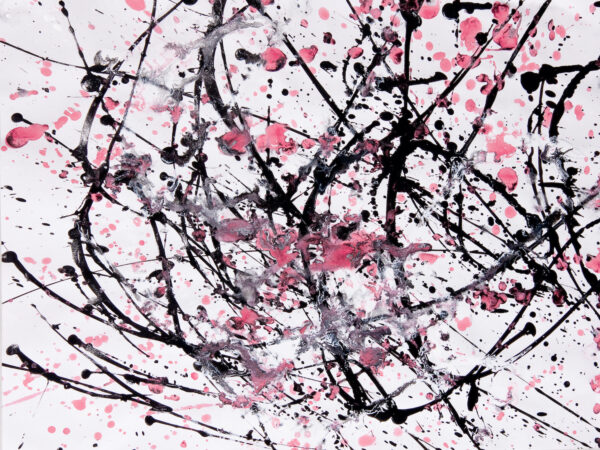 How to plan a successful art class or workshop
When deciding what kind of classes to offer, it's best to match the content or curriculum to your skills and expertise. This approach is more likely to guarantee success than choosing a topic that's popular but doesn't align with your skillset. In fact, unusual or niche workshops will draw interest because no one else is offering them.
Consider your skills and ask yourself what is transferable (teachable).

Look at what your students will get out of attending your class or a workshop. Being clear about the objectives will help you market the course and ensure satisfaction in your students.

The most successful practical workshops allow students to leave with their creation.

Decide what is realistic for a beginner to make within a specific timeframe. Keep it simple to help ensure success.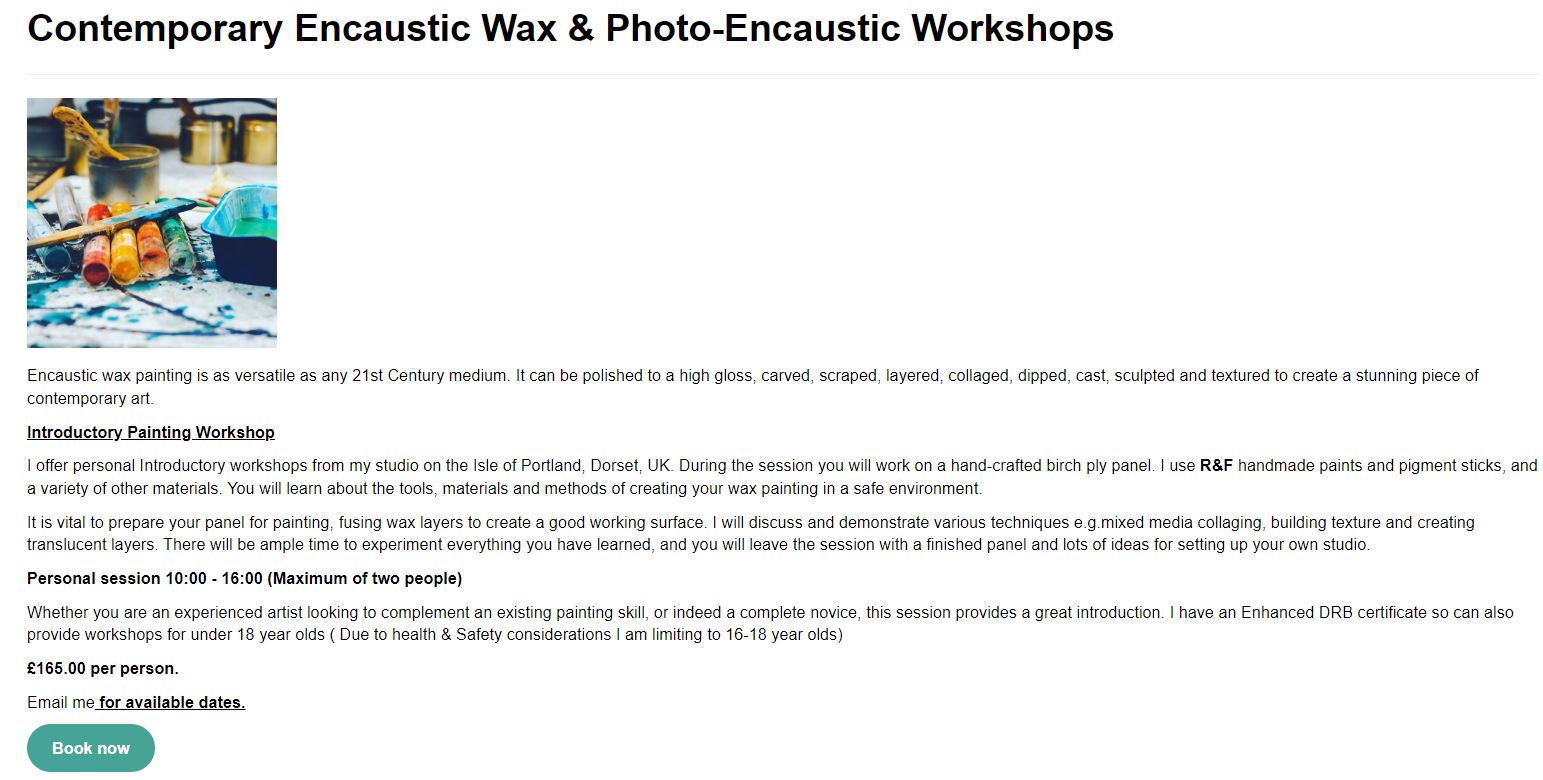 How long should an art class or workshop last?
The length of the class will depend on the content and creation. For example, a lampshade class will take two hours, whereas beading or making a simple piece of jewelry or a picture frame will likely take a morning or afternoon. Factor in a break for coffee and cake — many of your students are also there for sociability.
For a series of classes, you must also consider the skills you can teach in a given time. Choosing a subject to cover per session will help give the course some structure and help your students understand the course.
You also need to factor in that some people need more time and more encouragement than others.
Practical aspects of running an art class or workshop
Once you have agreed on the essential ingredients of the class or workshop you want to run, you will need to consider the practical aspects of running the art class or workshop.
Duration and different learning speeds
Once you have a rough idea of what the workshop or class will deliver, you will need to consider how much time a participant may need to grasp the content and create something. For example, one student might complete a lampshade within an hour, while another might take double that time. Think about what the fastest student will do during that extra hour.
Number of students
Consider how many people you could accommodate during a workshop or class. Single-session workshops are more intensive, and you will need to keep numbers low to ensure you can spend equal time with each participant.
With a series of classes, such as a beginners' guide to drawing, you might be able to accommodate more.
When deciding the number of students, you must also consider equipment. Some workshops will require complex or expensive equipment (e.g. ceramic pottery wheels), which means each student will have to take a turn. Students may also need to be individually supervised using the equipment, so set a reasonable number of participants you can personally supervise.

You will also need to consider issues like health, safety and accessibility.
Equipment
Ensure you have enough resources for each student. This means supplying all the basics. For drawing, it may simply be a case of having drawing boards and pencils and charcoals. For watercolors, you may need to provide an easel for each student. Ceramic workshops will need to provide working space and pottery wheels. Some equipment may be shared, so each class will need sufficient time for all the participants to use it. You will need to develop complementary activities for students to do while waiting their turn.
Venue
Find a suitable space to run the workshop or class. You might be lucky enough to have an ample studio space that can house a reasonable number of students. But you will need to factor in the additional cost of renting space when you set the price. Make sure rented venues carry some insurance and are compliant with applicable health and safety regulations.
Price
You might be running a workshop or class because you want to share your skills and enthusiasm, but the money you make is part of running a successful art business. We know that pricing artwork is one of the most challenging elements of being an artist. Price it too low and people think the work is cheap; price it too high and you will scare people away. For an artist, getting the price right comes from experience, but below is a list of considerations to ensure you're fairly compensated.
When setting a workshop or class price, you must first factor in:
the materials required
equipment (including wear and tear)
venue costs
refreshments (if offered)
Once you have worked out the essential costs per person, you must factor in your time, including the work you do outside of the class/workshop hours, including prep/set-up and clean-up/takedown.

The total cost may also help you set how many people should attend each workshop or class.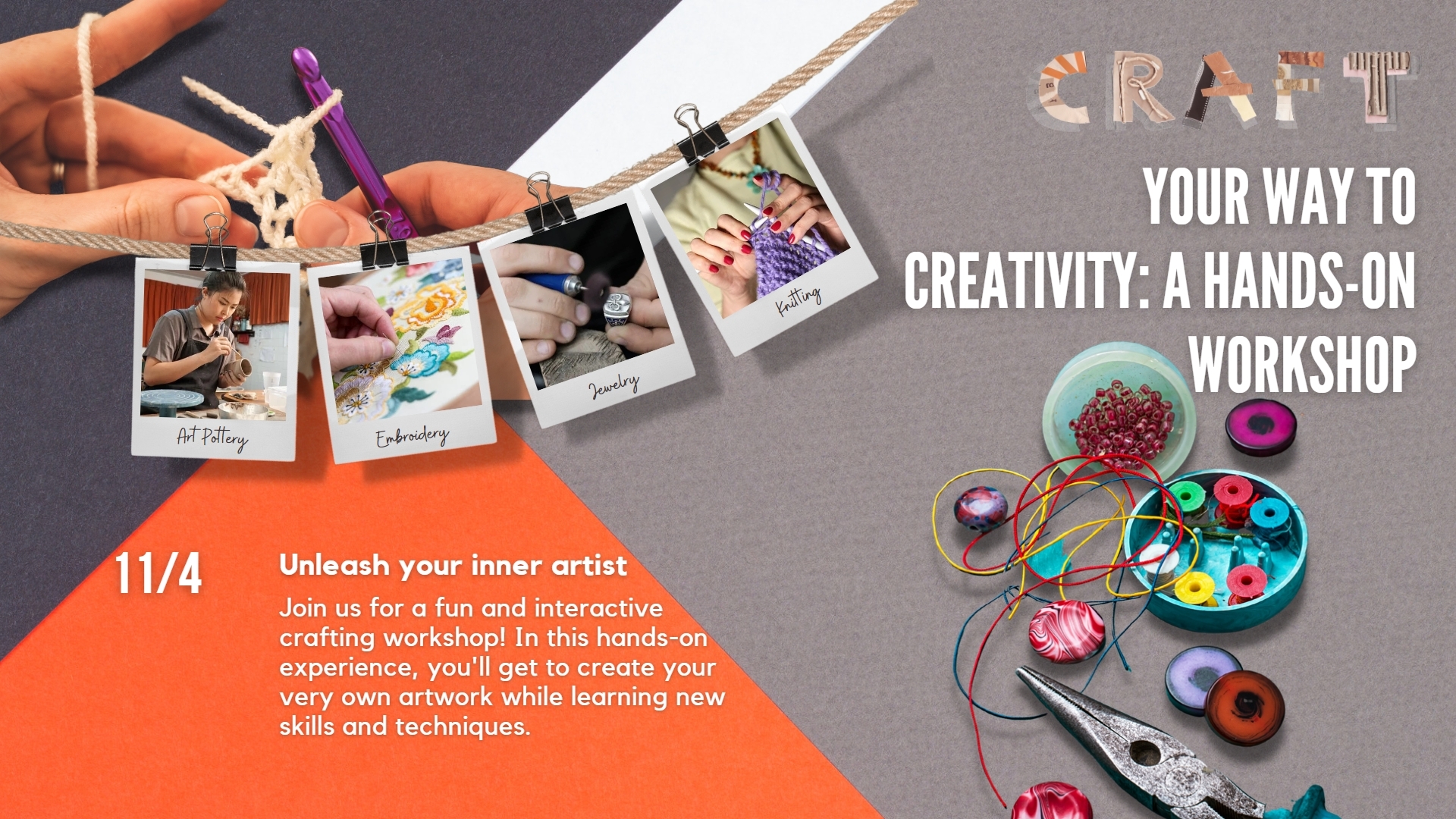 Marketing your art course or workshop
Share information with other course leaders
One of the great things about makers and creators is that once someone has done one class, they usually want to do more. So don't be afraid to share. If you know other people running art classes or workshops in different disciplines, offer to share the course details with your students and ask those course leaders to share information on your courses (you might even offer students a discount). Beware sharing students' personal details with other artists and makers, as this could breach data protection laws.
You might also consider combining a workshop with a bigger event. Open studios, art markets and special events will help raise the profile of any activities you are running.
Use social media
An essential part of running a successful workshop or class is to get the word out. This is where having a good presence on social media channels can pay dividends. Include all relevant information on your accounts and website, including:
How people can sign up
Payment methods
Workshop or class theme and objectives
How long it lasts
Is participants leave with a finished product
Contact information
Any other useful considerations (e.g. wearing old clothes)
TIP: Once your workshop is full, create a waiting list. Use the list to fill spots if anyone drops out or to arrange additional classes.
If you use a venue, ensure you take advantage of its social media, website and plain old noticeboard. Send your details to local websites and newspapers as well.
Once you have run your first class, build testimonials and photographs (with permission) to use in marketing campaigns for your next class.
TIP: Consider offering one-to-one classes or even couples classes.