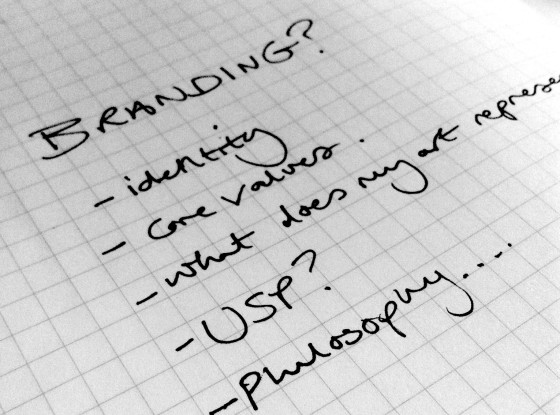 Yes, branding is a bit of an icky word, but bear with us. When we talk about branding for artists, we're not necessarily talking about logos or advertising (although these can come into it). We're talking about the way you present your vision or philosophy about your art practice to the world, and this is very much an analogue to branding for businesses. So we'd like you to think in terms of branding for your identity as an artist and for your work.
For many artists, creativity is their calling – something they just have to do. Although deciding to go down the art career path is undoubtedly a risky one, the uncertain future and lack of a structured industry often does little to put people off. This generally means artists tend to be extremely passionate about their work.
Even so, this enthusiasm can be tenfold for those savvy artists who are able to actually earn a living from their art. The romantic notion of 'getting noticed' immediately (and ditching the day-job) is of course an optimistic outlook, however there are things all artists can do to improve their chances of getting their work out there, and seen by buyers, curators, and collectors.
Why you should think about branding
So, branding is about how you vocalise what inspires you, and about your core values as a practicing artist. Whether that's political, spiritual, or purely visual, is down to the work you make and what your influences are. If you're just starting out, think about why you are beginning this artistic journey – what is your identity in a highly saturated market, and what makes you stand out.
Any new business has to ask itself this question – what is my "Unique Selling Point"? The difference for artists though, is that your USP shouldn't be fabricated for a specific audience, or distinguished by what's hip or fashionable right now. It should be an authentic, genuine reason that comes from the art you make, rather than the other way around.
This mission or central idea should be visible and prominent on your website. For many artists, this takes the form of a strong artist statement or 'about me' section, but for others it might be a few sentences on the home page to give an immediate insight. The key to having a strong message is authenticity – being truthful about your work and yourself as an artist will go a long way.
Here are a couple of examples of ArtWeb artists with great statements (click the images to read the full statements in more detail):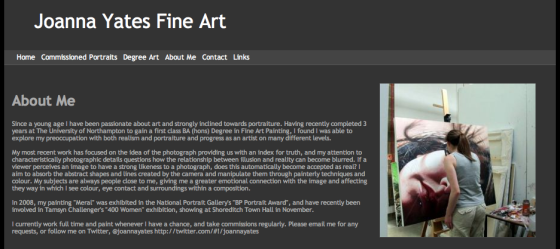 Once you've been able to define what you do and why, you'll be able to consider other aspects of branding, such as your business logo (which should be consistent across all outputs), if and where you advertise, your target audience, and so on.
Publicity: '…But did they get my name right?'
The great advantage to being an artist is that a little controversy can often work in your favour. In other careers, politicians being an obvious example, if you're seen doing anything in the public that is in any way out of sorts, your career could be over in seconds (think George Galloway imitating a cat on national television). Artists though, are not so vulnerable to controversy… remember the phrase 'any publicity is good publicity'? Obviously you don't want to be doing anything (too) illegal, abusive, or dangerous to others, but pushing the borders of what's acceptable without going over the top might just pay off. If your artist 'mission' (see above) happens to be a particularly resonant people's political outlooks, then all the more reason to get involved with what you care about. How about showing your opinions through a public performance or viral film, but with a unique spin on things that's never been done before? Capturing the public's imagination has never been easier with the speed of social media sharing… so get creative about things.
A famous example of this is Banksy, an artist who uses publicity in a very clever way and as such has become a household name. His unique style of political graffiti combined with his mystery persona (he has never been seen in public), has led to an enormous amount of press attention with each new work that is revealed. We're not saying you should tamper with CDs or hang your own art in famous museums, mainly because, well that's already been done…
It's worth mentioning that sadly for many artist activists, controversy and art success can come at a huge price. Ai Wei Wei is one of those artists, whose work was at one point being exhibited in Central Park, NYC, whilst he simultaneously served a jail-sentence in China because of the politically charged message behind much of his work.
Another recent example of this happening is with Tokyo-based artist Megumi Igarashi, whose work involved making a kayak representing her own vagina, as well as sending data out to people in order to create their own versions. The project ended up with her arrest and potential trial, and has sparked a huge debate about the double standards within Japan's censorship laws.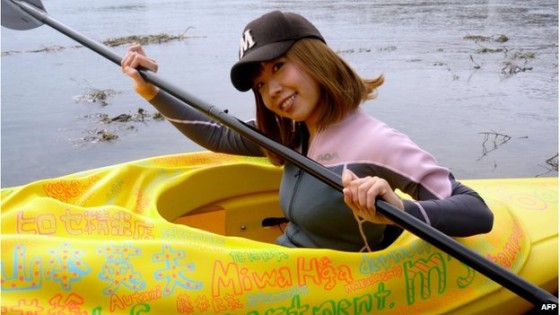 Learn how to name-drop
Humans tend to be dazzled by fame – and as a rule, name-dropping works! If you can mention a name people have heard of it quickly pre-qualifies you. In this context, we're talking less about the nausiating practice of name-dropping at parties, and more about being sure to mention your acheivements and connections in publicity, emails, pitches etc.
It's probably not in your character to constantly talk about the rich and famous, or how so-and-so just bought one of your paintings. Truth is, most artists aren't that kind of person, even though the stereotype image might suggest all we do is mingle with rich folk at private views sipping on free wine. But the fact is, if your work has been bought by an important collector, this is something to make public. All artists should have a CV on their website, with selected exhibitions, events, workshops etc. What often gets forgotten is to cite any important sales, or if your work is now in someone's collection. It instantly gives your work kudos, and that someone influential in the art world has taken interest in your work. It's business after-all, and sometimes it's necessary to big yourself up a little. Remember though – authenticity is key!
The long-game vs. overnight success

Becoming an artist is a complicated, unpredictable road. Your friends and family will think you're crazy, even if they love your work, but it's important not to look for validation in others, because you might not find it that easily at first. If you believe in your art, then don't give up at the first negative comment. Similarly, don't compare your career to other artists around you (especially those younger than you!), because a lot of art success comes down to right place, right time. Of course, the more you put yourself out there, the more chance you have of finding that place and time.
Many artists struggle for many years, and then one event might completely change their careers overnight. It's important to have a 'Plan B', like taking on extra training or working part-time and developing other skills, but it's even more imperative to keep making and showing new work.
The longer you keep practicing the more likely you are to have a breakthrough. As your practice improves, everything else will improve too – including your marketing, networking, and publicity skills. You may see very little progress for years, and then suddenly there could be a defining event that leads to rapid success. So the term 'overnight success' is a bit misleading, because it may well have taken a very long time for the stars to align and for that one event to happen. Artists that you hear of being overnight successes, such as the famous
YBAs
or recent 
Turner Prize winners
, will all have put in the years of thinking, experimenting, and developing their work before that big break.
So, the key things to take on board from this post are: authenticity, publicity, and perseverance. These three things are all important factors in developing your artist brand, and in turn furthering your reach to potential audience. We hope you've found this advice useful, and if you have any tips for other artists on how to build a brand, feel free to leave a comment below.