Sketch That Group Art Show
---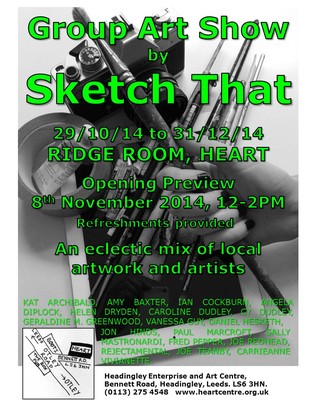 Date/Time
Date(s) - 29/10/2014 - 31/12/2014
12:00 am
The Ridge Room in Headingley's HEART Centre will be taken over by the Leeds based Sketch That art group for an eclectic exhibition that promises everything from impressionism to giant cartoon robots.
Showcasing a diverse array of work from eighteen of the artists in the group, this self organised and self curated exhibition contains a range of styles from fine art to photography to sculpture. With no unifying theme other than the geographical location of the artists and their shared love of expression, the exhibition aims to show that there really is "something for everyone" when art is truly democratic and accessible.
Sketch That began at a life drawing session in Leeds and, due to the power of social media and the allure of the Yorkshire countryside, grew into an informal group of over 40 artists from all walks of life. Co-founders Helen
Dryden and Angela Diplock regularly organise art days out for group members at some of Yorkshire's most inspiring locations.
The Sketch That Group Show opens on Wednesday 29th October 2014 and will run until Wednesday 31st December 2014 in the Ridge Room at Headingley Enterprise and Arts Centre (HEART). There will also be a special viewing on Saturday 8th November with the artists present between 12:00 and 14:00. The gallery will be open for viewings Monday to Saturday between 9am and 11pm.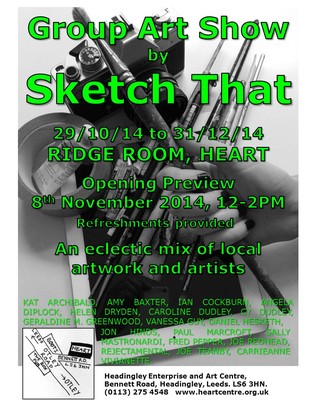 Details