How to Get Ideas is a compact yet effective read, which promises to help train your brain in order to generate more ideas. The concept of becoming 'idea prone' is laid out in a concise step-by-step process that is easily followed and accessible to all.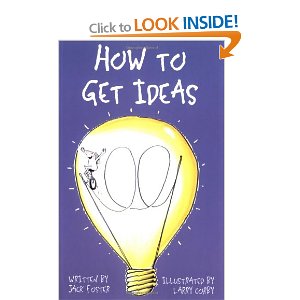 It's a common problem that every artist faces at some point – the 'artists' block'- that terrible situation where the more you try and think the less ideas you can think of. You might have found yourself struggling to come up concepts, feeling uninspired by your environment, or like you're never making progress. This book aims to make you break your routine and train your mind to think laterally, enabling you to unleash your creativity. It works on the idea that you need to understand how we create ideas before we can do it effectively.
At 208 pages, the book is short but never lacking on necessary content.
The following chapters are covered:
What is an idea?
Have fun
Become idea prone
Set your mind on goals
Be more like a child
Get more inputs
Screw your coverage
Rethinking your thinking
Learn how to combine
Define the problem
Gather information
Search for the idea
There's also an index to help finding each topic easier. Far from being your average self-help chapters, each section provides practical and relevant advice.
Take advantage of Amazon's 'look inside' feature to get an idea of the inside of this book. You can also see for yourself how Larry Corby's fun illustrations provide a light-hearted feel to the reading experience and help make a point of each individual topic.
This first edition was first published in 2003, and if you've made the move to digital you can also download the Kindle edition for £8.97
Jack Foster uses real-life experience and scenarios to set the scene more most chapters. His background in advertising is extremely relevant to the subject of idea generation, and he utilises these scenarios to better help us understand his points. He also uses engaging historical references and quotes in order to explain his lessons more clearly and to back up each chapter.
This book is well worth the read – maybe it will inspire you in new ways you hadn't even thought of!
Perhaps you're a teacher looking to inspire a group of students into thinking in new ways – this would be a great book to set them for study. Or let's say you're an artist seeking a new outlook and not sure where to start. The book's short length and well thought-out content make it relevant and accessible to all.
If you planning on reading it, or have so already, please share your thoughts in the comments below.