Prints are the fastest-growing segment of the art market—and selling digital downloads allows buyers to purchase your work and print it themselves.
Whether it's art classes or selling greeting cards, successful artists know they need to exploit all the ways they can to make a living from their art, and digital downloads are a growing revenue stream for 2D artists.
What are digital downloads
Digital downloads really began with graphic artists working in Adobe illustrator or similar software. Graphic designers could render abstract artwork without ever buying a canvas or opening a tube of paint. They could create landscapes, still lifes, portraits and figurative work taken form real life, photography or simply their imaginations. Although the marketplace was big, buyers still wanted real artwork for their walls, and digital art felt a little like cheating… so what's the appeal of downloadable art?
I want it now! Digital prints mean no delay.
As home printers have become more sophisticated and produce better quality images, buyers can see the benefit of buying a digital artwork to print at home. This gives buyers instant access to the artwork—and saves them the cost of having the artist print and deliver it.
Who can sell digital downloads?
If you work in photography or print, and you already sell prints of your work, you probably already have a high-resolution file that can be uploaded straight away.
Can painters sell digital downloads?
If you work in painting, drawing or any other mark-making, you will need to scan the work to create a good quality digital version. Don't be tempted to photograph your work (especially not on a camera phone).
The artwork will need to be very high quality and represent the original artwork as closely as possible – and a blown up photograph is probably not going to do that.
Creating a digital download
Take a look at our step-by-step guides to scanning your artwork and creating prints on our blog.
How much should I charge?
Pricing can be tricky. Consider how much you charge for a physical print, with a frame and a signature. How much does it cost to get the item printed? Is the print limited edition (in which case you can only allow a set number of sales even in the digital market place) or signed?
It's always worth doing research to find out what the price points are for the work you are selling. The price may range from a few dollars to several hundred, depending on the size and availability of the work.
A quick look at third-party selling site Etsy boasted 302,665 listings for digital downloads, with the cheapest on offer at $1. Many of these are postcards and notes, with 'proper artwork' retailing at anything up to several hundred dollars. The cost will reflect the value of the artist and their art, but also the quality of the digital download and the print it produces—so no snaps from camera phones please! (See our guide to taking quality photos of your artwork.)
TIP: Don't undervalue your work. If you consider yourself a fine artist, it is better to sell less work at a higher price than join the bargain bin.
What art should I sell?
Digital downloads are probably closer to interior design than fine art. Keep this in mind when looking at what work you think would sell.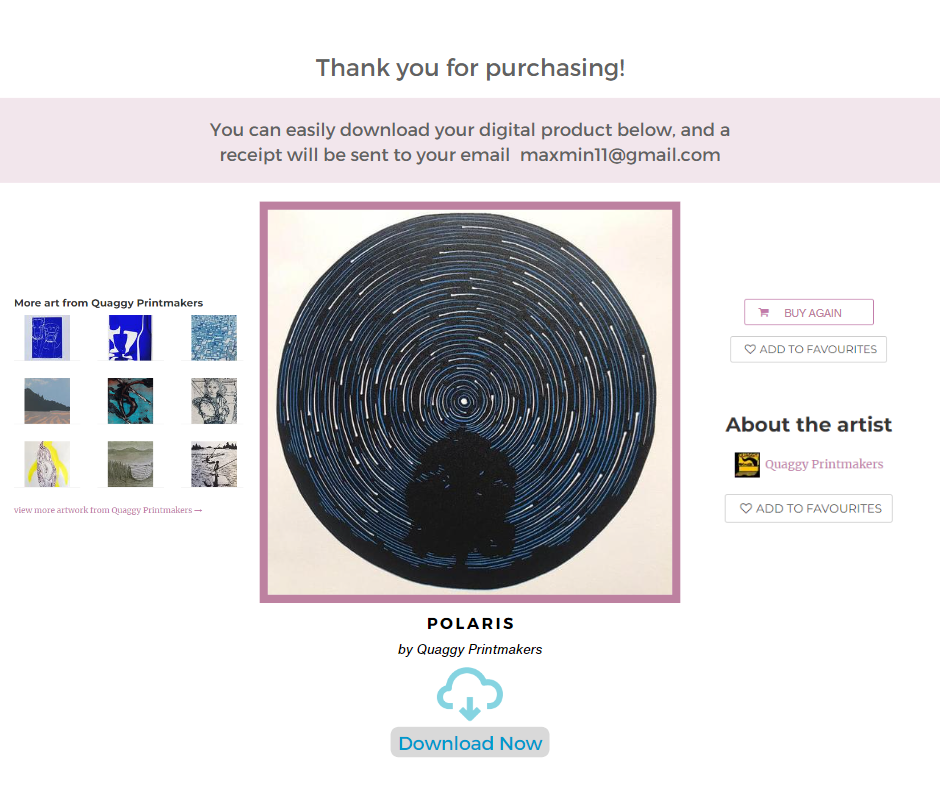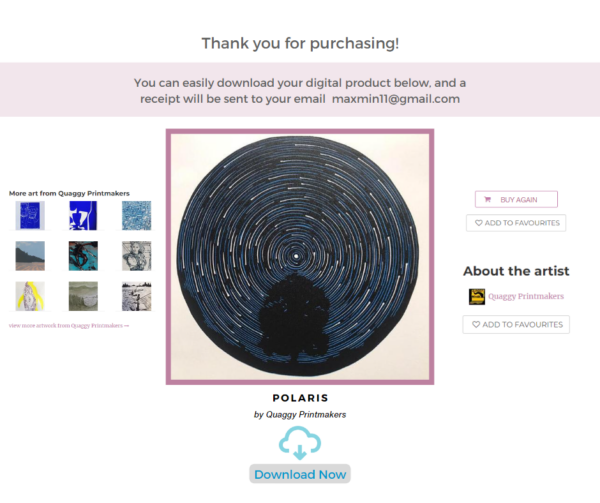 How big should the work be?
You probably already have an idea of how large the work should be. Enclosed in a frame or directly onto a canvas, this is the 'life size' artwork. But does your work have a wow factor at A4 size?
Does the image on your website give a true idea of what a buyer can expect the work to look like if they printed and framed it.
Most home printers will only go to A4 or A3 size, so some buyers will go to their local print or copy shop to get a sized print, so make sure the size of your print is clearly marked. Professional printers generally want the work at the correct size before they will print.
Should smaller work be sold in triptychs (such as a series of botanical drawings)? Answering this question may require some trial and error on the artist's part. It is worth looking at what is already out there on selling sites such as Etsy to give you an idea. But don't try and emulate their work. Ensure you stay true to your artistic style—that is what will attract people to your work.
The technology
When someone buys your digital work you will be sending them a link to download that artwork.
The files are usually in JPEG, TIFF or PDF format. Buyers can easily print these file types from their home computer.
Once they've made their choice to buy your work, the trick is to make it as easy as possible for a buyer to just hit print. You need to ensure the file is high resolution and already scaled to the print size the customer purchased. Saving your file as A4 or A3 will make it easier for home printers and local print shops to create a good print.
You'll increasingly find downloadable artworks on third-party seller sites
There are lots of online marketplaces where you can sell your digital downloads. These do all the hard work for you. Simply upload, set the price and wait for the money to roll in. Popular third seller sites for art prints include Etsy, Amazon, Envato, AppSumo and Creative Market.
You can also buy extras (plug-ins) for website builders and shopping software like Shopify that allow you to create and sell digital downloads.
And once you feel confident, digital download sales can be offered on your own website or social media shops.
The legal bit
Before a buyer makes a purchase, they will need to agree to the licensing terms. The following are common terms for digital prints:
The purchaser has the right to print the file as many times as they wish in whatever form they choose for personal use.
The purchaser is prohibited from selling the file or print outs to some someone else (that would be considered a commercial license).
The future of digital art?
Non-fungible tokens (NFT) have been around for a while – remember those cute cyber pet CryptoKitties? The art world has been looking at using these unique digital identities for protecting artwork, but some artists have begun to use NFT as the work itself. Among them is Turner Prize winner Damien Hirst who launched his NFT art collection in 2022. The artist is worth more than $400 million, so who are we to disagree with his latest venture?
Read more about the innovative (or faddy?) art medium here.