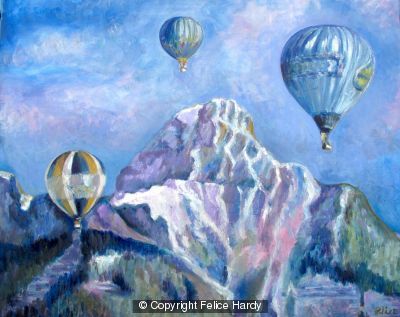 See more of Felice Hardy's work at www.felicehardy.artweb.com.
Being an artist
Please give us a few words of introduction about yourself
Although I studied art after school but then went into journalism and became a travel writer. During the 30-odd years of my career I have always felt that there was something missing and I always longed to get back into painting. About a year ago I found an inspiring art class to go to one morning a week, and I haven't looked back since then. I live in rural Hampshire with my husband, three children and two dogs. From the windows of our 17th-century cottage, we have a completely uninterrupted view of rolling hills.
How and when did you start out as an artist?
I studied painting and illustration in my early 20s but then diverted into a career in journalism and travel writing.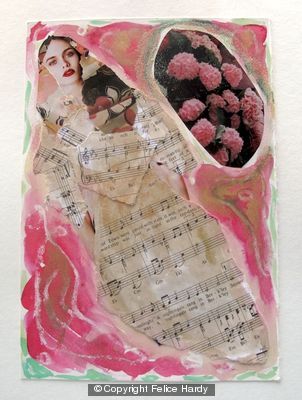 What training did you have?
A one-year foundation course followed by three years studying illustration at art college in London at what is now called the University of the Arts.
What has been your best creative achievement so far?
I'm still trying to get there!
General Questions
What's your favourite quote?
"It is good to have an end to journey toward; but it is the journey that matters, in the end". Ursula Le Guin
Who is your favourite artist?
Leonard da Vinci, Matisse, Kandinsky, Chagal, Jean-Francois Millet, Lucien Freud, Stanley Spencer, and many of the Pre-Raphaelite artists.
What are you aiming for?
To have time to paint every day.
How will you get there?
By doing a little more all the time.
Is anything holding you back?
Working in my day job and needing to earn regular money!
You and art
What sort of reactions do you get to your work? are you ever surprised?
People have been very encouraging about my portraits. Generally, I've been told that my painting style is 'delicate' – not a word I would have used to describe it myself!
From start to finish, how long does it take for you to create your work?
Anything from three hours to three weeks – although that's not working full time.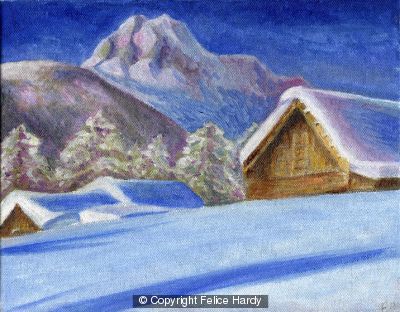 What music do you like to listen to when you work?
My teenage daughter singing and playing the guitar. She has a really beautiful voice.
What is next in the pipeline for you? Any new directions or shows coming up?
I'm going to be showing my work at a few local exhibitions this summer. Direction: to paint more portraits and to experiment more with mixed media.
Being inspired by art
Who (living or dead) inspires you? and why?
John Lennon – that amazing voice and those amazing songs. A true artist.
What feelings, subjects or concepts inspire you as an artist?
My travels as a writer where I've seen the most breathtaking beauty at The Great Barrier Reef, the islands of the Indian Ocean, the Dolomites, Hawaii and Kenya. Fantastic cloud formations, outdoor space, and interesting light all inspire me.
What is your favourite work that you've produced so far and why?
Painting portraits, because this is a new departure for me.
an artist's advice
Have you got any advice for those starting out as an artist?
You'll get there in the end and have lots of fun on the way.