To see more work by Bart Eason, visit his website: www.theartbybart.com
Being an artist
Please give us a few words of introduction about yourself
I've been drawing and painting for 20 years, and have experimented with many mediums. It took 2 years to put together a portfolio of pen and ink work, created with fine point ballpoint pens. I won some ribbons and awards at various shows and fairs, sold a lot of artwork over the years to people all over Texas, and have had work displayed at various galleries in Texas and New Mexico. This is my first venture into the digital world and the internet. I was left disabled after a long course of chemo, and am trying to get more exposure in the hope of providing for myself.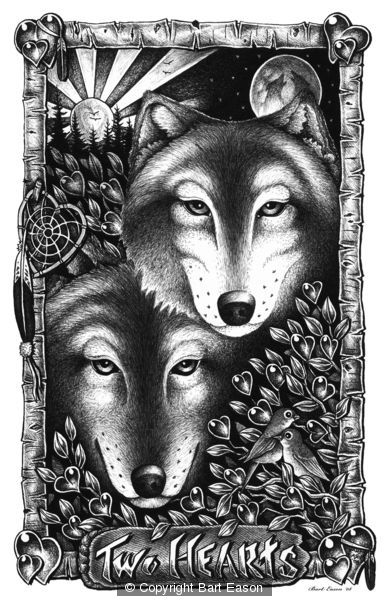 When did you decide to pursue art as a career?
I began selling work in 1995 after friends were interested in tattoo designs i was doing. I began painting in 1997. I am self taught and it took many years to learn what could have been learned in school in 1/4 of the time! I began the process of composing my own work in 1999, and it took many more years to develop my own style in my work. I've been pursuing art as a career after chemo meant I could not do the electrical work which had supported me and family since i was 18. I married young and had 5 kids, began the photography in 2002 while undergoing chemo. I have spent the last 3 years teaching myself digital design and associated software.
What training did you have?
I did some drawing while in school, starting with elementary doodling. I never took art classes although i wished i had. I began the art in earnest in 1991, a hobby using mostly prismacolors on handkerchiefs for family. I purchased a book by claudia nice in 1994 and began the pen and ink using technical pens and stippling technique. I spent many hours putting dots on paper!! I sold some of my first works but got burned out on the dots and purchased an airbrush and began colored works. I slowly added more mediums to my collection and experimented using them together. There was alot of experimenting during this period, including putting pen and ink on assorted leather hides and colored papers. I worked closely with a friend who did leather work and painted a lot of bible covers and other assorted leather work.
Then began a period of making hand crafted and sculpted Kachina dolls with handpainting and feathers and the whole bit. Then I started the hand painted ceramic and ostrich eggs and learning the secrets to the epoxy pours i put on them. A customer who owned the 'ceramic bug' in amarillo entered one of my eggs in the stains class at tri state fair in amarillo where i won blue ribbon. I had a 30 second t.v. clip of the various eggs i was doing per customer request – one went to desk in the pentagon!!. At that time I also began fashioning handcrafted fans and other Native American ceremonial objects and doing some elk skin bags for pipes, and began painting on feathers. I also painted some milk cans and sawmill blades in exchange for art supplies. Seemed like you name it, i paint it!! What ever i could do for extra income!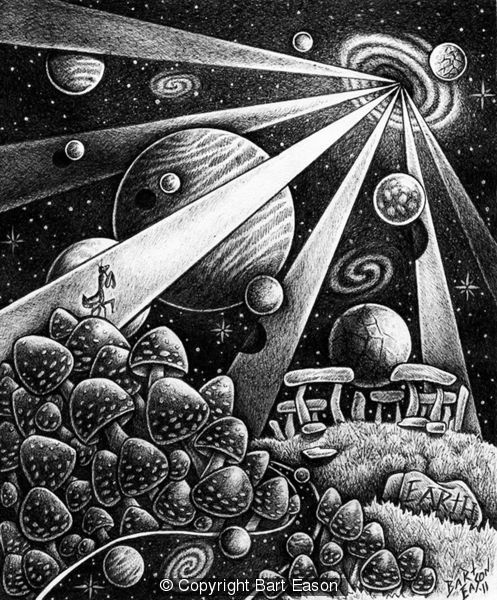 What has been the high point of your career so far?
I entered my first original painting in fine art show here in Mineola, and recieved an honorable mention. The painting still hangs on wall in my living room. My most ambitious project was a painting of the state capital building of Texas, for a clients board room, which took 6 months. I hope my high point has not arrived yet, spent so many years learning paints and mediums and finishes and text which now I hardly use, except for some hand made furniture here in my home. I don't feel i've reached the high point in my career and hope it doesn't come after my death as has been the case for many others!
General Questions
What's your favourite quote?
'Look deep into the natural world and you will understand everything better' – Albert Einstien, 'blessed are the merciful for they shall obtain mercy'- Jesus Christ, 'God is Love': St. James, 'do unto others as you would have them do unto you': sermon on the mount, and many quotes too numerous to list of Native American speeches given by many Native Chiefs, and quotes by the Dalia Llama.
Who is your favourite artist?
I can identify best with Van Gogh with his disabilities, Renoir, Boris Vallejo, too many to pick one!
What are you aiming for?
Recognition as an artist and self sufficiency.
How will you get there?
Practice, practice, and draw what has meaning for my soul and the ability to touch the souls and hearts of others.
Is anything holding you back?
Advertising, funds, acceptance and recognition of the difficulty of my technique.
You and art
What feelings or reactions do you hope to arouse in people who view your work? Are you ever surprised by reactions that you get?
Thoughts of the Spiritual realm and the truths of all religions and philosophies, to open the hearts and minds to alternative thought and philosophy and truth, to set them on a personal search for reality and knowing of the Creator and acceptance of other schools of religious thought. I am always surprised, humbled and grateful when someone praises my work. I am my own worst critic, always seeking perfection.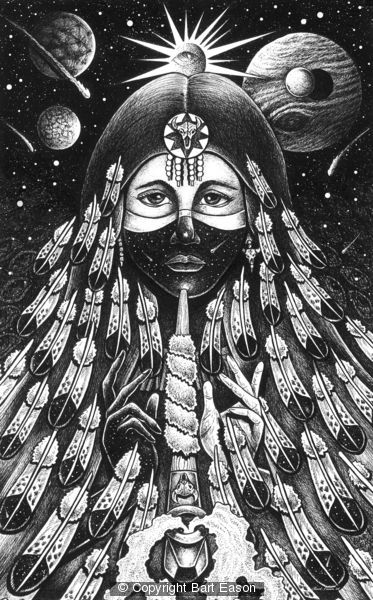 From start to finish, how long does it take for you to create your work?
First is inspiration of a new idea which comes unannounced, then days or weeks of consideration of best way to transform that thought into image. Then a day of sketching, and a few days to weeks of rendering and shading and details. Paintings take much longer, larger sizes can take much longer in determining position of details.
What music do you like to listen to when you work?
Native American and rock and roll. Sometimes I watch t.v. in glimpses while shading a large work.
What are you working on next? Any future plans or projects in the pipeline that we should look out for?
I'm concentrating on photography right now, and teaching myself photoshop for digital design. I also started a new pen and ink, for which the sketching is complete!
Being inspired by art
Who (living or dead) inspires you? and why?
The voices of the past that were unheard and ignored and branded heretical, those unable to speak for themselves now and many forgotten although their words now hold true too many current events. Those who's words were intentionally swept aside by the dissenters and fanatics and enemies of the truth.
What feelings, subjects or concepts inspire you as an artist?
Spiritual concepts, the beauty of the natural world, and philosophical thought. Native and aboriginal and early pagan philosophies, the inner being of animals we never examine and their attributes and wisdom to be shared and observed and respected. The beauty of the diversity of life, and the small things and creatures we never slow down to see, or are too small to notice. The beauty of a mostly invisible world.
What is your favourite work that you've produced so far and why?
I cannot pick an individual work, but I'm most proud of my work with the ballpoint pen. It shows my true artistic skill and is not easily copied by others. My own unique work in my own unique style. The most technically challenging of all my work whether recognized by others or not. Mine may not be the best in critics eyes, but it is unusual in concept and extremely difficult in execution. It requires dedication, patience and pain.
an artist's advice
For those thinking about turning a passion for art into a career, could you give any advice?
Draw, draw, draw…!
Any tips on how to get your work seen and get the commissions coming in?
I need some of those myself…!